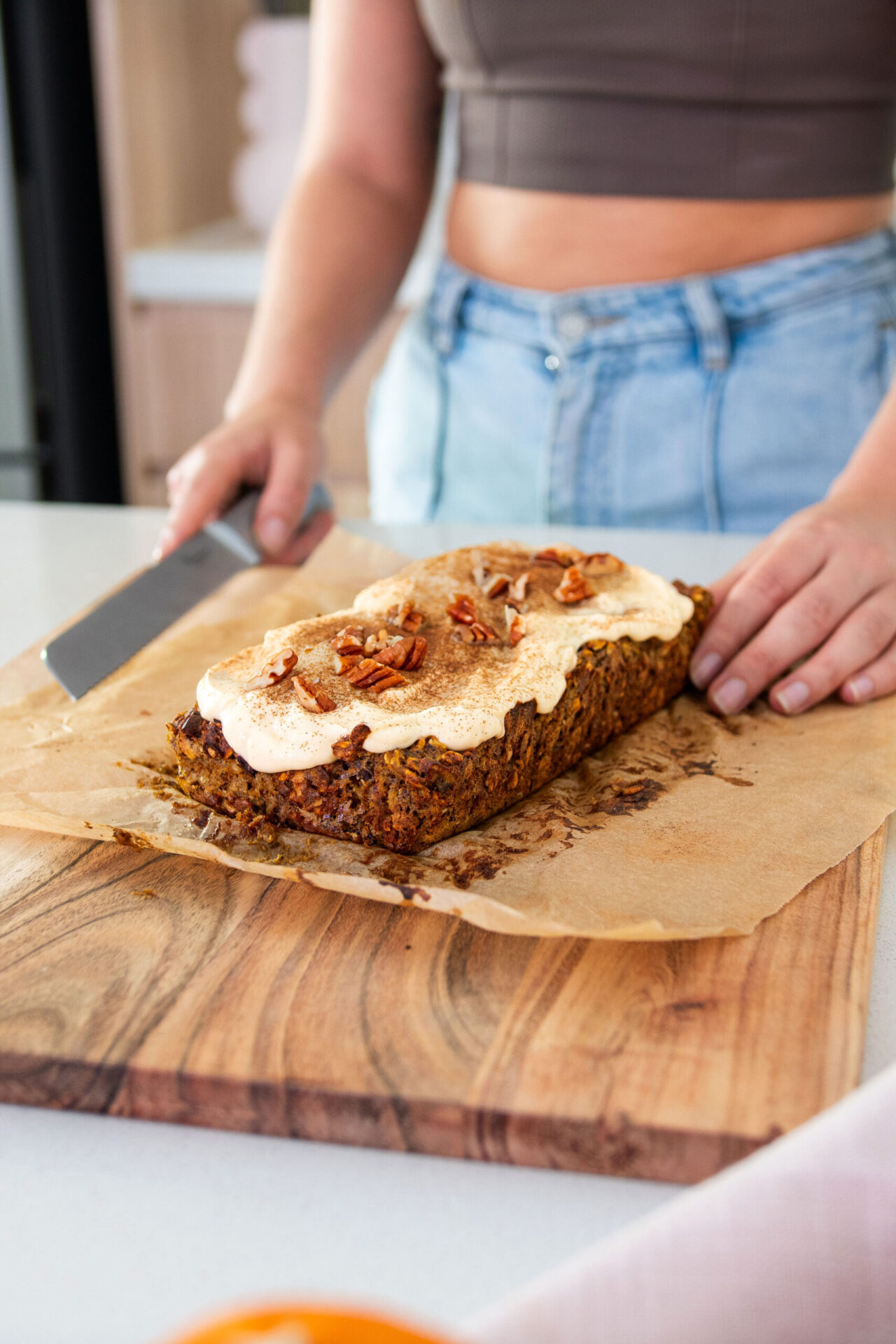 Imagine what life would be like if you could open the fridge in the morning to find a delicious slice of cake that also happens to be super nourishing! Doesn't that sound like a dream?! Well… let me introduce you to these Pumpkin Spice Baked Oats! They're so easy to put together and are the perfect plant-based breakfast to meal prep. It makes breakfast so easy and sooo enjoyable! Whenever I make this recipe, I go to bed the night before looking forward to breakfast!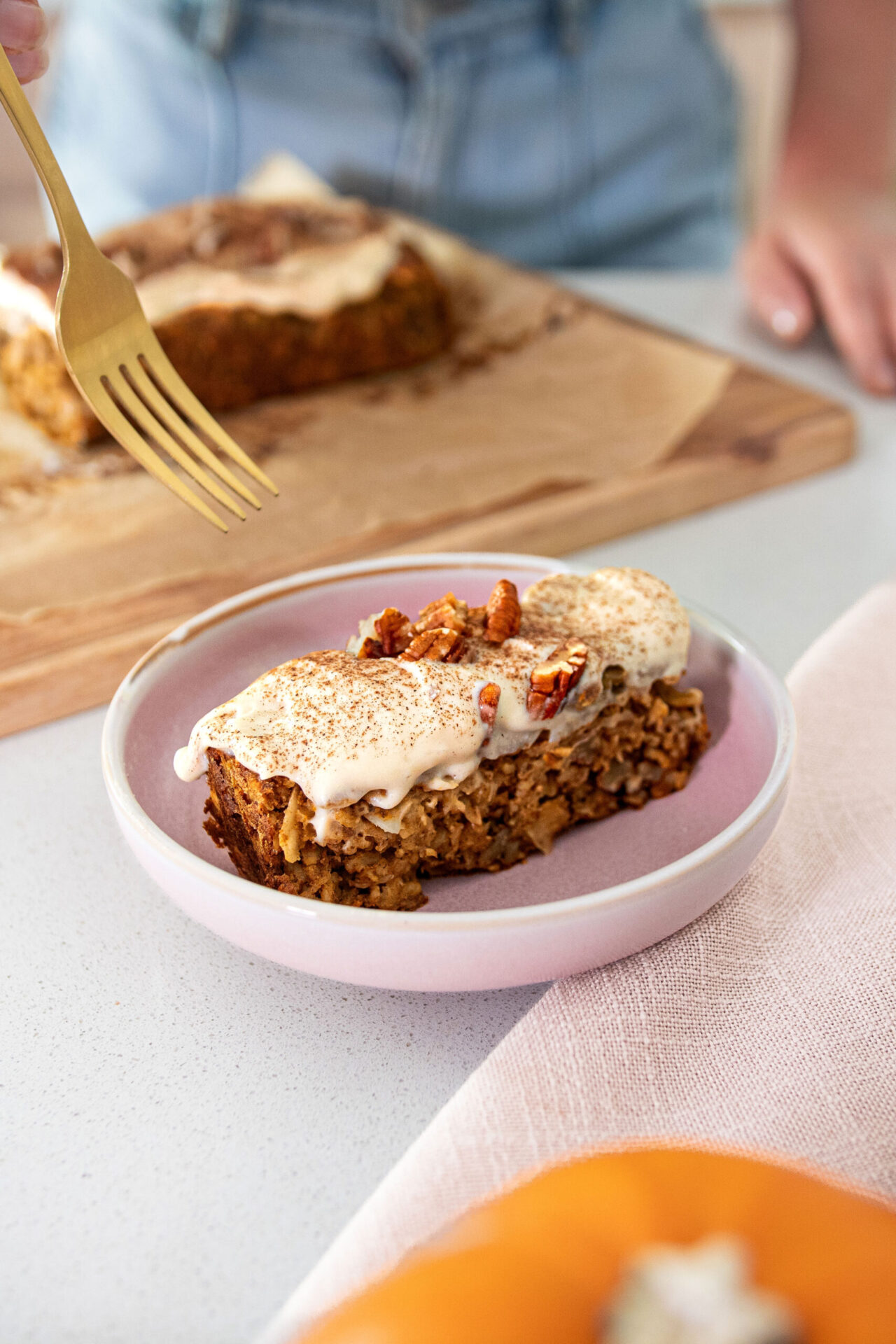 Not only are they delicious, but just like all of our recipes, they're also super nutritious. Each serving comes with around 18g of protein and 7g of fiber.

The protein icing (which is completely optional but highly recommended) is the perfect addition without overcomplicating things. Just mix vanilla protein powder with thick soy yogurt, and you have a tasty yet protein-rich topping. It really adds a decadent touch to the baked oats.

So if you're looking for an exciting new plant-based breakfast option, something that's a bit different from your regular oatmeal recipe, this is the one to try!
Why This Recipe Works
Nutrient-Rich: Loaded with fiber, protein, and essential vitamins.
Easy to Make: Minimal prep time and simple ingredients. Blend, Mix in a bowl and bake!
Great for Meal Prep: Makes multiple servings—perfect for busy mornings.
Family-Friendly: A hit with both kids and adults.
Step-By-Step Instructions
Preheat your oven to 350F (180C) and line a loaf pan with baking paper. Mix ground flaxseeds with warm water to make a flax egg and set it aside. Blend pumpkin with spices, baking powder, and liquids. In a large bowl, combine the flax egg, oats, coconut, pecans, and the blended pumpkin mix. Transfer this to the loaf pan and bake for 40 minutes. Once it's done, cool slightly before slicing. Top it off with protein icing for extra yumminess.
Ingredient Notes
Ground Flaxseeds: A good source of Omega-3 fatty acids.
Pumpkin: High in Vitamin A and fiber. Can use roasted or steamed.
Maple Syrup: Natural sweetener, can substitute with agave nectar.
Almond Butter: Adds creaminess; can use peanut butter if preferred.
FAQ
Is this recipe nut-free? You can substitute almond butter with sunflower seed butter for a nut-free option. And pecans with pumpkin seeds
Can I use canned pumpkin? Yes, just make sure it's 100% pure pumpkin.
How long can I store this? It keeps well in the fridge for up to 5 days.
Variations and Tips
Vary the Nuts: Use walnuts or almonds for a different crunch.
Spice it Up: Feel free to add more or less spice to match your taste.
Protein Boost: Add hemp seeds into the mix.
Add Extra Fruits: Add fruits like blueberries or apple chunks for extra flavor.
Why You'll Love These Pumpkin Spice Baked Oats
Delicious
Vegan breakfast
Nutrient-rich
Family-friendly
Meal-prep ready
Indulge in this hearty Pumpkin Spice Baked Oats topped with protein icing. It's a high-protein, easy-to-make plant-based breakfast that's perfect for fall mornings.
Ingredients
2

tbsp

ground flaxseed

4

tbsp

warm water

1

cup

cooked pumpkin

(roasted or steamed)

1

tsp

baking powder

1½

tsp

cinnamon

½

tsp

nutmeg

1

tsp

ginger powder

¼

tsp

ground cloves

¼

cup

maple syrup

2

tbsp

almond butter

1

cup

soy milk

2

cups

rolled oats

¼

cup

shredded coconut

½

cup

chopped pecans
Protein Icing
½

cup

protein powder

(vanilla flavored)

1

cup

thick soy yogurt

(Greek-style yogurt)
Instructions
Preheat your oven to

350

°F

(180C). Prepare a loaf pan by lining it with baking paper.

In a small bowl, combine the ground flaxseed with warm water to create a flax egg. Allow it to set for about 5 minutes.

Blend the pumpkin, baking powder, cinnamon, nutmeg, ginger, cloves, maple syrup, almond butter, and milk.

In a large mixing bowl, combine the flax egg, rolled oats, shredded coconut, pecan, and pumpkin mix.

Transfer the mixture to the prepared loaf pan and spread it evenly.Bake in the preheated oven for 40 minutes or until the top is golden brown.

Allow the baked oats to cool slightly before slicing. Optionally, mix vanilla protein powder with thick soy yogurt and top each slice before serving.
Per Serving
Calories
375
kcal
Carbohydrates
38
g
Protein
18
g
Fat
18
g
Sodium
222
mg
Fiber
7
g
Vitamin A
141
IU
Vitamin C
2
mg
Calcium
217
mg
Iron
2.5
mg