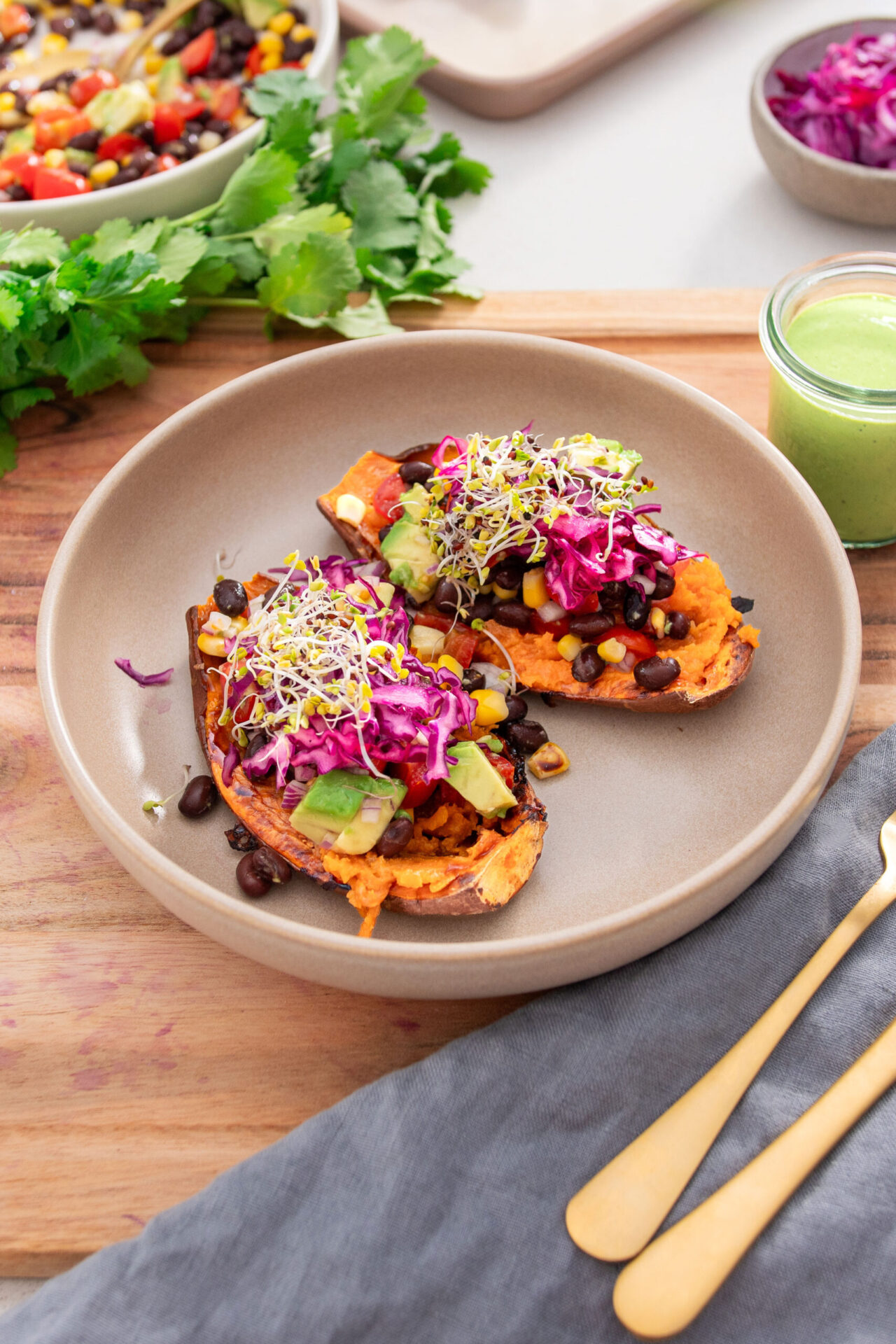 This Mexican-style Roasted Sweet Potatoes recipe is packed with fresh, nourishing, plant-based ingredients. It's such an easy, quick, beginner-style recipe that you could prep in about 15 minutes (or 5 minutes if you get your partner involved like I do, hehe), and there are hardly any dishes.
You can also prep this one ahead of time by keeping the filling in an airtight container and pre-blended sauce in the refrigerator, ready to combine with the roasted sweet potato when you're ready for dinner.
This is one recipe I've been evolving over the past six years, trying subtle variations every time, so you KNOW it really is next-level! I definitely recommend saving this one and giving it a go. I'm sure it's going to make it onto your dinner roster!
Why This Recipe Works
Simple Ingredients: Everyday items, easily accessible.
Nutritious Choice: High in fiber, protein, and antioxidant-packed.
Flavorful Experience: Mexican-inspired flavor, rich and satisfying.
Quick to Prepare: Ideal for busy weeknights.
Perfect Texture: Creamy, crunchy, and soft all in one.
Step-By-Step Instructions
Begin by heating your oven to 400F/200C. Halve the sweet potatoes and bake them facedown on a baking sheet. No olive oil is required. Mix the black beans, corn, avocado, tomatoes, onion, salt, and lime juice for a vibrant filling. Massage the cabbage with sea salt and fresh lime juice until it turns pink. Blend the ingredients for the Yogurt Cilantro Sauce until smooth. Once baked, mash the inside of the sweet potatoes and top with the bean mixture, cabbage, and sprouts. Finish with a drizzle of the creamy Yogurt Cilantro Sauce, garnish with some fresh cilantro, and enjoy!
Ingredient Notes
Sweet Potatoes: Rich in fiber and vitamin A, they bring sweetness and texture.
Black Beans: A great protein source, also high in fiber.
Avocado: Adds creaminess, loaded with healthy fats.
Red Cabbage: Provides crunch and is high in vitamin C.
Yogurt Cilantro Sauce: Brings a tangy, refreshing element to the dish, protein and omega-3s.
FAQ
Can I use a different bean variety? Yes, feel free to substitute with your preferred beans, kidney or adzuki beans would be a great option.
Is this recipe suitable for meal prep? Absolutely, it keeps well for several days.
Can I make this recipe nut-free? This recipe is naturally nut-free.
Is this dish spicy? The spice level is mild but can be adjusted depending on your preference by adding more or less jalapenos to the sauce.
How can I increase the protein content? Add some grilled tofu or more beans. Or even blend some Tofu into the cilantro sauce.
Variations and Tips
Customize Your Toppings: Experiment with different vegetables for varied flavors. Cucumber, capsicum, or mango would make a nice addition.
Meal Prep Friendly: Prepare in advance and assemble for quick meals.
Use Different Sauces: Try with guacamole or a creamy chipotle sauce for a unique twist.
Roasting Variation: Roast additional veggies alongside the sweet potatoes. I especially love crispy broccoli.
Why You'll Love These Vegan Mexican-Style Roasted Sweet Potatoes
Delicious
Nutritious
Easy
Versatile
Wholesome
Mexican-Style Roasted Sweet Potatoes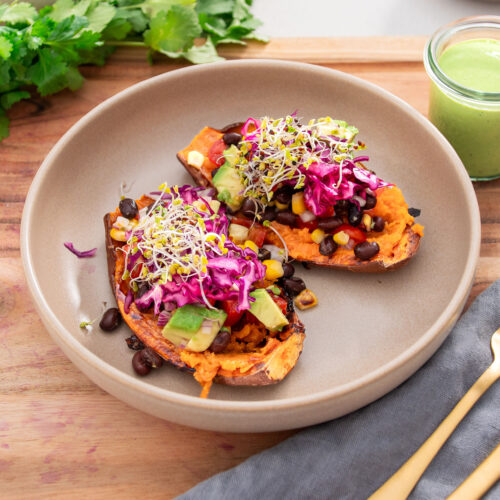 Delight in this nutritious Mexican-style Roasted Sweet Potato recipe, featuring a gorgeous blend of black beans, corn, and avocado, topped with a divine plant-based yogurt cilantro sauce.
Video
Ingredients
2

sweet potatoes

(approx 540 g)

1

cup

black beans, cooked

⅓

cup

corn, cooked

½

avocado, diced

8

cherry tomatoes, chopped in half

3

tbsp

red onion, finely diced

¼

tsp

salt

1

tbsp

lime juice, divided

1

cup

red cabbage, shredded

2

tbsp

broccoli sprouts
Yogurt Cilantro Sauce
½

cup

soy yogurt

½

jalapeño

½

cup

cilantro

(coriander)

2

tbsp

hemp seeds

1

tsp

cumin

1

tbsp

lime juice
Instructions
Preheat your oven to

400

°F

. Slice the sweet potatoes in half lengthwise.

Place the sweet potatoes face down on a baking tray lined with parchment paper. Bake for 45 minutes until tender.

While the potatoes are baking, prepare the filling. Mix together black beans, corn, diced avocado, chopped cherry tomatoes, diced red onion, salt, and half of the lime juice in a bowl.

In a separate bowl, massage the red cabbage with the remaining lime juice until it turns bright pink.

For the Yogurt Cilantro Sauce, blend soy yogurt, jalapenos, lime juice, coriander, hemp seeds, and cumin until smooth.

Once the sweet potatoes are baked, flip them over and gently mash the insides with a fork.

Top the sweet potatoes with the black bean mixture, massaged cabbage, and broccoli sprouts. Drizzle generously with the Yogurt Cilantro Sauce and serve.
Per Serving
Calories
595
kcal
Carbohydrates
98
g
Protein
24
g
Fat
15
g
Sodium
570
mg
Fiber
23
g
Vitamin A
2085
IU
Vitamin C
73
mg
Calcium
258
mg
Iron
6
mg