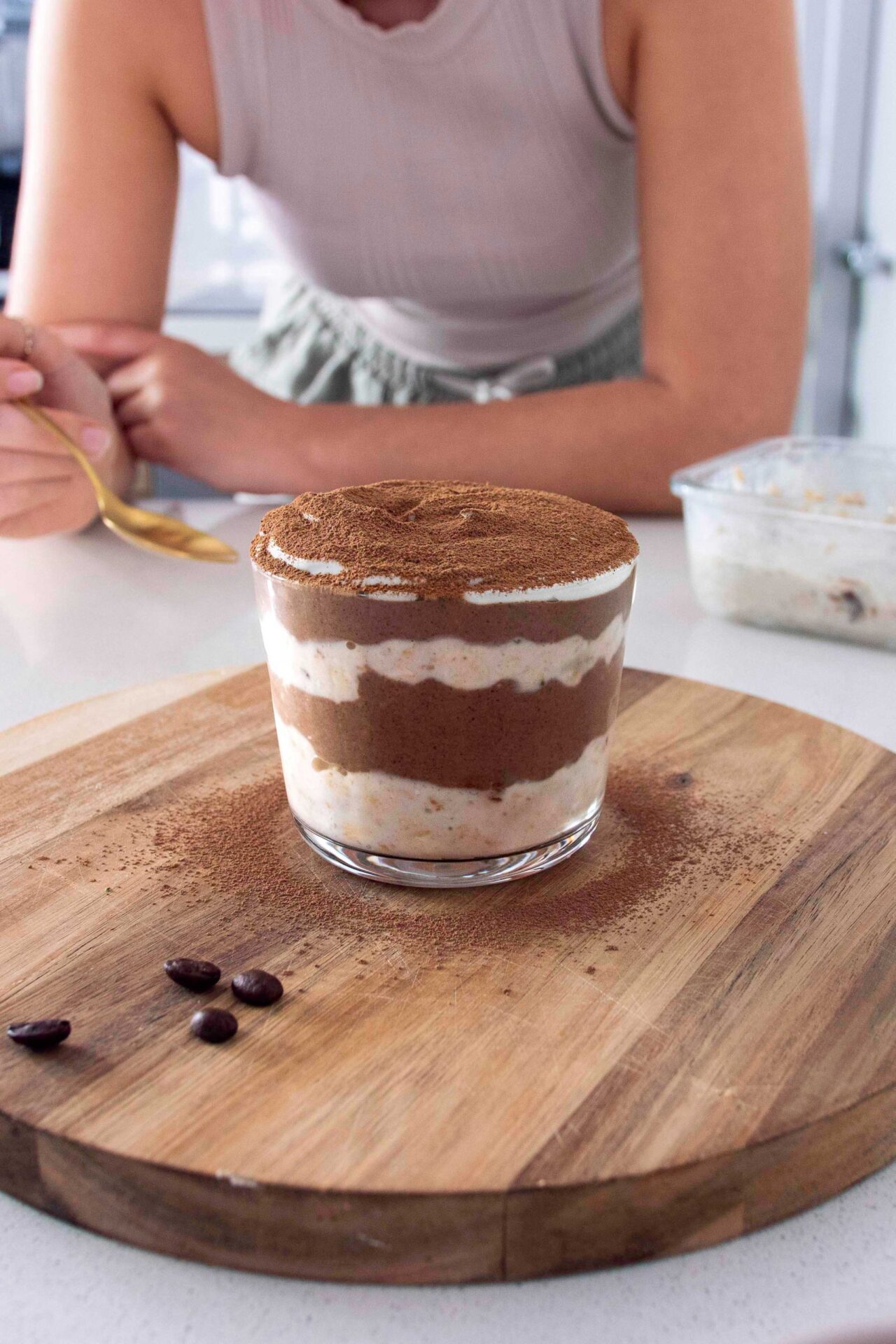 These Tiramisu Overnight Oats are super nourishing, delicious, and easy to make. The layer of creamy overnight oats, silken cacao, and coffee cream blend together with the yogurt and decadent chocolate to create a fabulous and delicious start to your day!

If caffeine doesn't agree with you, or if you'd like to enjoy this dish as dessert at night, I'd suggest using a shot of decaf coffee (that's what we do).

Now, is it actually a breakfast or should it be classed as a dessert? Try it, and let me know in the comments below!
Why This Recipe Works
Easy to Make: No cooking required, just mix and chill.
Nutrient-Rich: Packed with fiber, protein, and healthy fats.
Versatile: Perfect for breakfast, snack, or even dessert.
Plant-Based: Completely vegan and dairy-free.
Delicious: A divine combination of almond, cacao, and coffee flavors.
Step-By-Step Instructions
Combine all the ingredients for the oats and let them set in the fridge overnight. Blend the Cacao Coffee Cream ingredients and also let them set in the fridge for at least an hour. When ready to serve, layer the oats and cream in a glass, jar or bowl. Top with some soy yogurt and a dusting of cacao powder. Enjoy your nourishing Tiramisu Overnight Oats!
Ingredient Notes
Soy Yogurt: A great source of plant-based protein. You can also use other dairy-free yogurt.
Oats: Opt for rolled oats for the best texture.
Medjool Dates: Natural sweeteners that also add fiber.
Chia Seeds: Rich in Omega-3 fatty acids.
Cacao Powder: A delicious, rich source of antioxidants.
FAQ
Is this recipe gluten-free? Yes, make sure to use gluten-free certified oats if needed.
Can I use other types of milk? Sure, almond or oat milk would go perfectly with this recipe.
What if I'm allergic to soy? You can use another type of plant milk and a different type of yogurt; one that has a similar thickness to Greek-style yogurt is best, but coconut yogurt would be another great option.
Are chia seeds necessary in tiramisu overnight oats? Chia seeds add to the overall texture of overnight oats, making them more creamy. They're also packed with health benefits as they're rich in fiber and omega-3 fatty acids. They're not essential but highly recommended for the best outcome.
Can I do this without coffee/espresso? Of course, you can leave it out! The traditional Tiramisu recipe uses espresso, so as long as you don't mind it not tasting quite as close to the original dessert, it's absolutely fine. It'll still be delicious!
Tips & Variations
Protein boost: add some neutral-flavored or vanilla-flavored protein powder to the overnight oats to make them even higher in protein.
No almond extract: Substitute with vanilla extract instead.
Coffee & nutrient absorption: Coffee impacts the absorption of certain nutrients. If you're working on maximizing nutrient absorption or have an underlying deficiency, we always recommend enjoying coffee 1 hour away from food.
Why You'll Love These Tiramisu Overnight Oats
Delicious
Nutritious
Easy-to-make
Meal-prep friendly
A fun, healthy breakfast to start the day!
A delightful blend of overnight oats, cacao, coffee cream, and yogurt, these Tiramisu Overnight Oats are a feast for your taste buds. Perfect for breakfast, snack, or dessert.
Video
Ingredients
Oats
4

tbsp

soy yogurt

1

cup

oats

3

medjool dates, pitted and chopped

1

cup

soy milk

½

tsp

almond extract
Cacao Coffee Cream
2

tbsp

chia seeds

1

shot

coffee (2 tbsp) regular or decaf

½

cup

soy milk

1

tbsp

cacao powder

1

tbsp

maple syrup

1

tbsp

almond butter
Toppings
8

tbsp

soy yogurt

2

tsp

cacao powder to dust
Instructions
Combine the ingredients for the oats in a bowl. Mix them well and allow the mixture to set in the refrigerator overnight.

Blend the ingredients for the Cacao Coffee Cream together. Allow this mixture to set in the refrigerator for at least 1 hour.

When ready to serve, layer the oats and Cacao Coffee Cream in a glass or jar. Top with a dollop of yogurt.

Dust some cacao powder on top for the final touch, and enjoy your Tiramisu Overnight Oats!
Per Serving
Calories
305
kcal
Carbohydrates
43
g
Protein
13
g
Fat
10
g
Sodium
79
mg
Fiber
9
g
Vitamin A
1
IU
Calcium
159
mg
Iron
3
mg