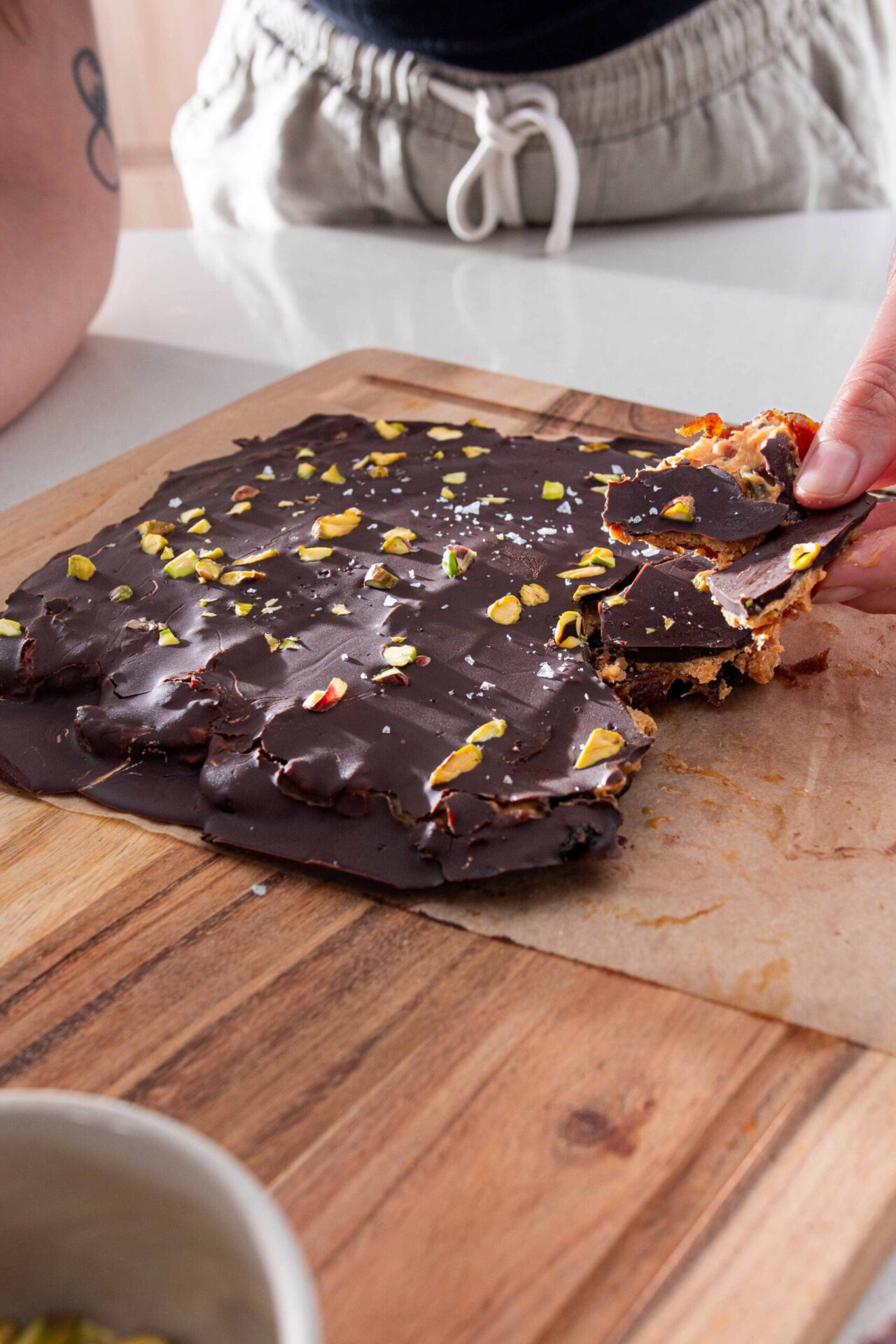 Looking for a snack that's not only delicious but also healthy and quick to make? Look no further than the Viral Date Bark. This trending recipe combines the classic flavors of dates, peanut butter, and chocolate, creating a snack that's both satisfying and nutritious. Whether you're a health enthusiast or just craving something sweet, this recipe is sure to become a favorite.
It's not every day that a food trend exceeds my expectations, but this one is definitely a winner. Dates, peanut butter, and chocolate are a classic snack combo for good reason, and I cannot count how many 'date Snickers' I've eaten in my life. It's just that good, and the viral date bark uses all these ingredients, but somehow, it tastes even better than when it's an individual date. I can't really explain it; you'll have to try it yourself, and please let me know if you agree 😅
It's also a lot quicker to make and took a bit over 5 minutes to put together. I've also added pistachios to add a touch of green. If you want to give it a go but are nut-free, our pumpkin and sunflower seed butter would be a perfect match.
The original genius behind this recipe is @thathealthjunkie. Also, a special shout out to the amazing @georginaburgess_, who brought it to my attention. Make sure to check both of them out!
Why This Recipe Works
Quick to Make: Prepped in just over 5 minutes, then we let it cool.
Healthy Ingredients: Packed with natural sweetness from dates plus there's protein from the peanut butter.
Versatile: Easily customizable with different nuts or seed butter and toppings. For a nut-free butter, you should try our Nut Free Pumpkin & Sunflower Seed Butter.
Ingredient Notes
Dates: Medjool dates are preferred for their sweetness and texture. Make sure to remove the pits.
Peanut Butter: Use creamy peanut butter for a smooth texture.
Chocolate: Dark chocolate (85%) is recommended for a rich flavor.
Pistachios: Adds a stunning touch of green and a crunchy texture. Feel free to substitute with other nuts.
Step-by-Step Instructions
Prepare the Dates by slicing them in half and removing the pits. Arrange in a rectangular shape, close together on some baking paper. I did mine on top of a baking tray that can fit in my fridge to make it easy to move them when it's time to let them cool. Layer another sheet of baking paper on top and flatten them with a potato masher (or jar or bottom of a cup).
Remove the baking paper and cover the flattened Medjool dates with a nice thick layer of peanut butter or other nut butter. We used a mix of crunchy and smooth peanut butter, but you could use whatever you like! I'd really recommend using peanut butter that isn't artificially sweetened. For example, this brand is 99.5% peanuts. Or you can make your own, especially if you're nut-free. You could try our Nut-free Pumpkin & Sunflower Seed Butter!
Melt dark Chocolate in a microwave-safe bowl with cacao butter or coconut oil. Microwave 30 seconds at a time, stirring each time, until smooth. Layer over the Medjool dates and peanut butter. Top with some chopped pistachios or whichever nuts you prefer.
Top with sea salt and chill for 2 hours in the fridge or 1 hour in the freezer! Et voila, your chocolate Date Bark is ready! I broke mine up into pieces but you could also cut it into slices and store it in a container in the fridge for up to a week. Enjoy!
FAQ
Can I use other nuts? Yes, you can substitute pistachios with almonds or walnuts.
Is this recipe vegan? Yes, it's a plant-based recipe suitable for vegans.
How long can I store it? Store in an airtight container in the fridge for up to a week.
Variations and Tips
Nut-Free Variation: Use seed butter instead of peanut butter.
Add More Toppings: Experiment with shredded coconut or dried fruits.
Chilling Time: Ensure a minimum of 2 hours in the fridge (or 60 mins in the freezer) for the best texture.
Why You'll Love This Viral Date Bark
Quick and Easy to Make
Nutrient-Rich
Versatile and Customizable
Perfect for Snacking
Absolutely Delicious!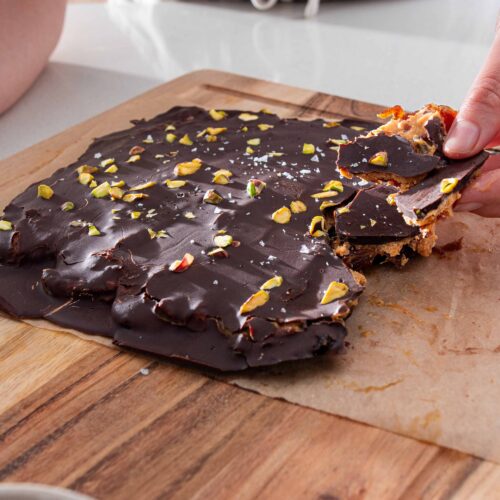 A delightful combination of dates, peanut butter, and chocolate, topped with pistachios. Quick to make and irresistibly delicious!
Video
Ingredients
30

Medjool dates, pitted

1

cup

peanut butter

150

g

dark chocolate (85%)

1

tbsp

cacao butter or coconut oil

2

tbsp

chopped pistachios

2

pinch

sea salt
Instructions
Using a knife, slice the Medjool dates lengthways on one side and remove the pit. Layer them on a baking sheet, squash them down using a potato masher.

Melt the chocolate by adding cacao butter or coconut oil to a microwave-safe bowl. Microwave 30 seconds at a time, stirring each time, until smooth.

Top the dates with peanut butter, melted chocolate, crushed pistachios, and sea salt. Set in the fridge for 2 hours (or freezer for 1 hour) and enjoy!
Per Serving
Calories
228
kcal
Carbohydrates
33
g
Protein
4.5
g
Fat
11
g
Sodium
20
mg
Fiber
3
g
Vitamin A
3
IU
Calcium
32
mg
Iron
1
mg