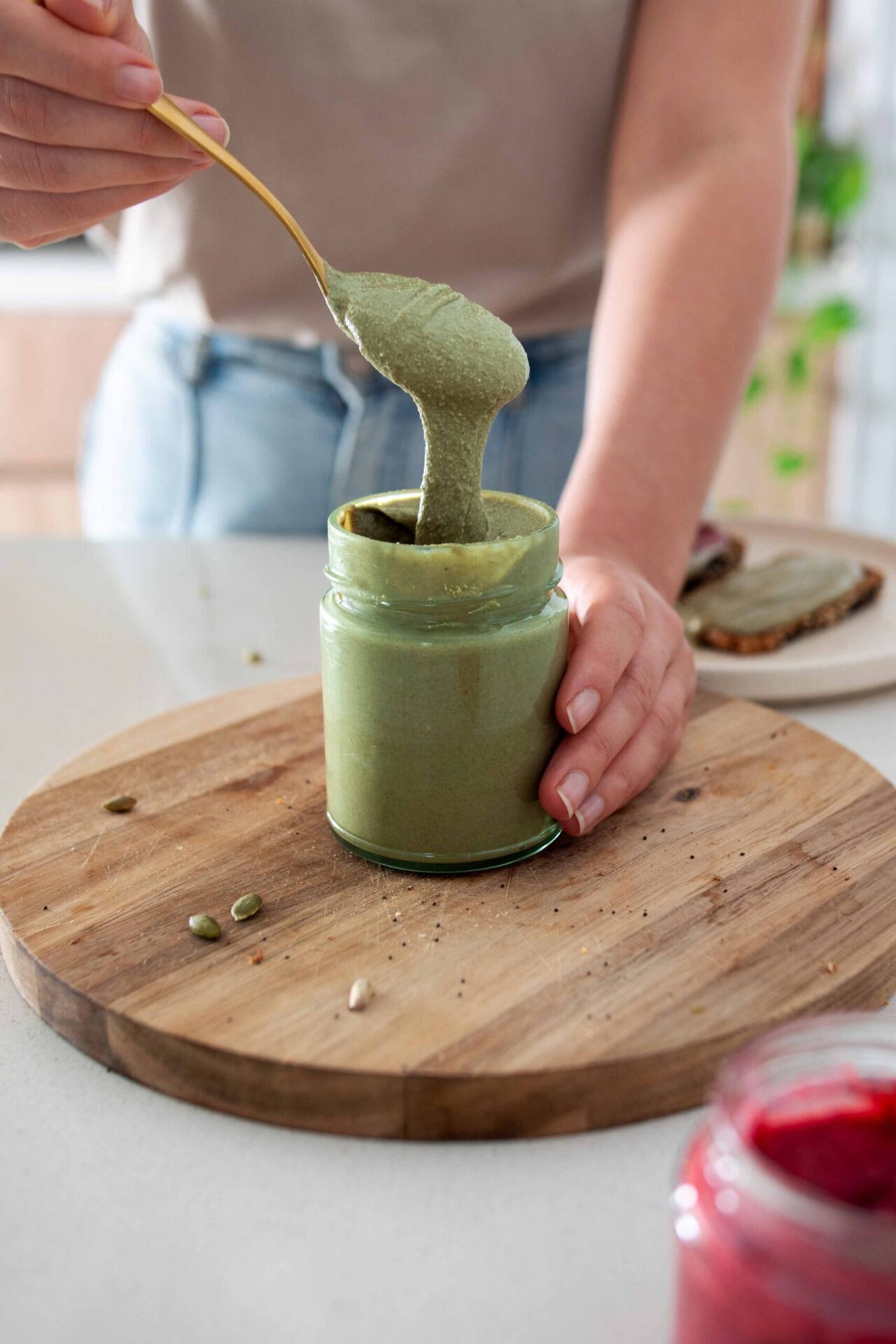 Discover the joy of homemade Pumpkin & Sunflower Butter! This nut-free, gluten-free, and plant-based recipe is not only delicious but also budget-friendly. Perfect for those looking for allergy-friendly options, and a great one for teachers or to add to your little ones' lunch box.
Why this recipe works
Simple Ingredients: Only requires sunflower seeds, pumpkin seeds, and optional salt.
Cost-Effective: Making your own seed butter saves money.
Allergy-Friendly: A great alternative to nut butter, it can be used in sweet and savory recipes instead of peanut or almond butter.
Ingredient notes
Sunflower Seeds: Packed with minerals, fiber, and healthy fats, sunflower seeds are also a great source of selenium and also vitamin E, a powerful antioxidant, especially beneficial for skin health.

Pumpkin Seeds: Add a unique taste and beautiful green color. They are also a great source of magnesium, manganese, and zinc.
Salt: Optional, but enhances the flavor. If you're on a predominantly plant-based diet, we always recommend an iodized salt if it's available to you (I've recently learned it's not the norm in the UK, like it is for us in Australia).
Step-by-step instructions
1. Roast the Seeds: Enhances flavor and helps the natural oils from the seeds to come out quicker (which means less processing time).
2. Blend: Process until smooth. This might require a little patience, and the exact time will vary depending on your processor. It took me 15 minutes before the texture magically changed from a paste to our desired, beautiful runny consistency.
3. Season: Add salt or spices as desired.
4. Store: Keep in the pantry for 10 days or in the fridge for 1 month.
Frequently Asked Questions (FAQ) Section
Can I use only one type of seed? Yes, you can use either sunflower or pumpkin seeds alone.
How long does it last? 10 days in the pantry or 1 month in the fridge.
Can I add other flavors? Yes, spices like cinnamon or coconut flakes can be added.
Variations and Tips
Variations: Try different seeds or spices.
Tips: Roasting is essential, and patience during blending pays off.
Why you'll love this Pumpkin & Sunflower Butter
Nut-Free
Gluten-Free
Allergy-Friendly
Easy to Make
Budget-Friendly
& SO Delicious!
Pumpkin & Sunflower Butter (Nut Free Butter)
A nut-free, homemade seed butter using pumpkin and sunflower seeds. A great budget-friendly, nut free option.
Video
Ingredients
Main Ingredients
2.5

cups

sunflower seeds

2.5

cups

pumpkin seeds

½

tsp

salt

(optional)
Instructions
Preheat the oven to 180C (350F). Place the pumpkin and sunflower seeds on an oven-safe tray and bake for 10 minutes, stirring halfway, until slightly golden. Roasting enhances the flavor and helps release natural oils.

Add the roasted seeds to a blender or food processor. Process until smooth, scraping the sides as needed. Patience is key; it might take around 15 minutes to achieve the desired consistency.

Once you get a slightly runny consistency, add the salt if using, and process for another minute. You can also add cinnamon, coconut, or your favorite spices toward the end of blending.

Store in the pantry for 10 days or in the fridge for 1 month. Enjoy your homemade, nut-free seed butter!
Notes
This technique works for sunflower or pumpkin-only butter too. I do recommend mixing both seeds, though!
Per Serving
Serving
16
g
Calories
93
kcal
Carbohydrates
3
g
Protein
4
g
Fat
8
g
Sodium
17
mg
Fiber
1
g
Calcium
11
mg
Iron
1
mg