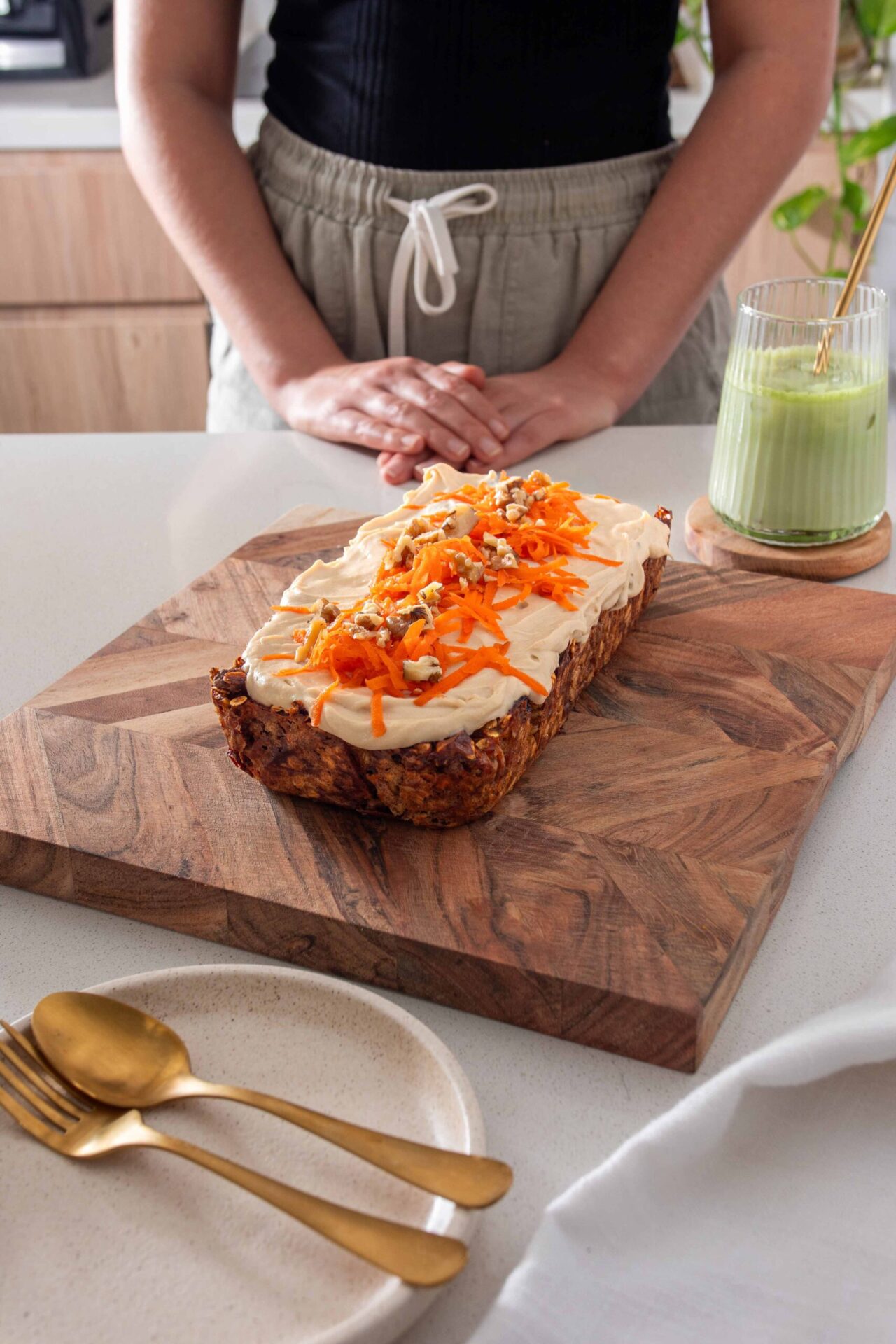 Indulge in the cozy vibes of our Carrot Cake Baked Oats for a high-protein, easy breakfast that's perfect for meal prep. This recipe is two of my favorite things combined. Carrot Cake and warm, cozy oats. It really feels indulgent as a breakfast but is so nutritious and satisfying. Whether you enjoy it hot or cold, it's a breakfast I can't wait to wake up to!
The optional protein frosting is a game-changer, made with vanilla protein powder and thick soy yogurt. It's well worth adding if you can! The shredded carrots blend seamlessly into the oats, providing a natural sweetness and an extra boost of nutrients. Plus, the blend of warm spices like cinnamon, nutmeg, and ginger will make your kitchen smell like a bakery. It's the ultimate comfort food that happens to be super nourishing. It also pairs SO well with a nice morning beverage like a coffee or matcha latte!
Why You'll Love These Carrot Cake Baked Oats
High-Protein: Thanks to ingredients like soy milk and the protein frosting.
Meal Prep Friendly: Make it once, enjoy it all week.
Nutrient-rich: Packed with fiber, vitamins, and minerals.
Budget-friendly: We calculated that each serving (without the protein-icing) comes to around 90 cents AUD!
Ingredient Notes
Ground Flaxseed: Acts as a vegan egg substitute.
Soy Milk: You can also use almond or oat milk.
Maple Syrup: You could also use date syrup or agave if you prefer. Some chopped Medjool dates would also be a great alternative.
Peanut Butter: Almond butter works well too.
Soy Yogurt: For the icing, we want a thick type of plant-based yogurt. Some can be a bit too thin. A thick Greek-style yogurt worked really well for us. We used this one for reference.
Step-by-Step Instructions
Preheat your oven to so that the Carrot Cake Baked Oats cook evenly. Prepare the flax egg by combining ground flaxseeds with warm water and allowing it to set for 5 minutes. Then add it to a large mixing bowl along with the cinnamon, nutmeg, ginger powder, baking powder, maple syrup, peanut butter, and soy milk, and stir well.
Add the oats, carrots, and walnuts, stir thoroughly and transfer to a loaf pan, lined with baking paper.
Let it bake for 45 minutes at 350F (180C) until golden brown. If you're going to add the top layer of protein-icing, combine vanilla protein powder with soy yogurt and mix thoroughly. Layer on top of the Carrot Cake Baked Oats.
Add your toppings such as grated carrot and chopped walnuts and let it cool down slightly before slicing.
FAQ
Is this gluten-free? Yes, use certified gluten-free oats if necessary.
Is it plant based? Absolutely!
How long does it keep?: Up to 5 days in the fridge
Should I eat it hot or cold? They are both great, and I honestly couldn't decide which one I preferred! If you want to enjoy it warm later in the week, I'd recommend keeping the icing separate and adding some to the slice of cake you're going to eat after heating it.
Variations and Tips
Add Fruits: Blueberries or apple chunks add a sweet twist.
Spice It Up: Try adding a pinch of cardamom or cloves.
Make It Nut-Free: Use sunflower seeds instead of walnuts, and seed butter instead of peanut.
Delicious and nutritious Carrot Cake Baked Oats make for an easy and high-protein breakfast. Perfect for meal prep!
Ingredients
2

tbsp

ground flaxseed

4

tbsp

warm water

1

tsp

baking powder

1.5

tsp

cinnamon

0.5

tsp

nutmeg

0.5

tsp

ginger powder

0.25

cup

maple syrup

2

tbsp

peanut butter

1.5

cups

soy milk

2

cups

rolled oats

2

carrots, shredded

0.5

cup

raisins

0.5

cup

chopped walnuts
Protein Icing
½

cup

vanilla protein powder

1

cup

thick soy yogurt

(Greek-style yogurt)
Instructions
Preheat your oven to 350F (180C). Prepare a loaf pan by lining it with baking paper.

In a small bowl, combine the ground flaxseeds with warm water to create a flax egg. Allow it to set for about 5 minutes.

In a large mixing bowl, combine the flax egg, cinnamon, nutmeg, ginger powder, baking powder, maple syrup, peanut butter, and soy milk. Mix well.

Stir in the rolled oats, shredded carrots, raisins, and chopped walnuts until well combined.

Transfer the mixture to the prepared loaf pan and spread it evenly.

Bake in the preheated oven for 45 minutes or until the top is golden brown.

Allow the baked oats to cool slightly before slicing. Optionally, mix vanilla protein powder with thick soy yogurt and top each slice before serving.
Per Serving
Calories
378
kcal
Carbohydrates
47
g
Protein
18
g
Fat
14
g
Sodium
240
mg
Fiber
7
g
Vitamin A
341
IU
Vitamin C
3
mg
Calcium
207
mg
Iron
2
mg