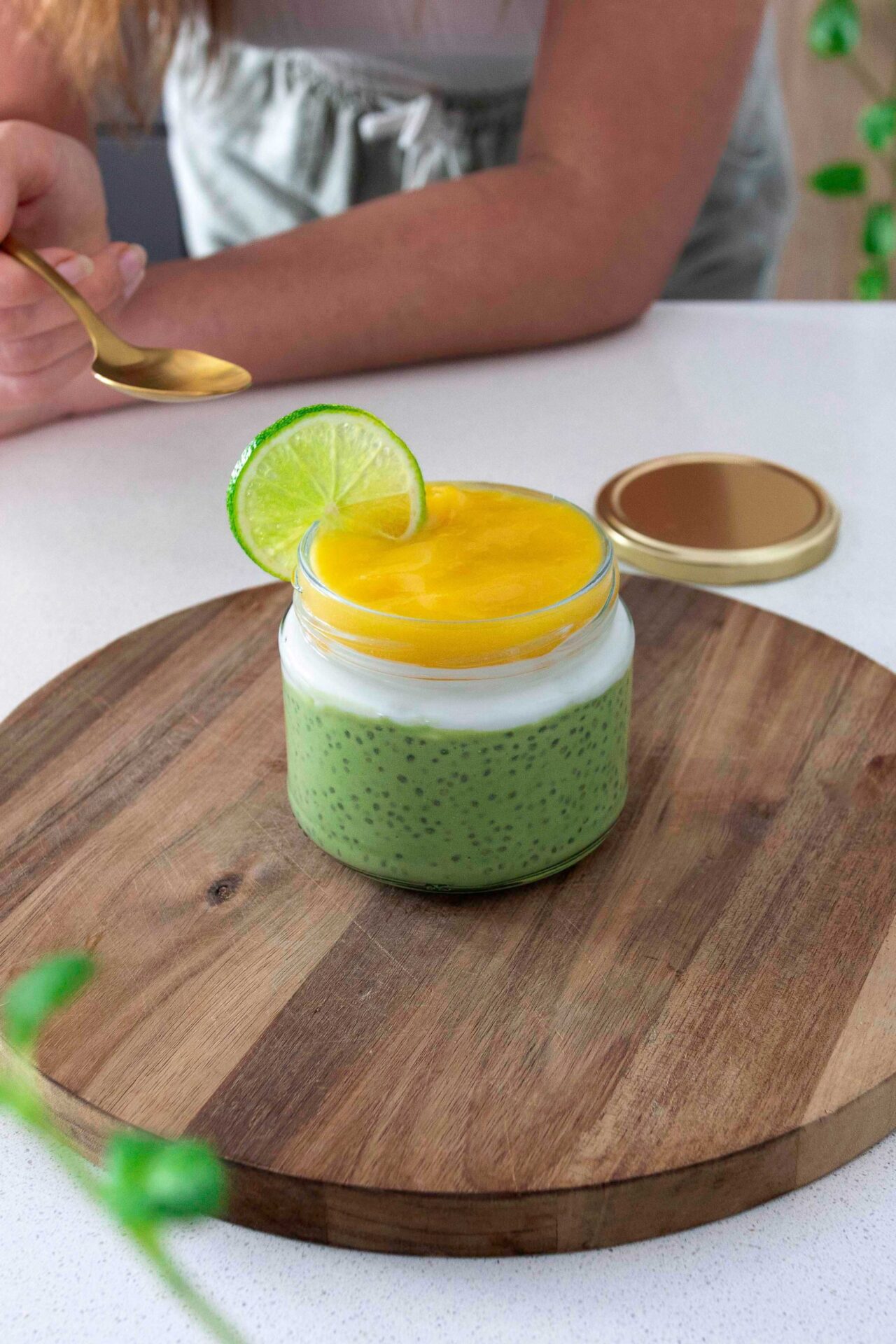 This little breakfast is super easy and absolutely delicious. It's a great way to start the day with protein (18 g), omega-3s, and vitamin C. Plus, all the antioxidant benefits and little energy boost of matcha! I find the mango sweetens it enough for my taste, but you can always add a sweetener. If it's your first time making it, I'd recommend maple syrup, as you can easily stir it in afterward.
Why This Recipe Works
Nutrient-Packed: Chia seeds, mango, and matcha are nutrient-dense.
Easy to Make: Simple, no-cook preparation.
Deliciously Creamy: The texture is smooth and satisfying.
Adaptable: Easily customizable with all your favorite toppings.
Great for Meal Prep: Perfect for preparing ahead of time.
Mix matcha with milk to remove any clumps. Combine 1/4 cup yogurt, chia seeds, sweetener (if using), and matcha milk in a jar. Refrigerate overnight to let it set. Blend mango and water to create a puree. Top the chia pudding with the remaining yogurt and mango puree. Enjoy your nutritious breakfast!
Ingredient Notes
Chia Seeds: High in omega-3 fatty acids and fiber.
Matcha Powder: Rich in antioxidants, it gives a unique flavor. Use ceremonial grade for best taste.
Soy milk: Adds creaminess and protein. It can be substituted with any plant-based milk.
Maple Syrup: Optional but adds a lovely natural sweetness.
Extra Toppings idea: Fresh fruits, nuts, and seeds add texture and nutrients.
FAQ
Can I make this pudding with other types of milk? Yes, any plant-based milk works well.
How long does Matcha Chia Pudding last in the fridge? Up to 5 days when stored properly.
Can I use other fruit than mango? Absolutely, blended pineapple would be just as delicious. Otherwise, I love it topped with chopped kiwis, blueberries, or raspberries.
Is this kid-friendly? Due to the addition of matcha, which is a stimulant, I would not recommend it for kids.
Variations and Tips
Protein Boost: Mix in protein powder for extra nutrition.
Fruit Layers: Create layers with the pureed mango for a visual treat.
Overnight Success: Let it rest overnight for the best texture.
Texture Play: Top with crunchy granola or nuts.
Sweetness Control: Add maple syrup to your taste.
Why You'll Love This Matcha Chia Pudding
Nourishing
Energizing
Creamy
Versatile
Delicious
A delightful breakfast treat that's packed with protein, omega 3's, and vitamin C. This Matcha Chia Pudding is super easy to make and offers an energy boost to start your day.
Video
Ingredients
⅓

tsp

matcha

½

cup

soy milk

½

cup

soy yogurt, divided

1.5

tbsp

chia seeds

½

cup

frozen mango

2

tbsp

water

sweetener (optional)
Instructions
Combine the matcha and milk in a bowl. Whisk the mixture until there are no clumps left.

In a jar, combine 1/4 cup of yogurt, chia seeds, sweetener (if you're using it), and the matcha milk mixture. Stir until well combined.

Place the jar in the refrigerator and allow the mixture to set overnight.

Blend the frozen mango and water together until smooth.

Top the set chia pudding with the remaining yogurt and the mango puree. Enjoy your Matcha Chia Pudding!
Per Serving
Calories
312
kcal
Carbohydrates
31
g
Protein
18
g
Fat
14
g
Sodium
157
mg
Fiber
9
g
Vitamin A
41
IU
Vitamin C
28
mg
Calcium
307
mg
Iron
3
mg