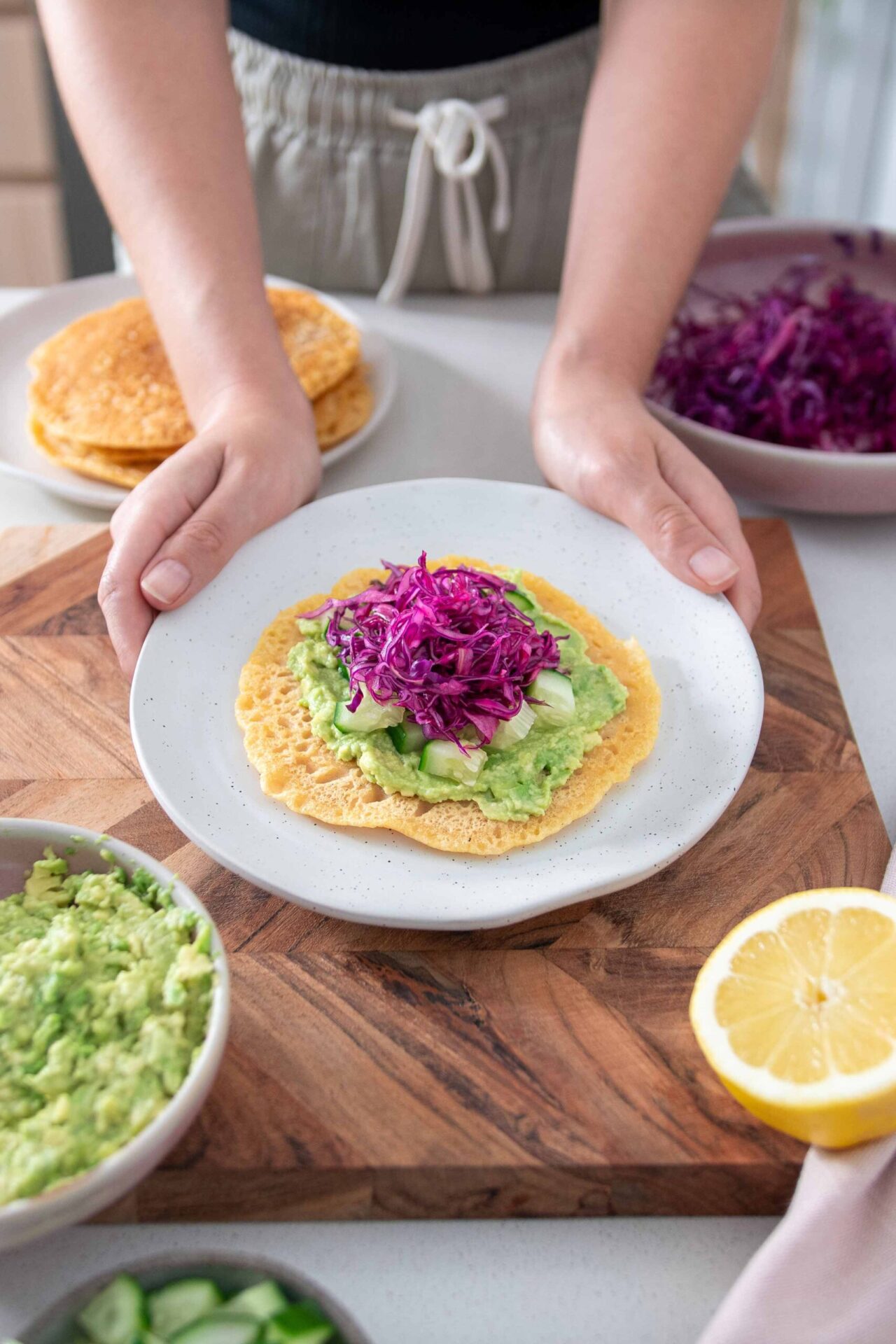 This Red Lentil Wraps 5 Ingredient Meal is the perfect quick and easy, super nourishing recipe! Each serving delivers a solid 26g of protein and 18g of fiber, making it a great choice for a quick lunch that will keep you full and satisfied. The recipe uses split red lentils as the base, which are high in protein and quick to cook. You'll also love the freshness of the avocado and lemon juice and the crunch from the cucumber and red cabbage. It's a well-rounded meal in terms of texture and nutrition.
The prep is straightforward—soak the lentils, blend, and cook like you would a pancake. Then, you just assemble the wraps with the avocado and veggies. It's that simple. Plus, the soaking time aside, you're looking at less than 30 minutes from start to finish. So, if you're after something that's nutritious, easy to make, and genuinely tasty, these Red Lentil Wraps are a fantastic option. You won't be disappointed! Let's dive into why this red lentil recipe is a must-try.
A little while ago, I asked you on my Instagram stories the kind of recipes you'd want to see more of on our page, and I was overwhelmed with so many good ideas! One pattern quickly emerged. You all want more easy recipes, and I'll admit some of my recipes might look slightly overwhelming if you're new to a plant-based style of cooking, especially if you do not have all the ingredients in your pantry, as I love to incorporate so many spices, herbs, and veggies. Then one of you amazing people had the brilliant idea of suggesting we share more recipes that are "easy to make. Like 5 ingredients," and that was it! Cam came up with the name '5 to Thrive', and I knew I wanted to turn this into a series to bring you fun and exciting nourishing recipes that are easy to make, easy on the wallet, and require fewer ingredients. As the warmer season is upon us in Australia, I also personally welcome a need for simplicity, and I'm so thrilled to embark on a new food challenge to bring you the best recipes I can come up with using only 5 ingredients and make the most of it! Before you come for me in the comments 😅 I decided not to include salt, pepper, water, and olive oil. I'm assuming if you're checking our recipes, you most likely will have those on hand, and it would get very boring very quickly otherwise!
This wrap recipe is inspired by Dosa, a delightful Indian meal. This is an extremely simplified version. Traditional dosa involves fermenting a batter of rice and lentils and often involves delicious aromatics.
Why This Recipe Works
High in Protein: Each serving packs a whopping 26g of plant-based protein.
Quick and Easy: With a total cooking time of just 15 minutes, this is a go-to for busy days. You can prep the veggies while cooking the wraps as it's very hands-off and you could cut the total time for this recipe to 20 minutes.
Fiber-Rich: Loaded with 18g of fiber per serving and 5 unique whole plants, it's great for digestive health.
Minimal Ingredients: You only need 5 main ingredients, making it an accessible and affordable recipe if you're new to plant-based cooking or just want an easy meal to add to your rotation.
Ingredient Notes
Red Lentils: Make sure to use split red lentils for best results.
Avocado: Choose a ripe avocado for creaminess.
Lemon Juice: Freshly squeezed is best for flavor.
Cucumber: Dicing it adds a refreshing crunch.
Red Cabbage: Provides a vibrant color and added nutrients.
Nutrition Highlights
As we are only using a handful of ingredients for this one, we want to make the most of it and get the most of their health benefits. That's why we highly recommend soaking the lentils for a minimum of 6 hours; this will help get the best texture for our wrap, prevent bloating, and maximize nutrient absorption.

Should I be concerned with phytic acid? Soaking helps reduce the level of phytic acid, which will make some minerals such as iron, calcium, and zinc more bioavailable, meaning they are more easily absorbed in the intestines. Saying that, there is A LOT of fear-mongering about phytic acid online, and it is definitely not something worth obsessing about. So, what is phytic acid? Phytic acids (or phytates) are a compound present in nuts and seeds, whole grains, and legumes. It is not digested by the human body and binds to some minerals, making them harder to absorb. Preparing methods such as cooking, sprouting, soaking, and pickling food breaks down the phytic acid. Furthermore, it has been shown to possess beneficial anti-inflammatory properties. So, this is not something I'd be concerned about unless you have a deficiency in one of those minerals and are actively looking to increase your intake.

Does soaking beans help with bloating? Beans contain oligosaccharides, which our body cannot break down. This results in undigested oligosaccharides in the large intestine, which can cause gas, flatulence, and bloating and can be quite uncomfortable. Soaking beans in a large volume of water for, ideally, 16 hours greatly reduces the amount of discomfort you could experience when eating beans. Make sure to discard the water, as that's where the oligosaccharides will accumulate. If you're experiencing discomfort, changing the soaking water multiple times might also help. For the same reason, we recommend discarding the liquid in canned beans and rinsing well before use.
Lentils typically have a lower oligosaccharide content than other beans. However, we still recommend soaking, especially if you're new to including beans in your diet or are prone to bloating.
Variations
Feel free to consider the 5 ingredients as a framework for this recipe and adapt them to your taste.
Cucumber could be replaced by tomatoes, pickled onions would make a terrific addition, and a sprinkle of hemp or pumpkin seeds would add a delicious crunch and boost of omega-3s. A little bit of hot sauce goes a long way, and I'm partial to a bit of sriracha on most meals.
Adding some spices like cumin or paprika to the batter is great to bring extra flavor.
Tips for the Perfect Red Lentil Wraps
Soak the lentils for at least 6 hours for the best texture and to maximize their nutrition profile.
Make sure your pan is thoroughly heated before pouring the batter.
Use a good quality non-stick pan. If your food tends to stick to your pan, you might want to use more oil.
Do not attempt to flip the wrap until it is thoroughly cooked. It will break otherwise.
Take your time; it might take a couple of trials to really get the hang of it, and that's okay! These wraps are well worth it. In France, when making crepes, we say that the first one is always "raté," which means the first one always fails, and that's okay. In this case, practice makes perfect.
If you're not going to enjoy all your wraps at once, store them in the fridge in an airtight container and heat them up in the microwave for 15 seconds on high heat to enjoy the leftovers. They keep for up to 5 days. We, however, do not recommend freezing.
Step-By-Step Instructions
Rinse and Soak the red lentils for 6 hours. Blend them with water and a pinch of salt until smooth. Heat a nonstick pan and spray it with olive oil. Pour and Cook the batter, flipping once it's firm and slightly brown. Prepare the avocado mash with lemon juice and salt. Shred the red cabbage and mix it with lemon juice. Assemble the wraps with avocado, cucumber, and cabbage. This could also be a twist on red lentil pancakes if you make them a bit thicker!
Why You'll Love These Red Lentil Wraps
Protein-Packed
Quick
Fiber-Rich
Minimalist Ingredients
Affordable
Delicious
Red Lentil Wraps 5 Ingredient Meal
These Red Lentil Wraps with mashed avocado, diced cucumber and red cabbage slaw are a 5-ingredient meal rich in protein and fiber. Perfect for a quick and nutritious lunch!
Ingredients
Red Lentil Wraps
1

cup

split red lentils, dry

1

cup

water

salt

(to taste)

olive oil

(6 sprays)
Toppings
1

avocado

2

tbsp

lemon juice, divided

1

cucumber, diced

2

cups

shredded red cabbage
Instructions
Rinse the lentils thoroughly under cold water. Soak them in a large bowl filled with water for 6 hours. Drain and rinse again until the water runs clear.

Transfer the soaked lentils to a blender. Add 1 cup of fresh water and a pinch of salt. Blend until the mixture is perfectly smooth.

Heat a nonstick pan over medium heat and lightly coat it with a spray of olive oil. Pour about 1/6 of the lentil batter into the pan, swirling it to evenly coat the surface. Cook until the bottom turns light brown (around 1 minute for me, but that might differ slightly depending on your stove). You will notice some bubbles forming, and the overall wrap will look firmer in texture and darker in color, more orangey and less pink. Flip and cook for another minute.

Repeat the cooking process with the remaining batter.

In a separate bowl, mash an avocado using a fork. Stir in 1 tablespoon of lemon juice and a pinch of salt.

Shred the red cabbage using a vegetable peeler. In a bowl, combine it with 1 tablespoon of lemon juice and a pinch of salt. Massage the cabbage with your hands to soften it.

Assemble the red lentil wraps by spreading the mashed avocado, top with diced cucumber and massaged red cabbage. Serve immediately and enjoy your nutritious meal!
Per Serving
Calories
501
kcal
Carbohydrates
76
g
Protein
26
g
Fat
13
g
Sodium
188
mg
Fiber
18
g
Vitamin A
50
IU
Vitamin C
55
mg
Calcium
104
mg
Iron
9
mg