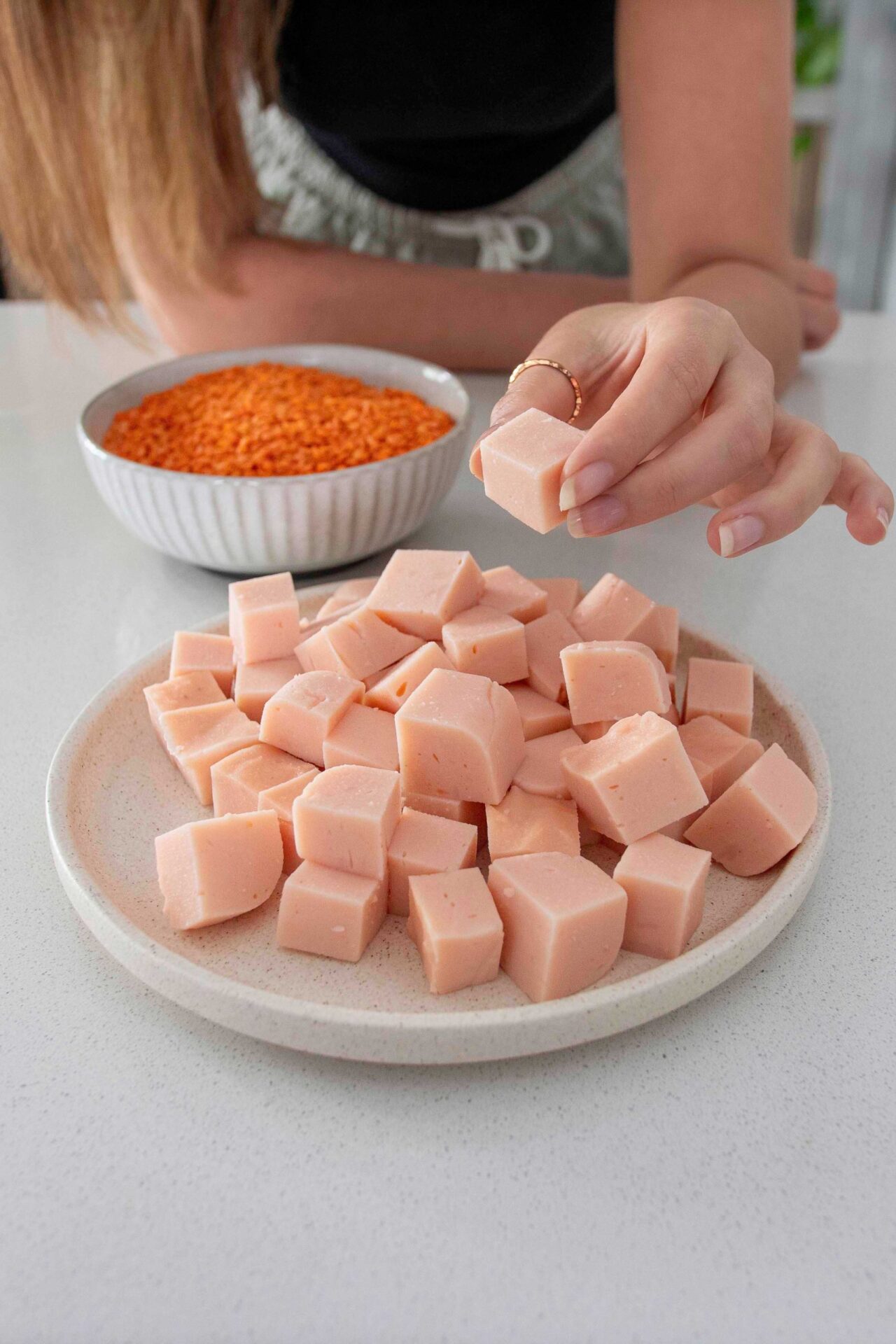 You know I absolutely love tofu, and, contrary to some online discussions about soy's health implications, it has actually been shown to have many beneficial health effects. Let me know if you'd like to hear more on this! I use tofu in many of the recipes I share and have received a few messages from some of you asking for an alternative. I also recall seeing several lentil and chickpea tofu recipes, also known as Burmese Tofu, on my feed last year, which inspired this recipe. So this one's for those of you with a soy allergy! It's also an enjoyable and cost-effective way to incorporate lentils into your diet. This recipe is extremely inexpensive at $0.49(AUD) and very simple to prepare, making it a great addition to your meal plans.
Make sure to go through the soaking and cooking phases as mentioned below, as legumes (including lentils) are not fit to consume unless cooked properly. For this reason, the red lentil tofu needs to be cooked once it sets. I recommend cutting it into cubes and air frying it or baking it in the oven, it becomes a delightful little fluffy pillow with a crunchy outer layer, and I've been loving it so much I've been snacking on it with just some sriracha mayo. I've also had good results frying it on a pan for a couple of minutes on each side. You can also marinate it! I do not recommend using it to shred, scramble or in a saucy dish, as the texture is still different.
If you love this one, you're bound to love our other soy-free tofu alternative 1-Ingredient Chickpea Tofu!
1-Ingredient Red Lentil Tofu
A simple and cost-effective alternative to tofu, this Red Lentil Tofu is perfect for those with a soy allergy or looking to incorporate more lentils into their diet.
Video
Ingredients
¾

cup

split red lentils

2 ¼

cup

water
Instructions
Rinse the lentils well, then soak them for a minimum of 4 hours to overnight. After soaking, drain the water and rinse the lentils again.

Add the soaked lentils to a blender with 2 cups of fresh water. Blend until the mixture is perfectly smooth.

Transfer the blended mixture to a pot and place it on medium heat. Bring the mixture to a soft boil. Once boiling, stir constantly until a thick and smooth paste is formed.

Transfer the thick paste to a glass container and let it set in the fridge overnight.

Cook the lentil tofu the same way you'd use regular tofu. You can marinate it, air fry it, sauté it, etc. Enjoy your homemade Red Lentil Tofu!
Per Serving
Calories
169
kcal
Carbohydrates
30
g
Protein
11
g
Fat
1
g
Sodium
3
mg
Fiber
5
g
Vitamin A
1
IU
Calcium
22
mg
Iron
3.5
mg