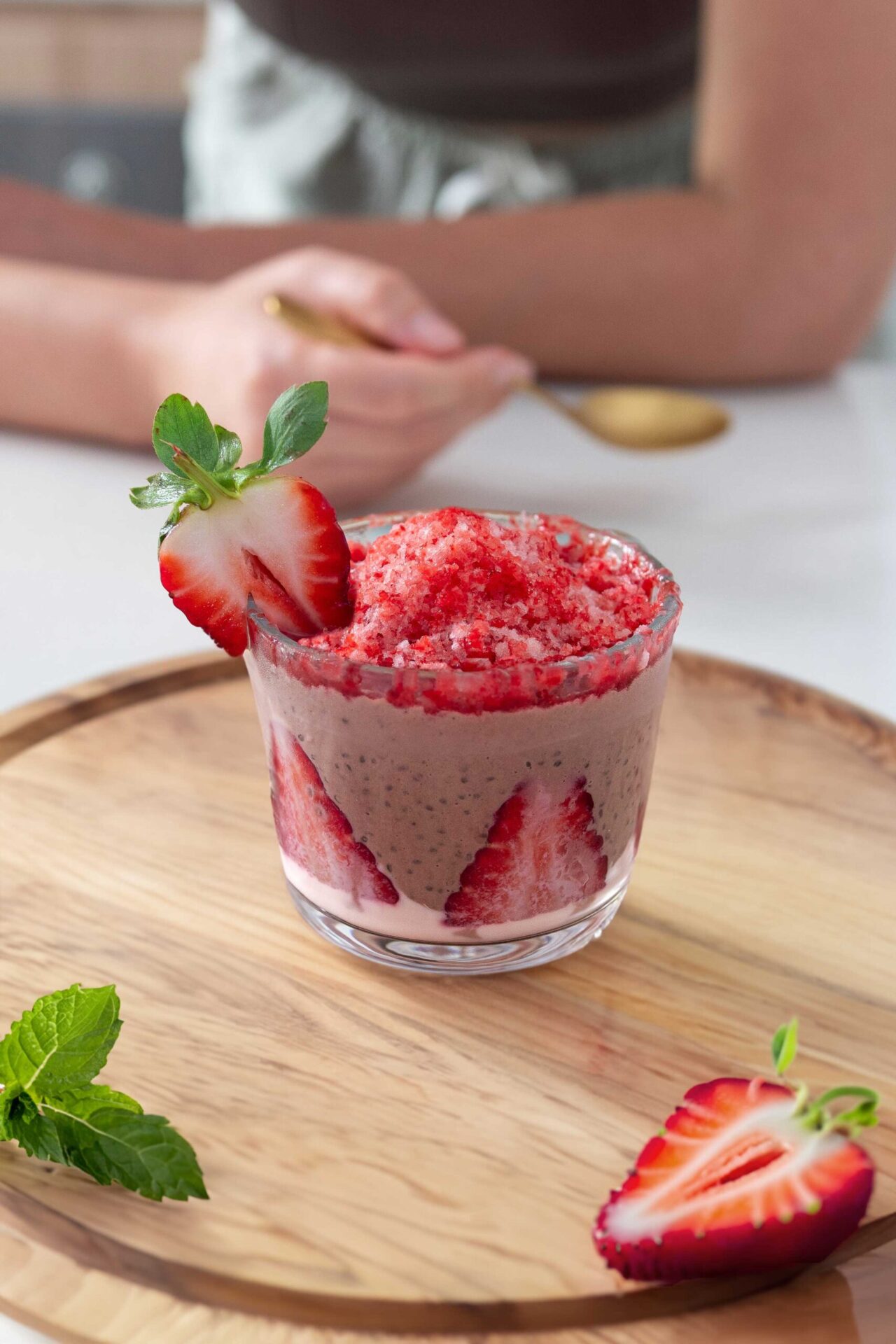 Looking for a healthy, high-protein, and easy-to-make snack? This Chocolate Chia Pudding with Shaved Strawberry is not only delicious but also packed with nutrients. Perfect for breakfast or a quick treat, this vegan delight will satisfy your cravings.
Why This Recipe Works
Simple Ingredients: Made with everyday ingredients like chia seeds, chocolate protein powder, and soy milk.
High in Protein: Contains 19g of protein per serving, making it a great post-workout snack.
Refreshing Taste: The shaved strawberries add a unique texture and refreshing taste.
Ingredient Notes
Chia Seeds: Rich in fiber and omega-3 fatty acids.
Chocolate Protein Powder: Adds flavor and protein. Use your preferred brand.
Soy Yogurt and Milk: For creaminess. Can be replaced with other plant-based options.
Step-by-Step Instructions
1. Blend the protein powder, cacao, yogurt, and milk.
2. Stir in chia seeds and refrigerate overnight.
3. Shave strawberries on top and enjoy!
Frequently Asked Questions (FAQ) Section
Can I use fresh strawberries? You can chop some fresh strawberries, but if you want to shave them, you'd have to freeze them first.
How long does it last in the fridge? Up to 4 days in an airtight container. Stir well before serving.
Variations and Tips
Variations: Try with other shaved fruits like watermelon or stone fruits.
Tips: Adjust sweetness according to the protein powder used.
Why You'll Love This High-Protein Chocolate Chia Pudding with Strawberry Shaved Ice
High-Protein
Easy to Make
Refreshing Shaved Strawberry
Vegan-Friendly
Perfect for Breakfast or a Snack
& SO Delicious!
High-Protein Chocolate Chia Pudding with Strawberry Shaved Ice
A high-protein chocolate chia pudding paired with shaved strawberries. A refreshing and filling snack without added sweeteners.
Video
Ingredients
Chia Pudding
1.5

tbsp

chia seeds

15

g

chocolate protein powder

1

tsp

cacao powder

¼

cup

soy yogurt

¼

cup

soy milk

4

frozen strawberries
Instructions
Blend the chocolate protein powder, cacao powder, yogurt, and milk in a blender until smooth. Stir the mixture in a jar with the chia seeds, ensuring they are well combined. Allow to set in the fridge overnight for the flavors to meld and the pudding to thicken.

Once ready to eat, stir the pudding to achieve the desired consistency. Proceed to shave strawberries at the top using a microplane or a cheese grater. Enjoy straight away for a refreshing and satisfying snack!
Notes
Adjust sweetness according to the type of protein powder used. Experiment with other shaved fruits for varied flavors and textures.
Per Serving
Calories
222
kcal
Carbohydrates
22
g
Protein
19
g
Fat
10
g
Sodium
243
mg
Fiber
8
g
Vitamin A
38
IU
Vitamin C
17
mg
Calcium
250
mg
Iron
3
mg