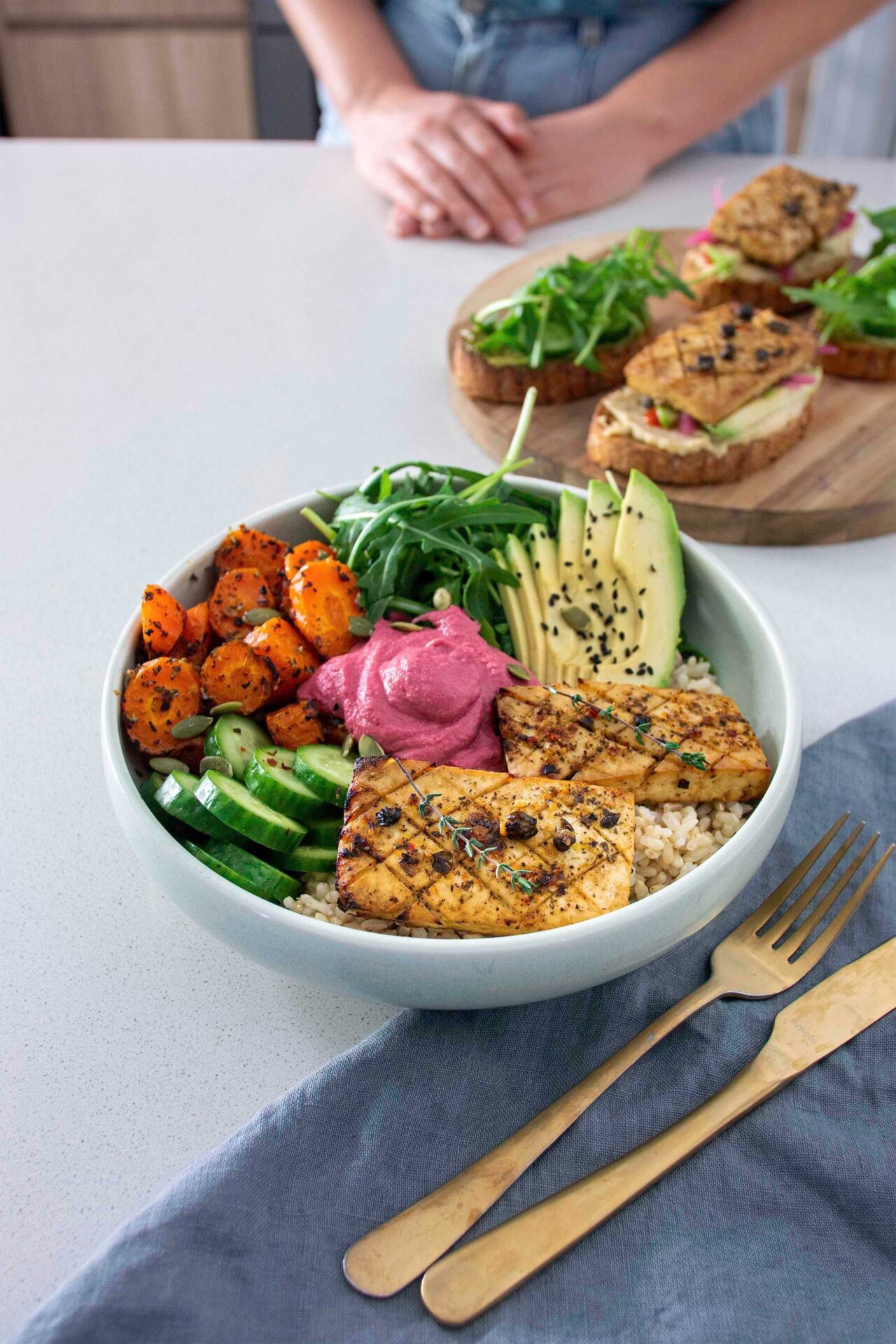 This oven-baked herby lemon tofu is such a simple way to add a nourishing Mediterranean twist to your next healthy bowl or sandwich. It's super easy to make and keeps really well in the fridge; I also love it cold, so it's a great one to make ahead of time and add to any salads or sandwiches for a super fresh protein addition.
In the bowl, I enjoyed it with brown rice, beetroot hummus, avocado, rocket, cucumber, and roasted carrots. The sandwich is toasted sourdough with pesto, hummus, pickled onions, sprouts, sundried tomatoes, avocado and cucumber, so delicious!
I'm using lemon myrtle herb in the marinade, which is a delicious Native Australian herb. It adds a beautiful flavour, but no worries if you can't find it, I've tasted it without, and it's still very delicious ????
I know I'm going to make this on repeat, and can't wait to hear what you all think about this new tofu flavour ✨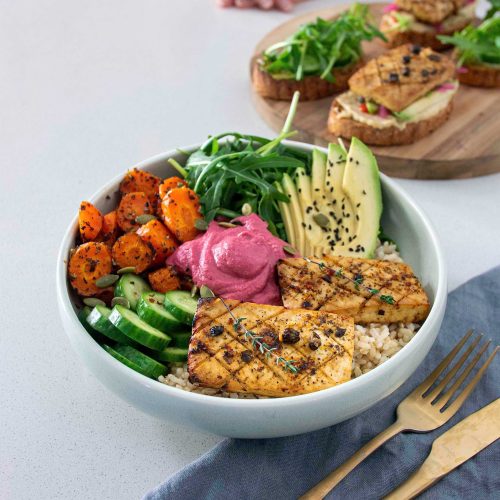 This oven-baked Herby Lemon Tofu is a simple, nourishing Mediterranean twist to your healthy bowl or sandwich. It's easy to make, perfect for make-ahead meals, and adds a fresh, high-protein addition to any dish.
Video
Ingredients
450

g

extra firm tofu

2

lemons, juiced and zested (about 6 tbsp)

2

tsp

Italian herbs seasoning

1

tsp

lemon myrtle (optional)

2

tsp

baby capers + brine

2

small garlic cloves, minced

1.5

tbsp

olive oil

salt & pepper
Instructions
Cut the tofu into 1 cm thick rectangles. Place them between two tea towels and press to remove the excess moisture. Cut diagonal slits across the top and bottom of the tofu for better absorption of the marinade.

Combine the lemon juice and zest, Italian herbs seasoning, lemon myrtle (if using), baby capers and brine, minced garlic, olive oil, salt, and pepper. Add the tofu to this marinade, ensuring it's well coated. Let it marinate for at least 30 minutes to absorb the flavors.

Preheat your oven to 400F/200C. Arrange the tofu pieces on a baking tray and drizzle half of the remaining marinade over them.

Bake the tofu for 15 minutes. Then, flip the pieces over, brush them with the rest of the marinade, and bake for another 15 minutes. Your Herby Lemon Tofu is ready to enjoy!
Per Serving
Calories
237
kcal
Carbohydrates
5
g
Protein
20
g
Fat
17
g
Sodium
143
mg
Fiber
1
g
Vitamin A
1
IU
Vitamin C
13
mg
Calcium
570
mg
Iron
4
mg