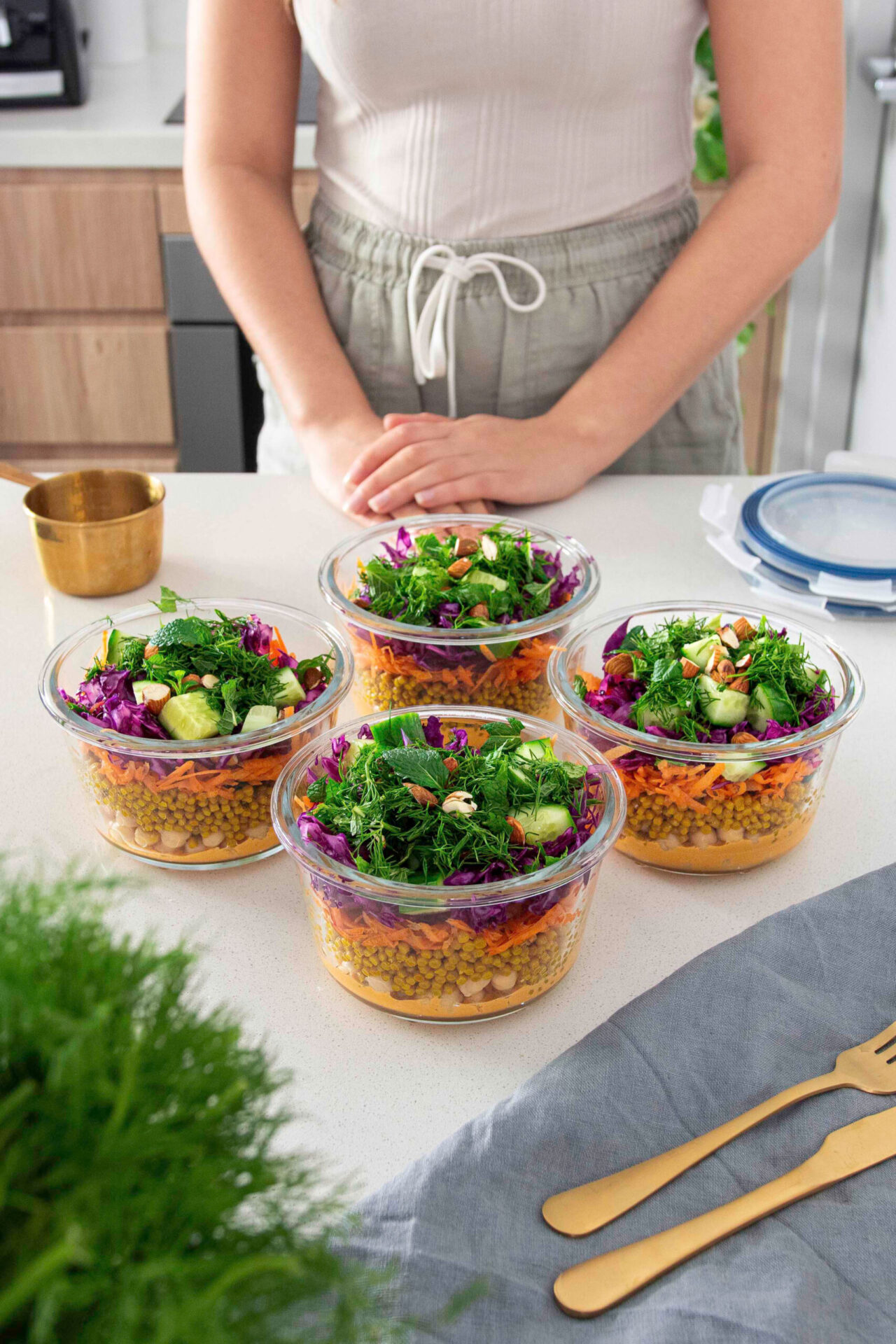 This Pearl Couscous Salad With Creamy Harissa Dressing plant-based meal prep recipe is so delicious and comes together in under 20 minutes, with the pearl couscous being the only part that requires cooking.

I love adding turmeric to my grains when it fits the flavor profile, and the added black pepper and olive oil bring extra taste but also enhance curcumin absorption (that's the active ingredient in turmeric).

Combined with the chickpeas and crunchy veggies, it's an absolute dream for your taste buds, and the creamy harissa dressing really makes it! It's sweet, spicy, and tangy all at the same time. Here, I used lemon and grapefruit, but orange would also work very well.
Why This Recipe Works
Vibrant Flavors: The combination of turmeric, harissa, and fresh herbs creates a taste that's both unique and irresistible.
Nutrient-Rich: Packed with veggies, chickpeas, and whole-grain pearl couscous, this dish is as nutritious as it is delicious.
Easy to Prepare: Simple steps and readily available ingredients make this recipe perfect for busy weeknights.
Versatile: Perfect as a main dish or a side dish, served on the table in a large bowl, this recipe can be adapted to any meal setting.
100% Vegan: As with all of our recipes, this one is completely plant-based.
Step-By-Step Instructions
Begin by cooking the pearl couscous following the packet instructions. Mix in the turmeric while the couscous is still cooking to ensure it absorbs the flavor. Blend together the ingredients for the creamy harissa dressing, balancing the spice with a hint of sweetness. Toss the cooked couscous with chickpeas, vegetables, herbs and almonds. Drizzle with the creamy harissa dressing and serve immediately for a delightful meal.
Ingredient Notes
Chickpeas: Chickpeas, also known as garbanzo beans, are nutrient-dense legumes with numerous health benefits. They are a good source of plant-based protein, minerals (including iron and magnesium), and fiber. They also have a low glycemic index, meaning they help you absorb food more slowly and stay full for longer.
Pearl Couscous: Did you know couscous is actually a type of pasta? This whole wheat version offers a unique texture and is a good source of carbohydrates. It can be substituted with quinoa or brown rice for a gluten-free option.
Harissa: This North African spicy paste adds depth and is one of my favorites. Adjust the amount to suit your spice preference.
Turmeric: Known for its anti-inflammatory properties, it gives the dish its gorgeous golden color.
FAQ
Can I make this recipe gluten-free? Yes, simply substitute pearl couscous with quinoa or brown rice.
Is this dish suitable for meal prep? Absolutely! It keeps well in the fridge.
Can I use a different dressing? Yes, feel free to experiment with other vegan dressings as per your taste.
Are there any nut-free options for this recipe? The dressing is already nut-free, so just skip the almonds and replace them with more sunflower seeds or pumpkin seeds.
How can I increase the protein content? Each bowl contains 22 g of protein. To increase the protein content, add tofu to the dressing before blending, or top with some grilled tofu or lentils.
Variations and Tips
Add Greens: Spinach or kale can be a great addition for extra nutrients.
Protein Boost: Incorporate tofu, lentils, or tempeh for a higher protein content.
Spice Level: Adjust the amount of harissa to control the spice level.
Citrus Twist: Add a squeeze of fresh orange juice or a teaspoon of lemon zest for a different, fresh, citrusy note.
Herbs: we used mint and dill; parsley would make a great substitution.
Garlic: add a garlic clove to the sauce if you like it.
Pickled red onions: our easy pickled onions recipe also makes for a great topping.
Why You'll Love This Pearl Couscous Salad With Creamy Harissa Dressing
Nutritious and flavorful
Easy to make
Vegan
Meal-prep friendly
Pearl Couscous Salad With Creamy Harissa Dressing
This vibrant salad combines turmeric-infused couscous, chickpeas, and crunchy veggies, all tied together with a creamy harissa dressing. Perfect to meal prep.
Video
Ingredients
Main Ingredients
1

cup

dry white wheat pearl couscous

1

tsp

turmeric

½

tsp

black pepper

1

tsp

olive oil

¼

head

red cabbage, shredded

1

tsp

lemon juice

¼

cup

raisins

4

shredded carrots

1

diced cucumber

3

cups

cooked chickpeas

¼

cup

mint leaves, chopped

¼

cup

fresh dill, chopped

¼

cup

crushed almonds
Creamy Harissa Dressing
2

tbsp

harissa paste

¼

cup

sunflower seeds, soaked and drained

2

tbsp

hemp seeds

½

cup

citrus juice

(I used 1 lemon and 1/2 a grapefruit)

1.5

tbsp

maple syrup

pinch of salt
Instructions
Start by cooking the couscous according to the packet instructions. While it's simmering, add the turmeric, olive oil, and black pepper to the boiling water for enhanced flavor and health benefits.

Add 1 tsp of lemon juice to the shredded red cabbage. Massage the cabbage with your hands to soften it and enhance its flavor.

Prepare the creamy harissa dressing by blending all the dressing ingredients until smooth. This will be the base flavor of your salad.

Assemble the salad by layering the ingredients in the following order: Start with the creamy harissa dressing, followed by chickpeas, couscous, raisins, cabbage, carrots, cucumber, and finally, the herbs and almonds. Enjoy your nutritious and delicious meal!
Notes
This salad is a perfect meal prep option and can be customized according to your taste preferences.
Per Serving
Calories
552
kcal
Carbohydrates
101
g
Protein
22
g
Fat
13
g
Sodium
171
mg
Fiber
19
g
Vitamin A
551
IU
Vitamin C
51
mg
Calcium
164
mg
Iron
7
mg