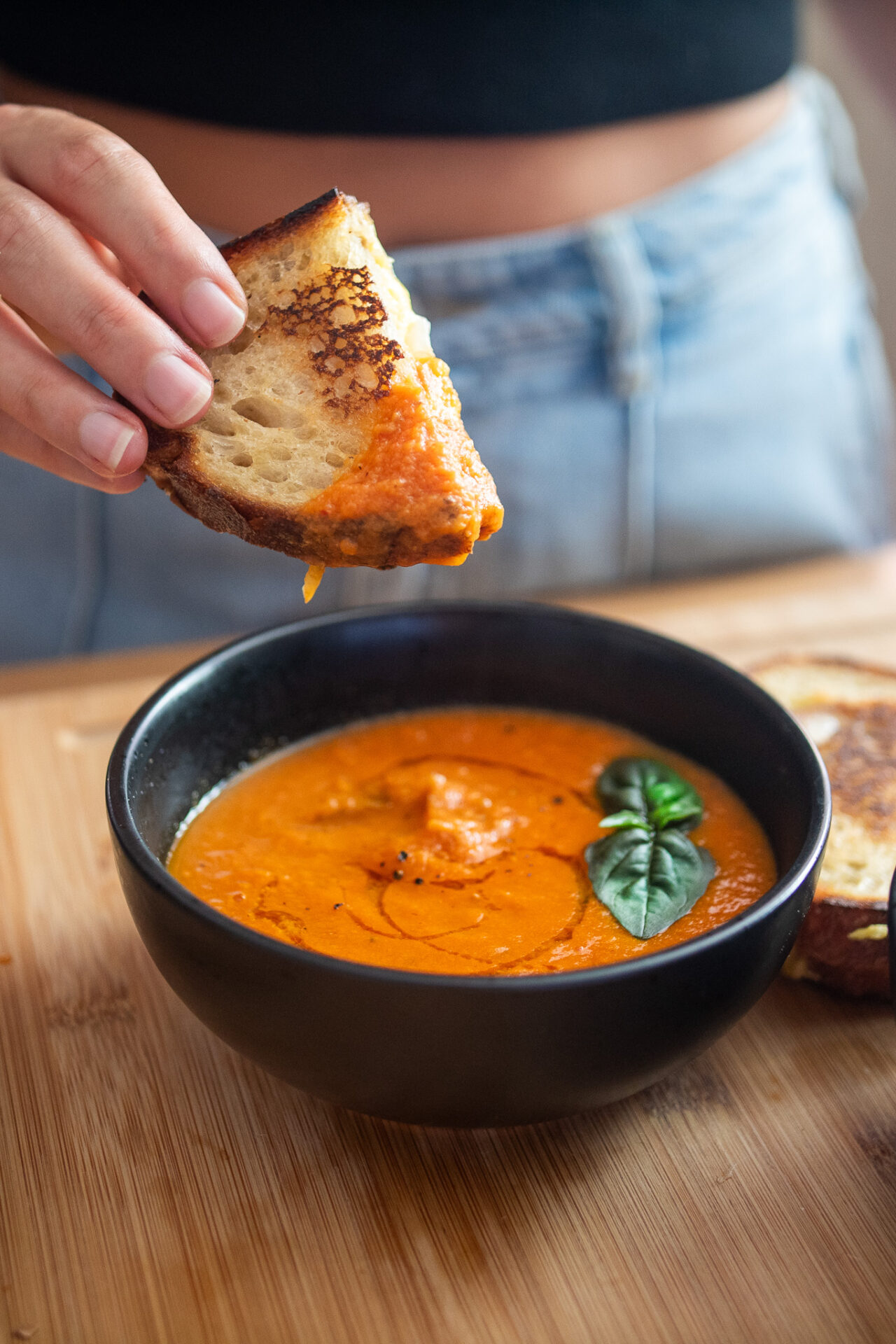 I have made this soup four times in the past couple of weeks… I think I am a little bit obsessed! There is something that's just so comforting about a good tomato soup. I hope you love it as much as we do! I love a warm bowl of soup with a side of grilled cheese sandwiches. If you do, too, save a little bit of the caramelized onions to add to your sandwich; it really takes it to the next level!
Why This Recipe Works
Simple Ingredients: Utilizes everyday items for an easy-to-make delight.
Comfort Food: Perfect for cozy evenings, offering a nourishing hug in a bowl.
Vegan Friendly: Completely plant-based, catering to a wide range of dietary preferences.
Flavorful and Rich: The roasting and caramelizing techniques elevate the natural sweetness and depth of the tomatoes and onions.
Perfect Pairing: Complements a variety of sides, especially a vegan grilled cheese sandwich.
Step-By-Step Instructions
Begin by setting your oven to 400F (200C), creating the perfect environment for roasting the tomatoes and garlic. Proceed by halving the tomatoes and placing them in an oven-safe dish with garlic, olive oil, salt, and pepper, ensuring they're well-coated. Meanwhile, caramelize the onions in a separate pot, stirring occasionally to achieve a gorgeous golden-brown color. Blend the roasted tomatoes, caramelized onions, and other ingredients until smooth, combining their flavors beautifully. Finish by cooking the soup with fresh basil, adjusting the seasoning to your preference.
Ingredient Notes
Tomatoes: The star of the dish, providing antioxidants and a rich base. Roma or plum tomatoes can be substituted. Rich in Lycopene, which absorption is enhanced when heated and paired with a source of fat, like olive oil.
Onions: Add sweetness when caramelized. Red onions can be used too.
Soy Milk: Gives a creamy texture without dairy. Almond or oat milk are great alternatives.
Vegetable Broth: Forms the liquid base, choose a low-sodium option for a healthier choice.
Basil: Adds a fresh, Mediterranean touch.
FAQ
Can I use canned tomatoes? Yes, good quality canned tomatoes are a great alternative when fresh ones aren't available.
Is this soup freezer-friendly? Absolutely, it freezes well for up to 3 months.
How can I make this soup more protein-rich? Add some butter beans before blending, or top with crispy chickpeas. This soup is meant to be paired with a side to be a complete meal.
What are some topping suggestions? Try vegan cheese, croutons, or a swirl of vegan cream.
Variations and Tips
Spice it up: Add red pepper flakes for a spicy kick.
Herb Variations: Experiment with thyme or rosemary for a different flavor profile.
Meal Prep: Make a large batch and store portions for a quick and easy meal option.
Roasting: For an even deeper flavor, roast the tomatoes longer until they start to caramelize.
Storage: Keep in an airtight container in the fridge for up to 5 days.
Why You'll Love This Tomato Soup
– Nutritious
– Heartwarming
– Versatile
– Flavorful
– Easy-to-Make
A comforting, nourishing roasted tomato soup, perfect for those under the weather. Enhanced with caramelised onions and roasted garlic, it's a warm 'hug in a bowl'.
Video
Ingredients
3

tbsp

olive oil

1

kg

tomatoes

1

garlic head

1

tsp

oregano

2

onions

1

can

cherry tomatoes

1

cup

low sodium vegetable broth

½

cup

soy milk

1

handful

basil

(+ more for garnish)

Salt and pepper
Instructions
Preheat the oven to 200C (392F). Wash and slice the tomatoes in half. Place them open face up in an oven-safe dish. Chop the top of the garlic head, and place it face down with the skin still on. Drizzle with olive oil, oregano, a dash of salt, and pepper. Cook in the oven for 40 minutes.

While the tomatoes and garlic are roasting, dice the onions into slices. Add them to a pot on low heat with 1 tbsp of olive oil. Cook covered for 30 minutes, stirring occasionally. The onions will be caramelised once slightly brown.

To a blender, add the caramelised onions, roasted tomatoes (and juices), roasted garlic, and cherry tomato can, and blend until smooth.

Transfer the blended mixture back to a pot on low heat and add the vegetable stock, soy milk, and basil. Cook for 20 to 30 minutes uncovered. Adjust seasoning to taste.

Pour the soup into a bowl and garnish with a bit of basil and a drizzle of olive oil or cashew cream. Enjoy your comforting roasted tomato soup.
Per Serving
Calories
231
kcal
Carbohydrates
28
g
Protein
6
g
Fat
12
g
Sodium
383
mg
Fiber
5
g
Vitamin A
132
IU
Vitamin C
42
mg
Calcium
92
mg
Iron
2
mg