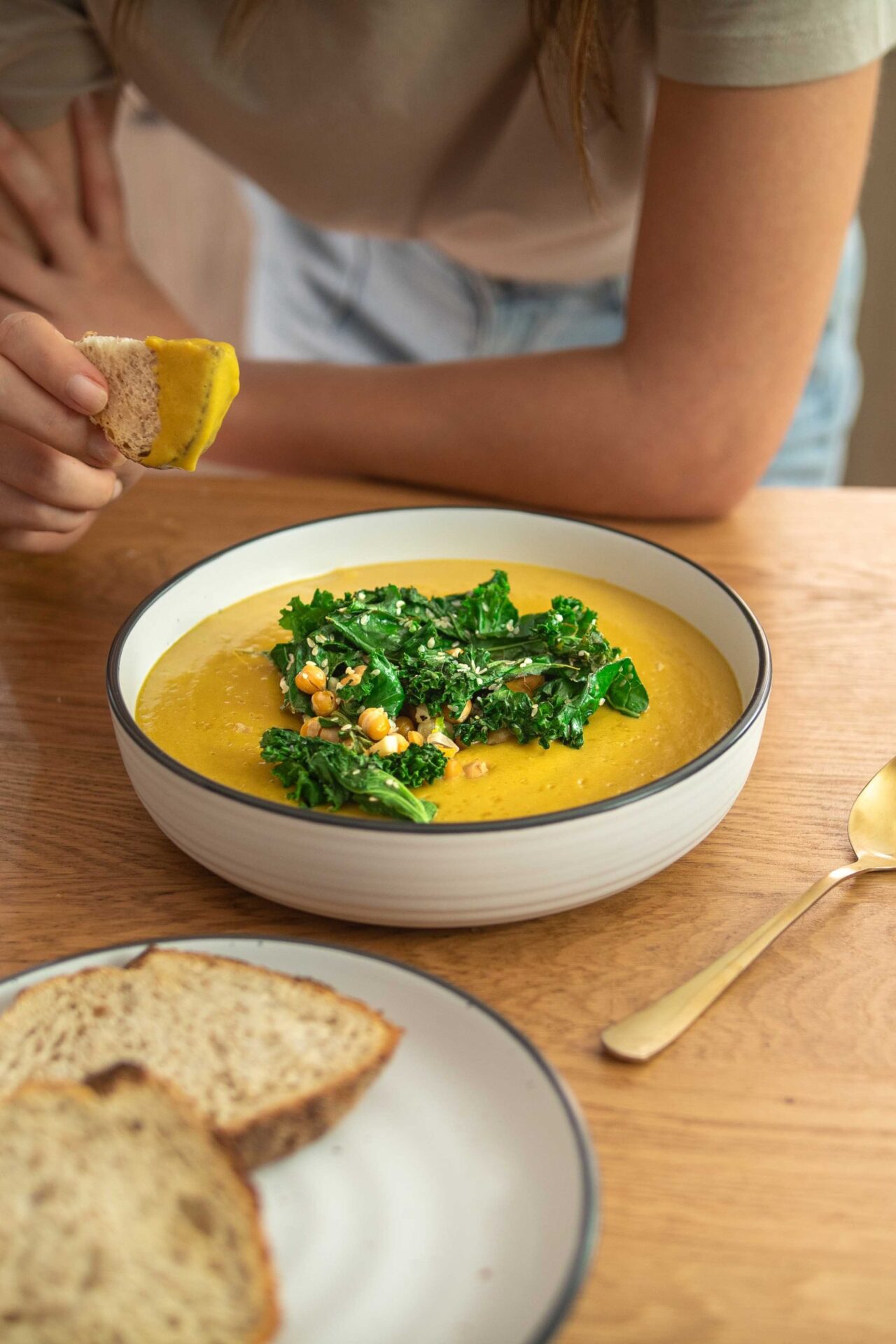 This soup is super simple and tastes fantastic. Roasting the vegetables brings a really deep richness. It's so simple and comforting. That is precisely what we need right now, with the weather cooling down in Sydney.
Now I am an "all the toppings but the kitchen sink" kinda girl, so I love to add some veggies and chickpeas for extra texture and nutrients.
I'm using my homemade stock, which does not contain salt; store-bought stock can be pretty salty, so it's best to hold off adding salt to the soup after tasting it if that's what you are using. If you are being mindful of your sodium intake, it is best to look for low-sodium or homemade options.
Why This Recipe Works
Deep Flavors: Roasting the veggies enhances their natural sweetness and depth.
Nutrient-Rich: Packed with vitamins from the cauliflower, pumpkin, and kale.
Customizable Toppings: Add chickpeas, seeds, and more for added texture and nutrition.
Low Sodium Option: Ideal for those monitoring their salt intake, especially with homemade stock.
Comforting: Perfect for cooler weather, offering a cozy and satisfying meal.
Step-By-Step Instructions
Begin by preheating your oven, setting the stage for roasting the vegetables. Mix cauliflower, pumpkin, and onions with seasonings for a flavor-packed roast. Cook these in the oven until they're perfectly tender and rich in flavor. Blend the roasted vegetables with stock and soy milk, creating a creamy and smooth soup. Heat this blend gently, readying it for a delicious serving.
Ingredient Notes
Cauliflower: A versatile veggie, rich in fiber and vitamins. Broccoli can be a great substitute.
Pumpkin: Adds sweetness and creaminess; butternut squash is an excellent alternative.
Soy Milk: Lends creaminess without dairy; almond or oat milk can also be used.
Veggie Stock: The soup's base; homemade stock, ensures control over sodium content.
Toppings: Chickpeas and kale add texture and nutrients; switch up with beans or spinach for variety.
FAQ
Can I make this soup in advance? Yes, it stores well in the fridge for up to 5 days.
Is this soup freezer-friendly? Absolutely, freeze it for up to 3 months for best quality.
Can I use different vegetables? Sure, feel free to use veggies like sweet potatoes or carrots.
How can I make this soup creamier? Add more soy milk or a splash of coconut milk for extra creaminess.
Any tips for serving? Serve with a slice of toasted sourdough for a complete meal.
Variations and Tips
Spice It Up: Add a pinch of cayenne pepper or smoked paprika for a warm kick.
Herb Variety: Experiment with thyme or basil for a different herby note.
Protein Boost: Include tofu or lentils for additional protein.
Texture Play: Top with roasted nuts or seeds for a crunchy contrast.
Leftovers Idea: Repurpose leftover soup as a sauce for pasta or grains.
Seasonal Twist: Use seasonal veggies for variety and the freshest flavors.
Why You'll Love This Roasted Vegetable Soup
– Rich Flavor
– Wholesome
– Versatile
– Easy to Make
– Comforting
Roasted Pumpkin & Cauliflower Soup
A simple, comforting soup featuring roasted pumpkin and cauliflower. The recipe also includes a flavorful topping of kale, chickpeas, and sesame seeds.
Video
Ingredients
Soup
1

small

cauliflower head

½

small

pumpkin (about 3 cups diced)

2

onions

2

tsp

olive oil

1

tbsp

oregano

1.5

cup

veggie stock

1

cup

soy milk
Toppings
0.5

tsp

olive oil

1

cup

kale, chopped

2

cloves

garlic, minced

1

cup

chickpeas (rinsed and drained)

1

tbsp

lemon juice

2

tbsp

sesame seeds
Instructions
Preheat your oven to 350F/180C. Wash and chop the cauliflower and pumpkin into bite-sized pieces. Chop the onions into quarters.

Combine the chopped vegetables in a bowl with the oregano, olive oil, salt, and pepper. Cook in the preheated oven for 30 minutes.

Once cooked, allow the vegetables to cool down a bit, then add them to your blender along with the veggie stock and soy milk. Blend on high speed until smooth. Heat up on low heat before serving.

For the toppings: To a pan on medium heat, add the olive oil, chickpeas, garlic, and sesame seeds. Cook for a couple of minutes.

Add the chopped kale, salt, and pepper to the pan and cook until just wilted (about 1 minute). Stir in the lemon juice. Top your soup with this mixture or enjoy it as a side.
Per Serving
Calories
474
kcal
Carbohydrates
65
g
Protein
23
g
Fat
17
g
Sodium
757
mg
Fiber
18
g
Vitamin A
15373
IU
Vitamin C
174
mg
Calcium
251
mg
Iron
7
mg