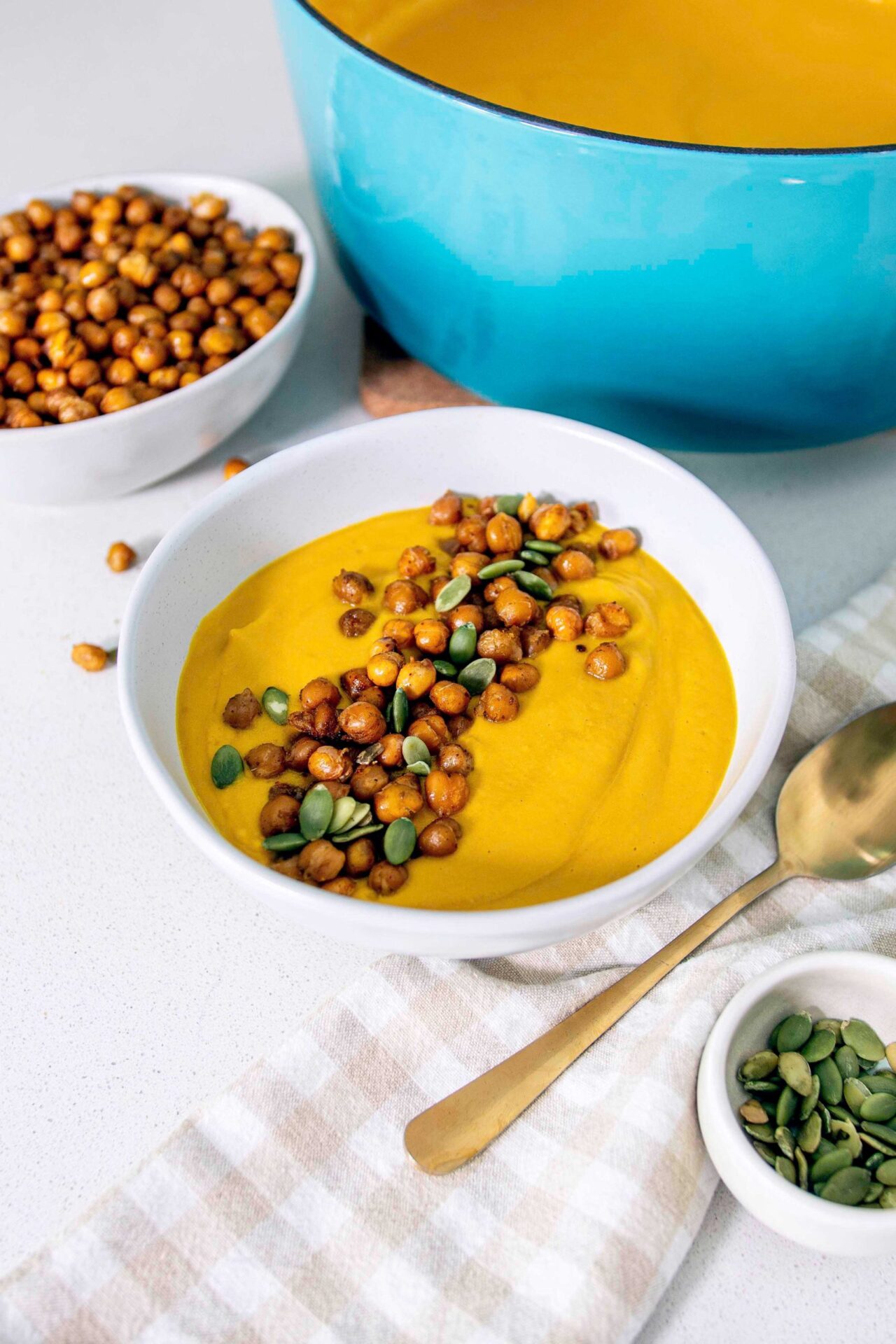 This Carrot Soup with Crispy Chickpea Croutons is a budget-friendly recipe that costs approximately $4.44 for four servings. It's an economical choice for those looking to save money while still enjoying nutritious meals. The delicious soup spiced with cumin and paprika is rich in beta-carotene from the carrots and provides a good source of protein and fiber from the chickpeas. This recipe is straightforward to prepare, making it suitable for cooks of all skill levels and ideal for a quick, healthy meal.
Why This Recipe Works
Nutrient-Rich: Packed with vitamins and minerals from carrots and chickpeas.
Protein: Chickpeas and soy milk add a healthy dose of protein (22g per bowl).
Simple Ingredients: Utilizes accessible and affordable ingredients.
Deliciously Nourishing: The sweetness of the roasted carrots & onions pairs beautifully with the spices and crunchy chickpeas.
Step-By-Step Instructions
Begin by preheating your oven, preparing it for roasting the vegetables. Toss carrots and onions with olive oil and cumin, roasting them to bring out their sweetness. Create crispy chickpea croutons with a mix of spices for a delightful crunch. Blend the roasted veggies with soy milk, stock powder, ginger, and oats until smooth. Simmer the soup with added water, adjusting salt to taste. Serve topped with chickpea croutons for a complete and satisfying meal.
Ingredient Notes
Carrots: A great source of beta-carotene, can be substituted with pumpkin for a different flavor.
Oats: Add thickness to the soup; certified gluten-free oats can be used for those with allergies.
Soy Milk: Lends creaminess and protein.
Chickpeas: High in protein and fiber; can be replaced with other beans like butter beans or kidney beans.
Spices: Cumin, ginger, and smoked paprika bring warmth and depth to the soup.
FAQ
Can I make this soup ahead of time? Yes, store the soup and croutons separately in the fridge for freshness.
Is this recipe vegan? Yes, it's completely plant-based and vegan-friendly.
Can I use fresh ginger instead of ground? Absolutely, fresh ginger will add a more vibrant flavor.
How can I make this soup nut-free? Simply ensure that the plant milk used is nut-free.
What are some other topping ideas? Try roasted nuts, seeds, or a dollop of vegan yogurt for variety.
Variations and Tips
Budget Shopping: Look for 'imperfect' produce for cost savings without compromising on nutrition.
Spice Variations: Experiment with different spices like turmeric or coriander for a new flavor profile.
Texture Play: Add some crispy roasted quinoa to the soup for added heartiness.
Creamier Texture: Blend in some cashews.
Herb Freshness: Garnish with different herbs like cilantro or dill for a fresh touch.
Meal Prep: Make a large batch and store portions for a quick and easy meal option. The soup itself is freezer friendly, the chickpeas would loose their texture if frozen, so I don't recommend freezing them.
Why You'll Love This Carrot Soup with Crispy Chickpea Croutons
– Budget-Friendly
– Nutrient-Dense
– Flavorful
– Satisfying
– Easy to Prepare
Roasted Carrot Soup with Chickpea Croutons (Healthy, Budget Eats)
A nutritious, budget-friendly roasted carrot soup, enhanced with chickpea croutons for added crunch and protein. Perfect for a wholesome meal.
Video
Ingredients
1

kg

carrots

2

yellow onions

3

cups

cooked chickpeas (2 cans drained and rinsed)

1.5

tbsp

cumin

1

tsp

ground ginger

1

tsp

smoked paprika

3

tbsp

olive oil

2.5

cups

soy milk

2

tsp

veg stock powder

¼

cup

oats

2

cups

water

Salt to taste

2

tbsp

pepita seeds
Instructions
Preheat the oven to 400 degrees F (200 C). Wash and roughly chop the carrots. Peel and quarter the onions. Add the carrots and onions to an oven-safe dish. Drizzle with 1.5 tbsp olive oil and 1 tbsp cumin, mix until thoroughly combined. Cook in the oven for 30 minutes.

For the chickpea croutons, mix the chickpeas, 1.5 tbsp olive oil, 0.5 tbsp cumin, smoked paprika and a dash of salt. Cook in the oven for 30 minutes.

To a blender, add the roasted carrots, onions (and juices), soy milk, vegetable stock powder, ground ginger and oats. Blend until perfectly smooth.

Transfer the blended mixture to a large pot, and add 2 cups of water. Simmer for 10 minutes, covered on low heat. Adjust salt to taste (this will mainly depend on the stock powder you used).

Serve the soup in a bowl and top with the chickpea croutons. If saving some for later, keep the chickpea and soup separately to preserve crunchiness. Enjoy!
Per Serving
Calories
555
kcal
Carbohydrates
78
g
Protein
22
g
Fat
20
g
Sodium
391
mg
Fiber
20
g
Vitamin A
2090
IU
Vitamin C
21
mg
Calcium
214
mg
Iron
6
mg