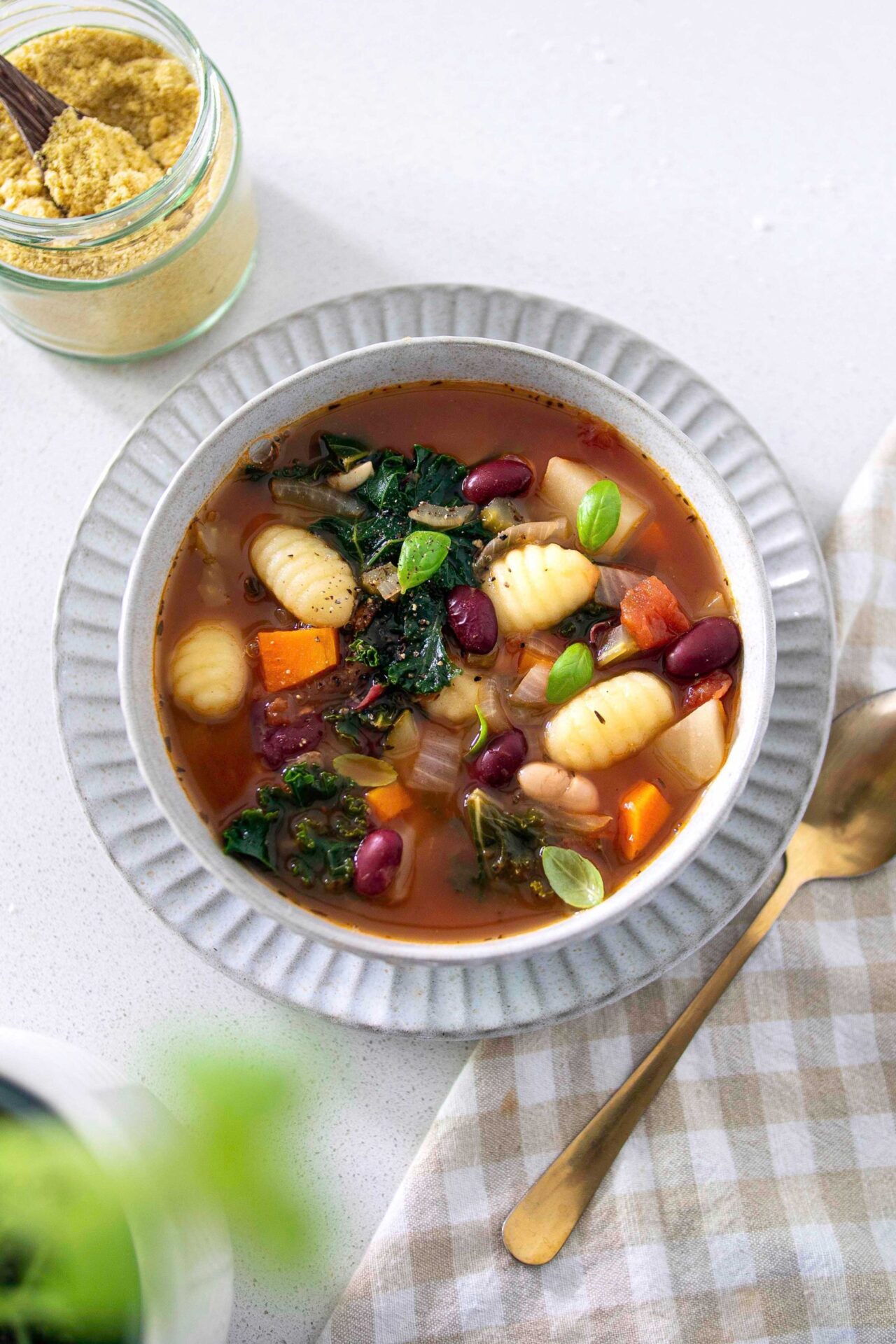 If you're craving a simple, satisfying, flavourful meal that won't break the bank, this minestrone soup is the one! Minestrone soup is a versatile and delicious option that combines veggies, beans, and sometimes pasta or grains. It's a great source of fiber, protein, vitamins, and minerals. Additionally, because it's a one-pot meal, it's easy to make and can be customized to fit your tastes and preferences. Just chop up some veggies, toss everything in a pot, and let it simmer to perfection.
Why This Recipe Works
Nutrient-Rich: Packed with vitamins and minerals from a variety of vegetables.
High in Fiber and Protein: Beans and veggies make it an excellent source of both.
Customizable: Easily adaptable to include your favorite vegetables or available ingredients.
One-Pot Wonder: Simple preparation and minimal cleanup needed.
Flavorful and Comforting: A perfect blend of spices and ingredients for a comforting meal.
Step-By-Step Instructions
Start by warming up the pot and sautéing onions to create a flavorful base. Add in the aromatic thyme, optional chili flakes, and a pinch of salt and pepper for seasoning. Incorporate garlic, carrot, and celery for a delightful veggie mix. Continue with potatoes and zucchini, building up the hearty texture of the soup. Pour in the vegetable stock and diced tomatoes, simmering to blend the flavors. Mix in the kidney and cannellini beans for a protein boost. Finish with gnocchi and kale, adjusting the seasoning for the perfect taste.
Ingredient Notes
Kale: A superfood, providing antioxidants and fiber. Spinach is a good substitute for a different texture.
Gnocchi: Adds a unique texture and heartiness. Pasta or rice can be used as alternatives.
Kidney & Cannellini Beans: Great protein sources, interchangeable with other bean varieties.
Vegetable Stock: The soup's base, homemade stock can enhance flavor even further.
Spices: Thyme and chilli flakes bring warmth and depth; adjust according to taste preferences.
FAQ
Can I make this soup gluten-free? Yes, simply use gluten-free gnocchi or substitute with GF pasta or rice.
Is this recipe suitable for meal prep? Absolutely, it stores well in the fridge for up to 5 days.
Can I use frozen vegetables? Yes, frozen veggies are a convenient and nutritious option.
What are some serving suggestions? Top with vegan parmesan and fresh herbs for extra flavor, and serve with a slice of toasted sourdough.
Variations and Tips
Seasonal Vegetables: Use seasonal veggies for the freshest flavor and nutrition.
Spice it Up: Adjust the chili flakes for a spicier or milder soup.
Protein Twist: Experiment with different beans or lentils for variety.
Texture Play: Try different types of pasta or grains for a new twist.
Herb Freshness: Garnish with different herbs like basil or oregano for a fresh touch.
Leftovers: Transform leftovers into a thicker stew by reducing the liquid or adding grains.
Why You'll Love This Minestrone Soup
– Nourishing
– Versatile
– Hearty
– Flavorful
– Simple to Make
A simple, satisfying, and flavorful Minestrone Soup that combines veggies, beans, and gnocchi. It's a one-pot meal, easy to make and customizable to your tastes.
Video
Ingredients
2

tbsp

olive oil

1

large yellow onion

2

tsp

dry thyme

1

tsp

chilli flakes (optional)

4

garlic cloves, diced

2

carrots, diced

3

celery stalks, diced

2

potatoes, diced

1

zucchini, diced

1.5

cups

diced tomato

6

cups

vegetable stock

1.5

cups

cooked kidney beans

1.5

cups

cooked cannellini beans

3

cups

chopped kale

100

g

gnocchi

Salt & pepper to taste
Instructions
In a large pot on medium heat, add the olive oil and onions. Sauté for 5 minutes until the onions are translucent.

Add the thyme, chilli flakes, a pinch of salt and pepper, garlic, carrot and celery. Stir well and cook for 3 minutes until the vegetables start to soften.

Add the potatoes and zucchini to the pot. Stir well and cook for 5 minutes until the vegetables are slightly softened.

Pour in the vegetable stock and diced tomatoes. Cover the pot and let it simmer for 30 minutes.

Add the beans to the pot, stir well and cook for 10 minutes uncovered.

Finally, add the gnocchi and kale to the pot. Cook for 5 more minutes. Adjust the salt and pepper to taste. Serve the soup hot with cashew parmesan and fresh herbs.
Per Serving
Calories
414
kcal
Carbohydrates
67
g
Protein
17
g
Fat
11
g
Sodium
496
mg
Fiber
17
g
Vitamin A
434
IU
Vitamin C
35
mg
Calcium
239
mg
Iron
3
mg