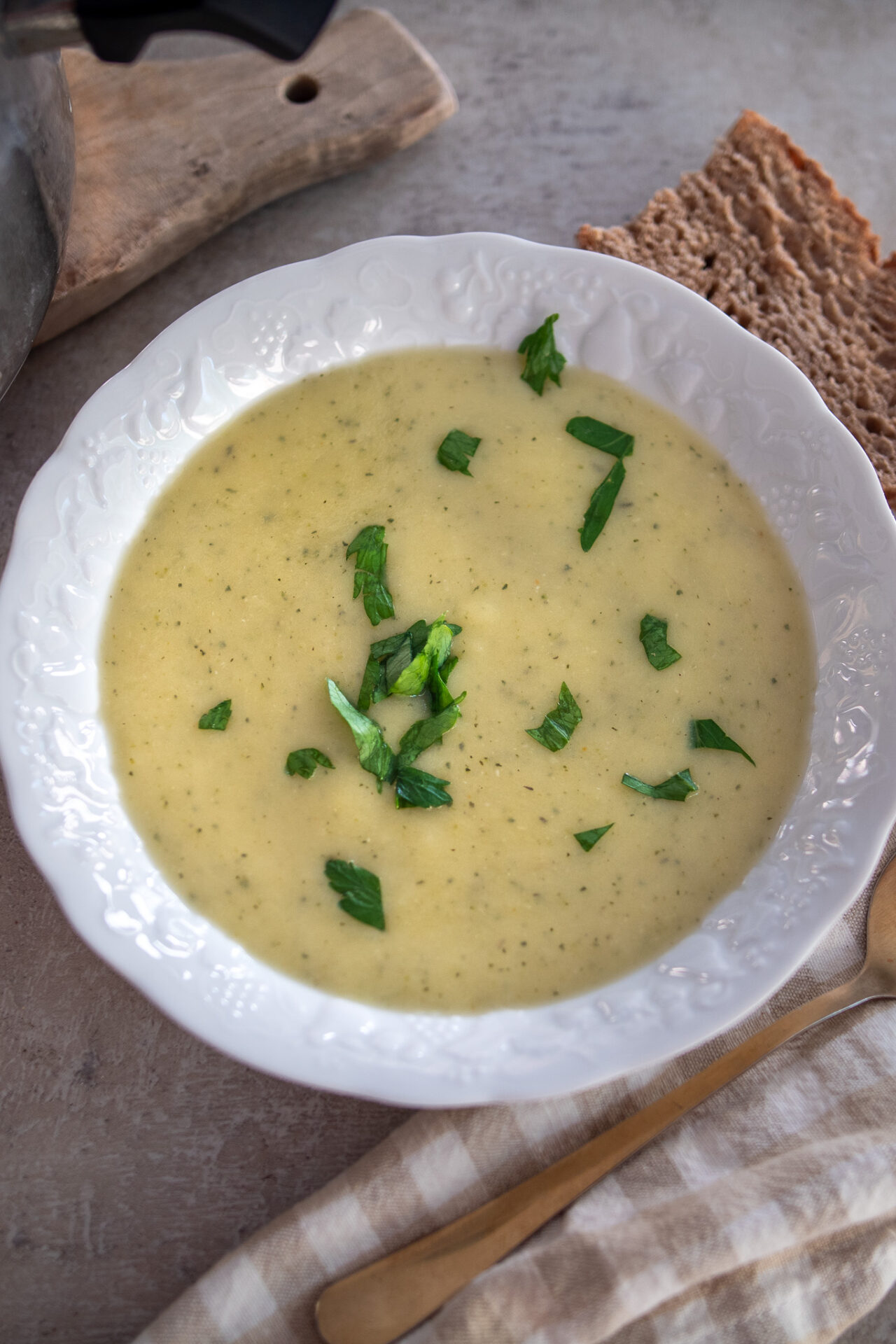 This simple food makes for a great starter when you feel like something warm and comforting. It's incredible with grilled sourdough, and I love to add some chickpea croutons along with a side of greens.
✨ Nutrition tip:
Check out the sodium level of the stock you are using. The WHO (World Health Organisation) recommends less than 2g (2000mg) of sodium per day. Store-bought ones can be really high, so I always recommend going for a low-sodium version (they are widely available in supermarkets).
The first 2 regular stock boxes I picked up at the supermarket had respectively 975mg and 1120mg of sodium per cup of stock. For comparaison 1/4 tsp salt represents 575mg.
Such an easy swap that can really add up over time ????
If you're curious about the sodium in our recipes (and other nutritional information), they are available on the website below each recipe.
A comforting, easy-to-make soup with potatoes, leeks, and zucchini, perfect for a warm starter. Best served with grilled sourdough and chickpea croutons.
Ingredients
1

tbsp

extra virgin olive oil

4

medium potatoes, peeled and diced

2

leeks, diced

2

yellow onions, diced

1

zucchini, diced

4

garlic cloves, minced

3

bay leaves

2

cups

vegetable stock

2

thyme sprigs

½

cup

soy milk

Salt and pepper to taste

4

tbsp

chopped parsley
Instructions
Heat up the olive oil in a pan on medium heat. Add the diced leeks and onions along with a dash of salt. Cook for 5 to 7 minutes until they turn slightly brown. If needed, deglaze the pot with some vegetable stock.

Add the diced potato, minced garlic, diced zucchini, bay leaves, and thyme to the pan. Cover the ingredients with vegetable stock and let it cook for about 20 minutes. The potatoes are cooked when they can be easily cut through with a knife.

Remove the bay leaves and thyme from the pan. Add the soy milk to the mixture and blend until the soup is smooth. Taste the soup and add salt and pepper as needed.

Top the soup with chopped parsley. Serve it warm with grilled sourdough. Enjoy your meal!
Per Serving
Calories
256
kcal
Carbohydrates
50
g
Protein
6
g
Fat
6
g
Sodium
212
mg
Fiber
7
g
Vitamin A
66
IU
Vitamin C
42
mg
Calcium
103
mg
Iron
5
mg