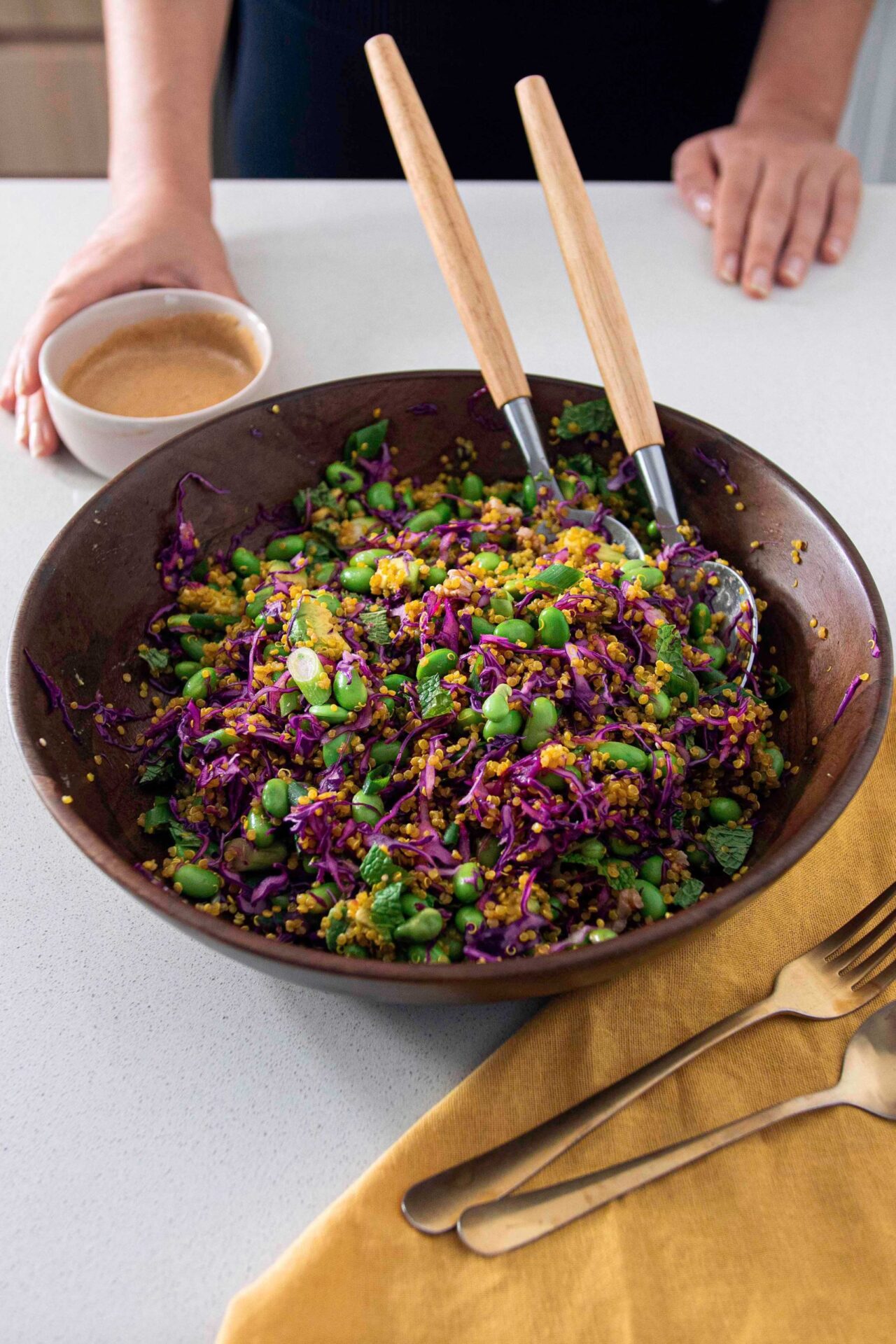 These recipes are all delicious and well-balanced, with enough protein, fiber and healthy fats to keep us full and satisfied. Which one would you choose?

In no particular order, here are our TOP 7 vibrant and nutrient-packed salad recipes for 2023!
Indulge in a nutritious, easy-to-make Turmeric Quinoa & Edamame Salad. Packed with 11 unique plants, 31g of protein, 18g of fiber, and healthy fats from nuts and avocado, this salad is a feast for your taste buds and your microbiome. Bonus points for adding a little kimchi or your favorite fermented food for even more gut health benefits.
view recipe
A vibrant, nourishing Roasted Cauliflower and Avocado Salad that's as delicious as it is healthy. Packed with fiber-rich cauliflower, creamy avocado, and protein-packed chickpeas, this salad is perfect for a light lunch or dinner. Just 10 ingredients!
view recipe
A quick and easy soba noodle salad with a fiery peanut sauce, packed with edamame, cabbage, and mango for a protein-rich meal.
view recipe
Dive into this Roasted Asparagus, Beetroot & Butter Bean Salad – a wholesome, satisfying, and easy-to-make roasted vegetable salad. Packed with nutritious buckwheat, fresh arugula, and a tangy lemon dressing, this salad is a flavorful, plant-based meal that requires just a few ingredients!
view recipe
A nutrient-packed Greek-Inspired Potato Salad with a delightful blend of flavors and textures. Perfect for a refreshing and satisfying meal.
view recipe
A quick, nourishing lunch packed with 9 unique plants, 18g of fiber, and 28g of protein. Perfect for gut health and super satisfying!
view recipe
This High-Protein Orzo, Pesto, Avocado Salad is a simple yet flavorful dish packed with fiber, healthy fats, and protein. It's fresh, zesty, and sure to leave you feeling full and satisfied. Perfect for those focusing on iron intake!
view recipe