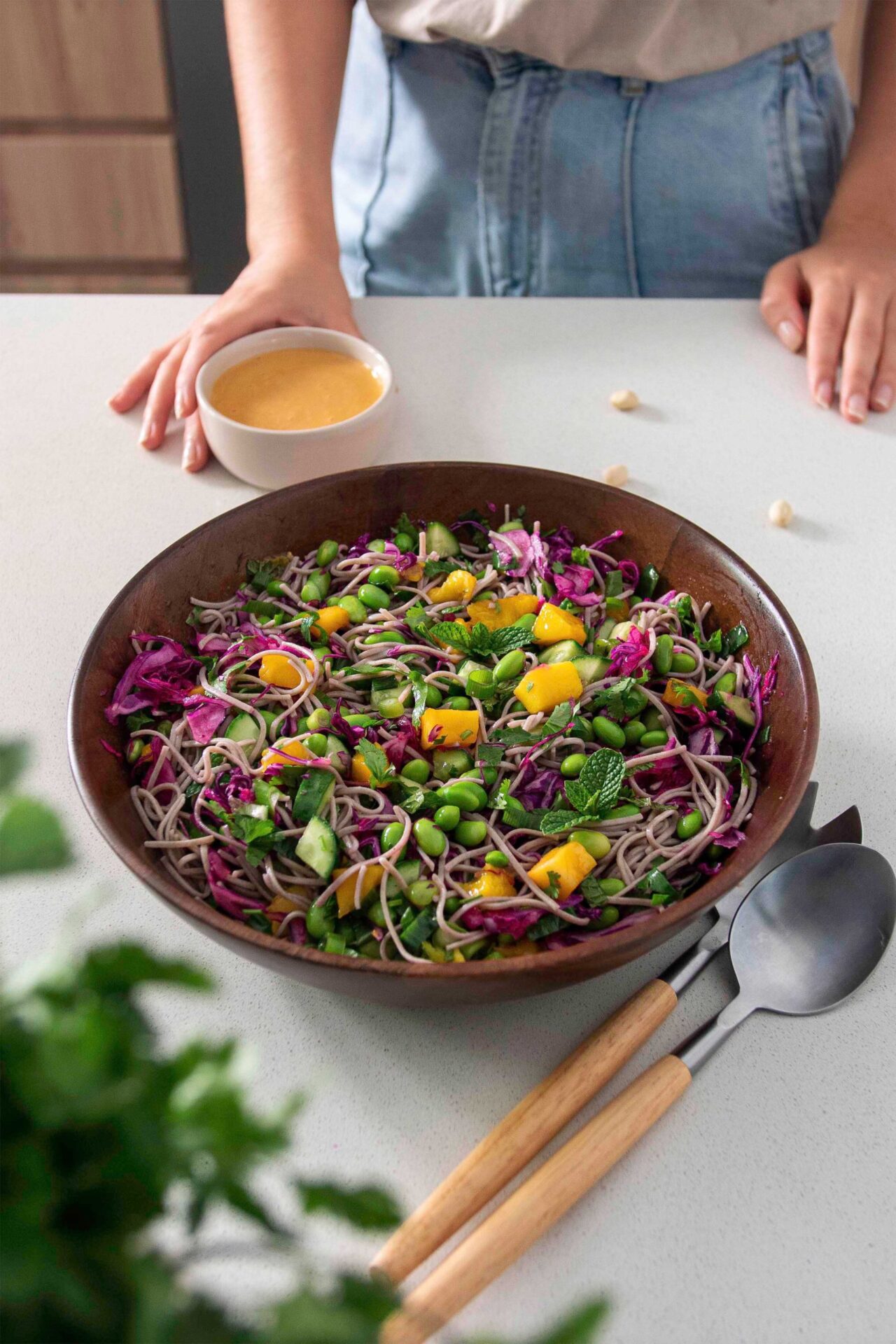 This High-Protein Soba Noodle Salad with DELICIOUS Peanut Sauce is a breeze to make, ready in less than 15 minutes, and it doesn't require any fancy equipment. It's not only tasty but also super comforting and satisfying. Each serving has 36g of protein to keep you going throughout the day! And the sauce… 😱 wow! The sauce could be a recipe of its own. It's something I've been making and perfecting for years and can be included in so many simple weeknight recipes to add a tonne of flavor and nutrients.

Remember that serving sizes are approximate, so feel free to adjust them to your requirements. You might want to add more noodles or toppings to further bulk it up!
Why This Recipe Works
High Protein: This is a high-protein vegan meal with 36g of protein per serving.
Quick and Easy: Ready in just 15 minutes, it's a go-to for busy days.
No Special Equipment: No need for any fancy kitchen gadgets.
Step-By-Step Instructions
Begin by cooking the soba noodles according to the package instructions. Once done, rinse them under cold water to stop the cooking process. Whisk all the dressing ingredients in a bowl. You can add more water if needed to achieve your desired consistency. Combine lime juice with shredded cabbage. In a large bowl, mix the noodles, cabbage, edamame, spring onions, cucumber, coriander, mint, and mango. Finally, pour the dressing over the salad, toss well, and adjust salt to taste. Enjoy your delicious and nutritious soba noodle salad!
Ingredient Notes
Soba Noodles: Opt for 100% buckwheat noodles for a gluten-free option. Perfect for a delicious, quick option, hot or cold, as they usually cook in 4 to 6 minutes.
Edamame: High in protein and fiber, it's a nutritious plant-based protein source. I love them for a quick protein source, take them out of the freezer ahead of time, and they are instantly ready to use!
Tamari: A gluten-free soy sauce alternative, but you can use regular soy sauce if you prefer.
FAQ
Is this recipe gluten-free? Yes, if you use 100% buckwheat soba noodles (make sure to double-check the ingredient list as they are sometimes a mix of wheat and buckwheat).
Can I make this ahead of time? Absolutely, it stores well in the fridge for up to 3 days.
Variations and Tips
Swap the veggies with what's in the fridge: shredded carrots, bell pepper, baby spinach, pink radishes, and avocado are all great options.
Use almond butter for a delicious alternative or sunflower butter for a nut-free option.
Why You'll Love This Soba Noodle Salad
Protein-rich
Time-saving
Flavorful
Nutrient-dense
Simply satisfying
High-Protein Soba Noodle Salad W/ Peanut Sauce
A quick and easy soba noodle salad with a fiery peanut sauce, packed with edamame, cabbage, and mango for a protein-rich meal.
Ingredients
125

g

soba noodles

2

cups

edamame, thawed

2

cups

shredded cabbage

½

lime, juiced

2

spring onions, chopped

1

cucumber, diced

1

cup

mango, diced

½

cup

coriander, chopped

¼

cup

mint, chopped

Salt to taste
Peanut Sauce
2

tbsp

peanut butter

½

lime, juiced

1

tbsp

fresh ginger (or sub for 1 tsp ground ginger)

2

tsp

tamari

½

tbsp

maple syrup

1

tbsp

rice vinegar

½

tbsp

hot sauce (more or less to taste)

2

tbsp

water if needed to thin
Instructions
Cook the soba noodles as per the instructions on the packet. Once cooked, rinse them under cold water to stop the cooking process and to remove excess starch.

Whisk together all the ingredients for the dressing in a bowl until well combined. If the peanut sauce is too thick, add water to thin it out to your desired consistency.

In a separate bowl, combine the shredded cabbage with the juice of half a lime. This will give the cabbage a nice tangy flavor.

In a large salad bowl, combine the cooked and cooled soba noodles, lime-infused cabbage, thawed edamame, chopped spring onions, diced cucumber, chopped coriander, chopped mint, diced mango, and the prepared sauce. Mix everything together until well combined. Adjust the salt to taste and enjoy!
Per Serving
Calories
677
kcal
Carbohydrates
101
g
Protein
36
g
Fat
19
g
Sodium
528
mg
Potassium
1599
mg
Fiber
17
g
Vitamin A
185
IU
Vitamin C
106
mg
Calcium
234
mg
Iron
10
mg