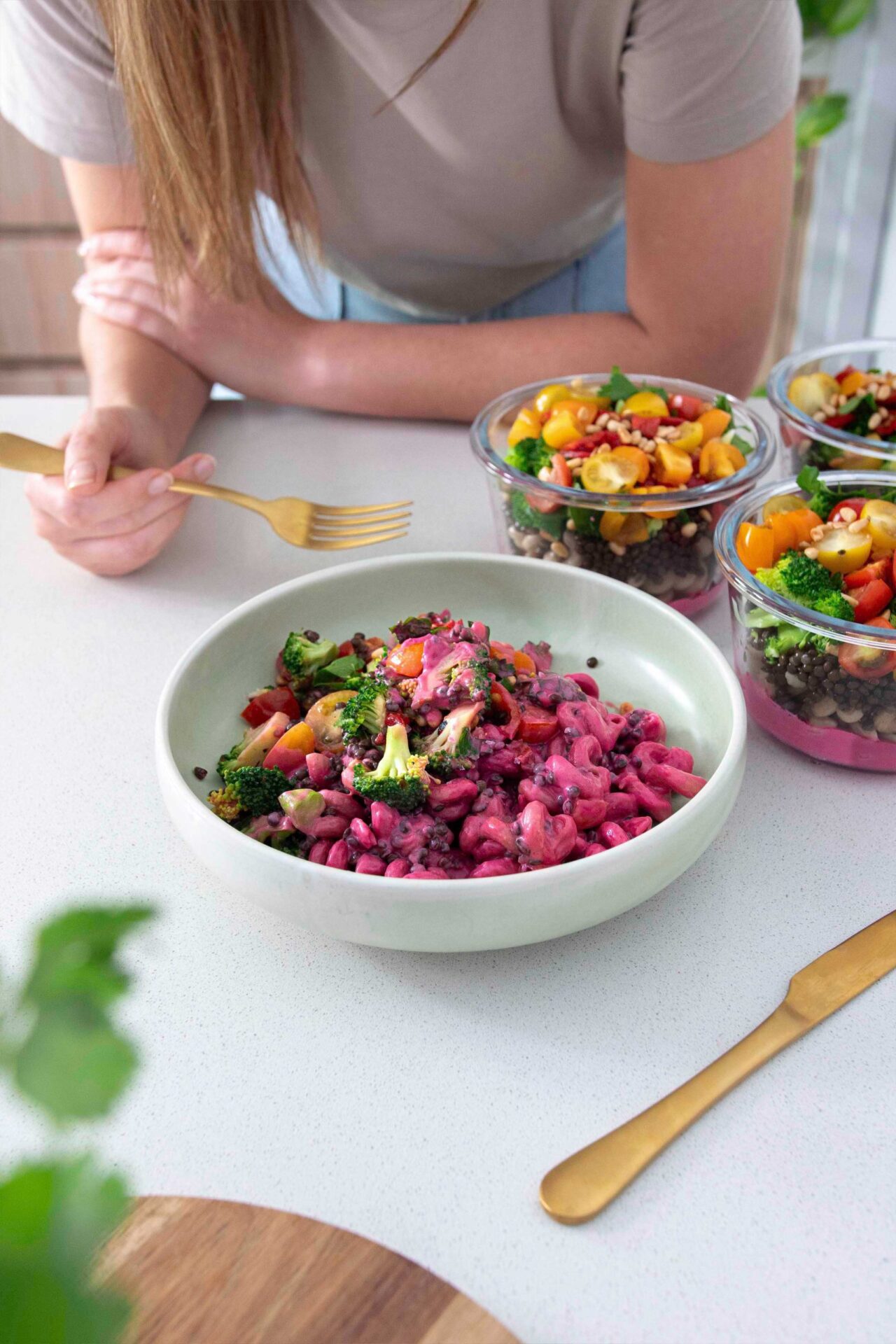 One of you beautiful baes requested a rainbow pasta salad with a creamy dressing (I can't find the comment anymore; please say Hi if you see this ????), and with the whole Barbie craze, I could not resist but make it pink and call it a Barbie dressing. I actually have not seen the Barbie movie (yet!), but it seems to encourage people to eat more beetroots to make their food pink, so it's already a winner in my book!
The dressing is actually the same as our Sunset Roasted Cauli Steak, and I highly recommend you check it out on our website if you haven't already. It's absolutely delicious and so colorful!
This easy meal prep turned out insanely delicious, and with 27g of protein, 17g of fiber, and some healthy fats from the pinenuts and tahini, it is also very satiating! Making it the perfect lunch to take to work or school. It's such a winner it will show up again on our rotation even long after the Barbie trend disappears. I hope you love it as much as I do!
PS: please toast your pine nuts; it tastes so much better! 3 to 4 minutes on a medium heat pan is all they need. I usually toast the whole bag at once; it keeps really well.
You can roast the capsicum yourself, but I chose to use jarred to keep it quick.
Why you'll love this high-protein Barbie Rainbow Pasta Salad
High-protein
Vibrant and colorful, diverse in plants.
Loaded with nutrient-rich lentils and a variety of fresh veggies.
Features a unique beetroot dressing, providing an unexpected burst of flavor.
Made with wholemeal pasta, a wholesome and healthy source of carbohydrates.
Barbie Rainbow Pasta Salad (Meal-Prep)
A vibrant, high-protein Barbie Rainbow Pasta Salad, perfect for meal-prep. This satiating dish features wholemeal pasta, black lentils, and a variety of vegetables, all brought together with a pink beetroot and tahini dressing.
Video
Ingredients
350

g

wholemeal pasta

1

tsp

olive oil

2

cups

diced broccoli

2

cups

cooked black lentils

1

cup

roasted capsicum, diced

¼

cup

fresh parsley

2

tbsp

toasted pine nuts

2

cups

chopped tomatoes
Barbie Dressing
2

tbsp

tahini

150

g

beetroot

4

tbsp

lemon juice

1

small garlic clove

1

maple syrup

4

tbsp

water

pinch of salt
Instructions
Cook the pasta as per the packet instructions. Once drained, stir in 1 tsp of olive oil and allow it to cool down.

Blanch the broccoli by adding them to a pot of boiling water. Cook for 2 minutes, then drain and transfer to a bowl of ice water. Allow to cool down and drain.

Blend the dressing ingredients until smooth. This includes tahini, beetroot, lemon juice, a small garlic clove, maple syrup, water, and a pinch of salt.

To assemble the salad, layer the sauce, pasta, lentils, broccoli, capsicum, tomatoes, parsley, and toasted pine nuts in a bowl. Mix well and enjoy your high-protein, colorful meal.
Per Serving
Calories
592
kcal
Carbohydrates
99
g
Protein
27
g
Fat
13
g
Sodium
415
mg
Fiber
17
g
Vitamin A
84
IU
Vitamin C
56
mg
Calcium
94
mg
Iron
5
mg