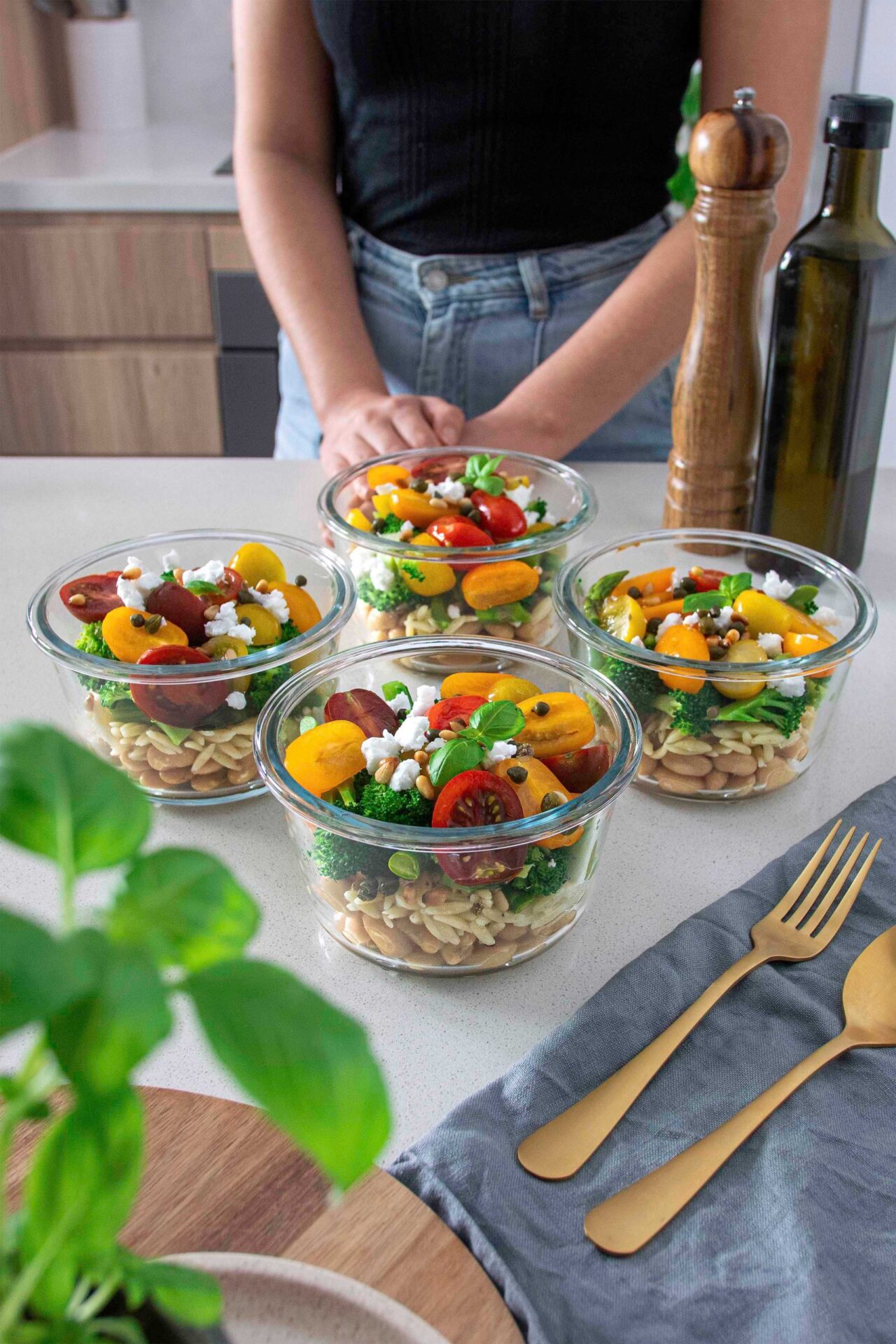 Right now, I'm getting ready for the Australian summer with this Italian-inspired, meal-prep-friendly salad. It's incredibly easy to prepare in advance, super nourishing, and so delicious. Since I have a strong love for sun-dried tomatoes, it's no surprise that pesto rosso is a favorite of mine. This particular version adds a lemony twist, breathing life and flavor into the simple orzo salad.

P.S.: To boost the greens in this dish, consider adding a couple of handfuls of rocket or baby spinach. I would have included them, but they didn't fit in my containers!

For our GF friends, the orzo can be replaced with quinoa or GF pasta!
Why This Recipe Works
Quick and Easy: Ready in just 30 minutes, making it a perfect weeknight meal.
Nutrient-rich: Loaded with fiber, vitamins, and minerals from all the veggies.
Flavorful: The garlic, sundried tomatoes and herbs bring a depth of flavor that's hard to resist.
Ingredient Notes
Beans: Butter beans (also known as Lima beans) are great, but Cannellini or Great Northern Beans, or Chickpeas work well too.
Sun-dried tomatoes: bring a depth of flavour and umami.
Broccoli and asparagus: Feel free to substitute with your favorite veggies.
Vegan Feta: Vegan parmesan or Nutritional yeast can also add a cheesy flavor.
FAQ
Is this recipe gluten-free? No, orzo is made with wheat, but you can use quinoa or gluten-free pasta instead.
Can I make it ahead? Absolutely, this recipe is made to be a meal prep and will keep well in the fridge. Make sure to follow the order of the ingredients for optimal freshness!
Variations and Tips
Add Protein: Toss in some tofu or tempeh.
Make It Spicy: A pinch of red pepper flakes goes a long way.
Why You'll Love This Pesto Orzo Salad Meal Prep
Creamy
Satisfying
Nutrient-rich
Quick to Make
& SO Delicious!
Pesto Orzo Salad (Meal-Prep)
A vibrant, summery meal-prep salad featuring pesto rosso, butter beans, orzo, and an array of fresh vegetables. Perfect for a light lunch or dinner.
Ingredients
3

cups

cooked butter beans

2

cups

cooked orzo

1

broccoli head

(diced)

1

bunch

asparagus

(diced)

400

g

cherry tomatoes

(diced in halves)

1.5

tbsp

baby capers

2

tbsp

plant-based feta

1.5

tbsp

toasted pine nuts
Pesto Rosso
¼

cup

sundried tomatoes

1

garlic clove

1

lemon, juiced

(3 tbsp)

½

cup

basil leaves

¼

cup

toasted pine nuts

1

tbsp

olive oil

salt & pepper
Instructions
Combine all the pesto ingredients in a small blender and process until a paste is formed.

Bring a pot of water to a soft boil, add the diced broccoli and asparagus, and blanch for 2 minutes. Drain the vegetables and immediately transfer them to a bowl of iced water to halt the cooking process. Let them sit for 5 minutes, then drain.

Divide the ingredients into 4 containers. Start with the pesto at the bottom, followed by the butter beans, orzo, broccoli & asparagus, tomatoes, feta, capers, and pine nuts. Enjoy!
Per Serving
Calories
455
kcal
Carbohydrates
65
g
Protein
17
g
Fat
16
g
Sodium
344
mg
Fiber
12
g
Vitamin A
24
IU
Vitamin C
70
mg
Calcium
92
mg
Iron
6
mg