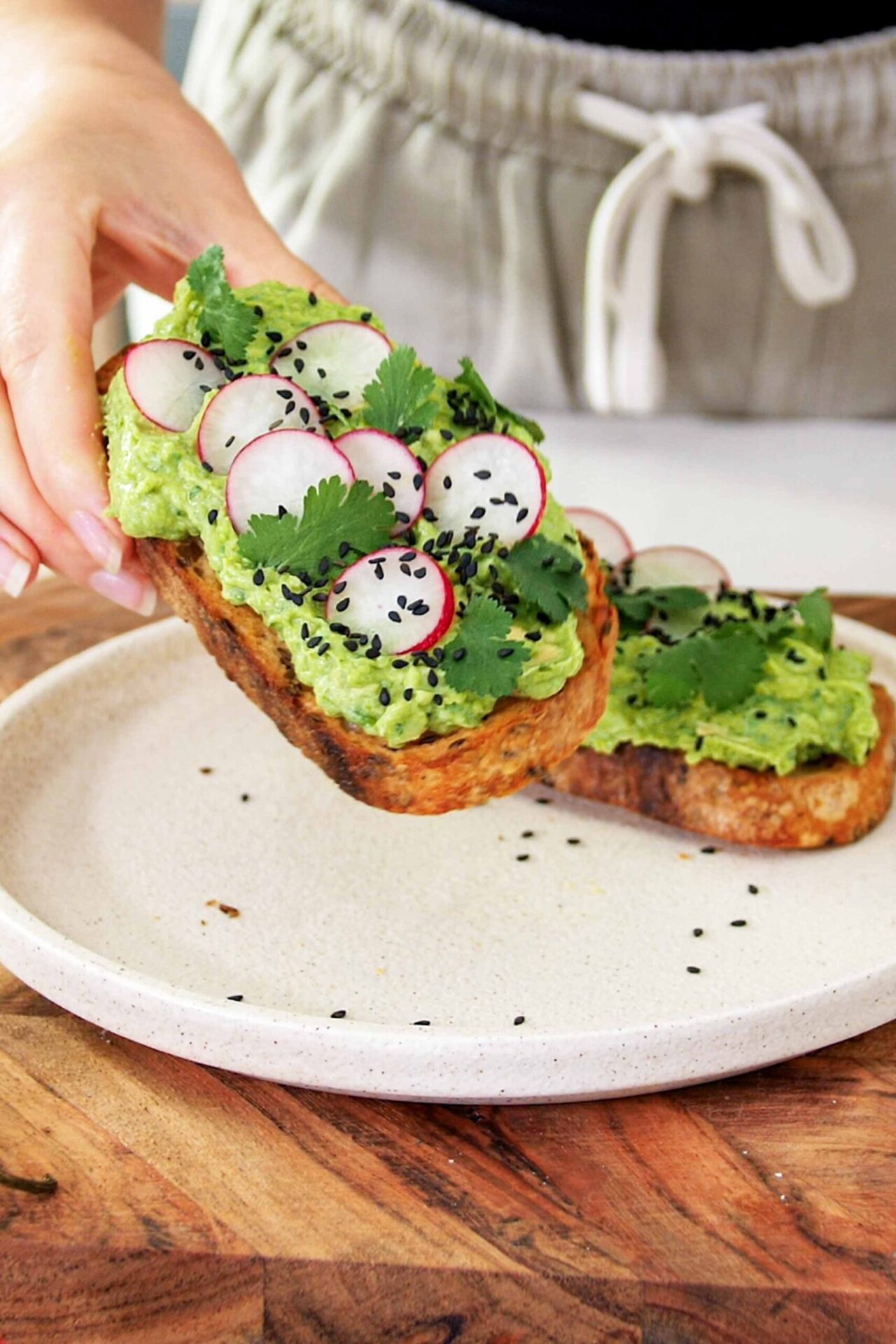 Get ready for an epic new plant-based breakfast game with our Smashed Peas and Avocado Toast. It's so simple yet so satisfying! Now, don't get me wrong, I believe a simple smashed avocado toast with a touch of lemon, chili flakes, and salt on grilled sourdough is one of the most perfect food combos ever invented. So, I'm not going to say this is an elevated avocado toast because avocado toast doesn't need elevation; it's already top-tier. What I will say is, if you're like me and have had a bag of frozen peas sitting in the back of your freezer for months (sorry, little forgotten peas 🥲), this recipe is for you. The peas add extra texture, fiber, and a bit of protein, while the lime, jalapenos, and coriander make it deliciously tangy and spicy. Plus, it keeps for a couple of days in the fridge in a sealed container, thanks to the lime juice, making it a perfect addition to any breakfast, brunch or salad.
Why This Recipe Works
Fiber-rich: Thanks to the green peas and avocado.
Quick to Make: This is seriously fast! Just add everything to a food processor (or a small blender), and you'll be munching in no time!
Flavor Bomb: Each bite is a burst of flavor!
Step-By-Step Instructions
First, blend together the avocado, frozen peas, lime juice, jalapenos, and coriander with a pinch of sea salt and black pepper in a food processor. Next, grill your 1-Ingredient Buckwheat Bread (or sourdough) slices until they're just the way you like them. Then, layer on that scrumptious avocado-pea mixture, followed by radish slices and a sprinkle of black sesame seeds. Finally, take a bite and savor that sweet, zesty avocado toast!
Ingredient Notes
Green Peas: An affordable ingredient that brings fiber, vitamins A, and K.
Avocado: Creamy and rich in healthy fats and fiber.
Lime Juice: For that zesty kick.
Jalapenos: Spice it up or tone it down. It's up to you!
Coriander: Freshness in every bite.
Sourdough: The perfect crunchy base.
FAQ
Is it gluten-free? The smashed peas and avocado mix sure is gluten-free! Just opt for your favorite gluten-free bread.
Can I swap out the lime? Sure, lemon juice is a great alternative.
What goes well with avocado toast? Fresh veggies, tofu scramble, and a drizzle of olive oil.
Is smashed avocado healthy? Absolutely, it's rich in healthy fats and fiber.
Is avocado toast a full meal? To make it a complete and balanced lunch or dinner I love to pair it with some scrambled tofu or grilled tempeh and some roasted veggies, such as tomatoes and broccoli, with a side of sauerkraut.
Variations and Tips
Switch It Up: Try it with rye bread or our 1-Ingredient Buckwheat Bread. Add a sprinkle of nutritional yeast for a cheesy twist.
Pro Tip: For an extra nutrient boost, sprinkle on some chia or hemp seeds.
Why You'll Love This Smashed Peas and Avocado Toast
Protein-Packed
Flavorful
Quick
Flexible
Budget-friendly
Smashed Peas and Avocado Toast
Start your day with this fiber-rich Smashed Peas and Avocado Toast. It's a zesty and nutritious twist on the classic avocado toast.
Ingredients
Main Ingredients
½

cup

frozen green peas, thawed

1

avocado

2

tbsp

lime juice

1

lime zest

jalapenos to taste

¼

cup

fresh coriander

salt and pepper to taste

4

slices sourdough

2

radishes sliced

2

tsp

black sesame seeds
Instructions
In a food processor or high-speed blender, combine the avocado, thawed green peas, lime juice, lime zest, jalapenos, and fresh coriander. Add a dash of salt and pepper to taste. Blend until smooth.

Preheat the grill. Place your bread slices on the grill and toast until golden brown.

Generously spread the blended avocado and pea mixture on top of the grilled bread. Garnish with sliced radishes and sprinkle black sesame seeds for added texture.

Enjoy your nutritious and zesty Smashed Peas and Avocado Toast!
Per Serving
Calories
206
kcal
Carbohydrates
29
g
Protein
7
g
Fat
8
g
Sodium
276
mg
Fiber
5
g
Vitamin A
28
IU
Vitamin C
8
mg
Calcium
61
mg
Iron
3
mg