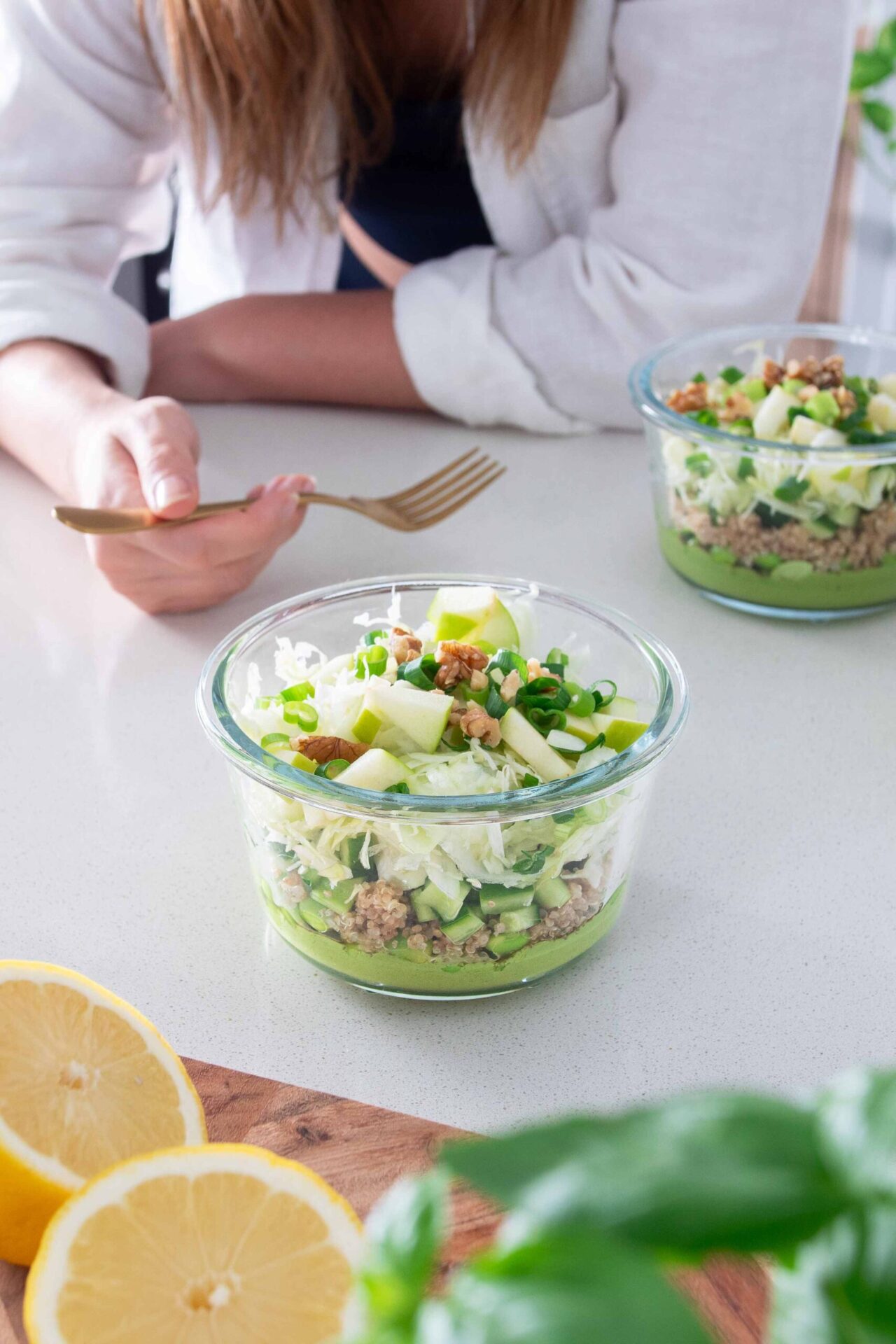 Looking to pack a nutritional punch with your next meal? This Green Goddess Bowl Meal Prep is (you guessed it) SO DELICIOUS and SUPER NOURISHING! Each serving contains 41g of protein, 20g of fiber, and 10mg of iron, all curated to provide you with the essential nutrients your body craves.
Why You'll Love This Recipe
High-Protein and Nutrient-Packed: Boasting 41g of protein, 20g of fiber, and 10mg of iron per serving and abundant in magnesium, B6, antioxidants, and omega-3s, this is a super nourishing meal.
Period-Friendly: This meal prep is especially beneficial during PMS or menstruation. It contains key nutrients like fiber and iron that can help alleviate PMS symptoms and cramps.
Iron Boost: this salad provides 10mg of iron per serving, it's absorption is boosted by the added vitamin C and garlic in other ingredients.
PMS & Period Nutrition
This meal prep is great to have at any time, but it's particularly valuable when PMSing or on your period. With fluctuating energy levels (and, let's be honest, motivation), meal prepping is a fantastic tool to ensure you continue to stay nourished.
This salad includes key nutrients to help you feel your best. For starters, it has 41g of protein per serving to keep you energized. It also alleviates the pressure to meet your daily protein requirements, which is especially helpful on days when you don't feel like eating much or just crave a bowl of pasta with a simple sauce (like I do!).
With 20g of fiber, it can help address the digestive issues many women report during their period. Fiber aids in regular bowel movements, and excess estrogen is excreted through these movements. Ensuring you have regular bowel movements can help alleviate PMS and cramps.
Considering 40% of women worldwide are iron deficient (primarily due to blood loss during their period), it's beneficial for everyone, whether you're plant-based or not, to increase your iron intake around that time. This salad, with its 10mg of iron per serving, is an excellent choice. The nonheme iron absorption is enhanced by the garlic and vitamin C present in this meal, primarily sourced from the lemon. Additionally, this salad is rich in magnesium and B6 — two crucial nutrients to incorporate more into your diet if you suffer from PMS or painful periods. It's also loaded with antioxidants and contains omega-3s, making for a delicious anti-inflammatory combination!
And even if you don't experience these symptoms (I'm a bit jealous but also genuinely happy for you 😅), it remains an extremely nourishing and simple salad, particularly if you're after a meal high in protein, fiber, and iron.
Green Goddess Bowl Protein Breakdown
People are often surprised to hear that plant-based salads can pack so much protein. So here's the protein breakdown for the main ingredients in this Green Goddess Bowl just to give you an idea of how protein-rich it is. This is for the full recipe (all 3 servings combined):
Edamame 55.4g
Nutritional yeast 28g
Sunflower seeds 14.5g
Quinoa 12.2g
Soy milk 5g
Variations and Tips
Alternative Protein Sources: If you don't have edamame on hand or are looking for a soy-free alternative, you can use other vegan protein sources like chickpeas or butterbeans. Although their protein is lower than edamame, they are delicious and excellent alternatives.
Switch Up The Greens: While the recipe uses baby spinach and basil for the creamy green sauce, you can experiment with other greens like kale or dill. These greens offer a unique flavor profile and are packed with essential nutrients.
Grain Variations: Quinoa is a fantastic source of plant-based protein, but if you're looking for an alternative, try using bulgur, farro, or couscous. These grains can add a different texture and flavor to your Green Goddess Bowl.
Creamy Sauce: Soaked cashews or hemp seeds are great alternatives for the creamy green sauce. Both alternatives provide a creamy texture and are staples in vegan cooking.
Green Goddess Bowl Meal Prep
Super nourishing high-protein, fiber and iron-rich meal prep salad with a creamy green sauce.
Video
Ingredients
Main Ingredients
1.5

cups

cooked quinoa

3

cups

edamame thawed

1.5

cups

white cabbage shredded

(use a vegetable peeler for shredding)

1

cucumber

(seeds removed and diced)

1

stalk spring onion

(chopped)

½

granny apple

(core removed and diced)

3

tbsp

chopped walnuts
Creamy Green Sauce
½

cup

sunflower seeds

½

cup

nutritional yeast

1

cup

fresh basil leaves

1

cup

baby spinach

1

clove

garlic

¼

cup

lemon juice

½

cup

soy milk

1

dash salt
Instructions
In a blender, combine the sunflower seeds, nutritional yeast, basil, baby spinach, garlic, lemon juice, soy milk, and salt. Blend until the mixture reaches a smooth and creamy consistency to make the green sauce.

In three separate bowls, begin by layering the creamy green sauce at the bottom. Follow by adding edamame, quinoa, cabbage, spring onions, and diced apple. Drizzle a squeeze of lemon to keep the apple from browning. Finish with a sprinkle of chopped walnuts for added crunch.

Seal each bowl with a lid, and refrigerate for up to 3 days. When ready to eat, give it a quick mix and enjoy!
Per Serving
Calories
600
kcal
Carbohydrates
57
g
Protein
41
g
Fat
26
g
Sodium
121
mg
Fiber
20
g
Vitamin A
124
IU
Vitamin C
42
mg
Calcium
230
mg
Iron
10
mg