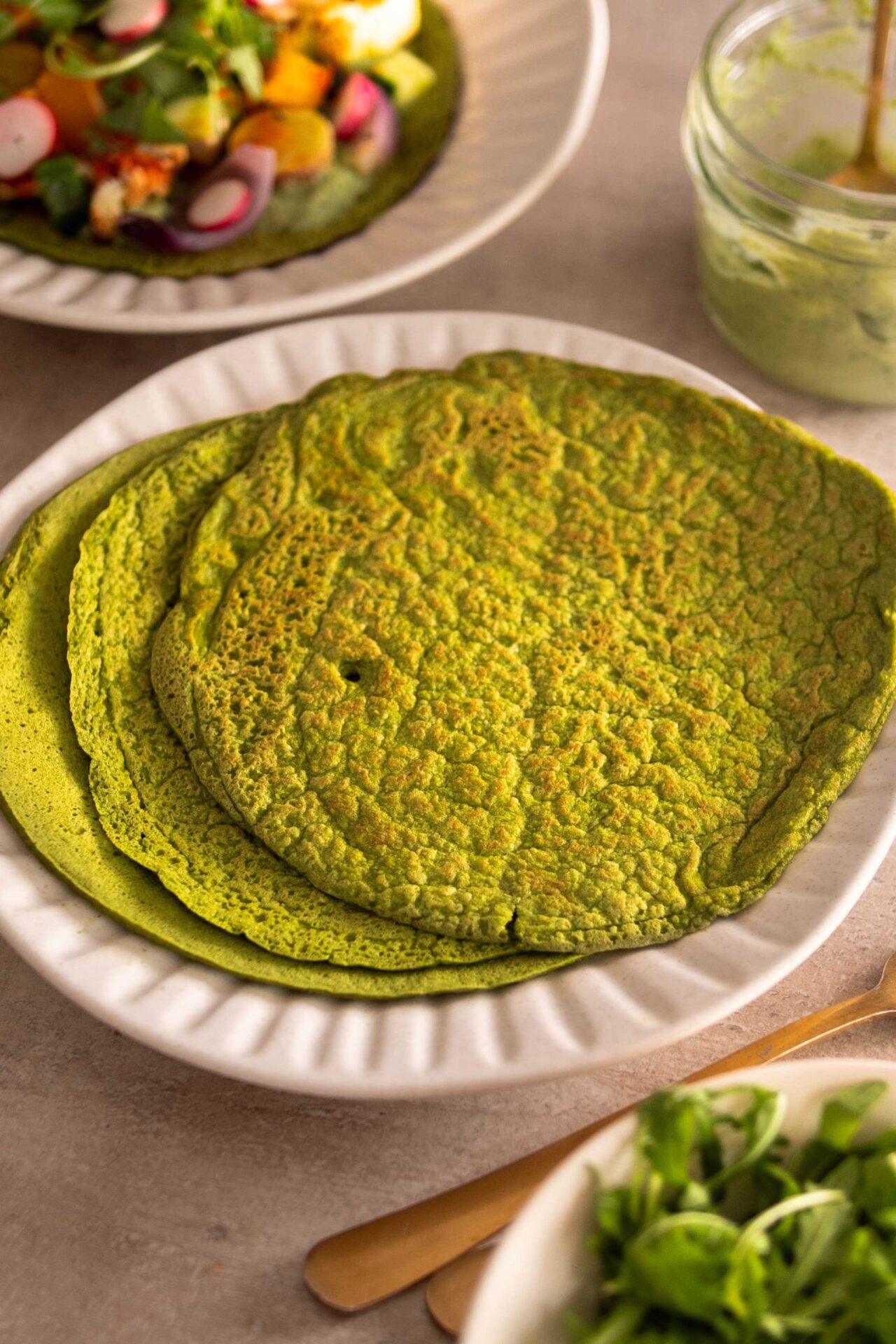 I love wraps; it's such an easy, quick and delicious way to make lunch. My only thing is that it's sometimes tricky to find nourishing options in supermarkets (or they are super expensive!). So I've started experimenting with making my own, and I can't believe it took me so long. It's a lot easier than I thought ????
For these wraps, we are combining oats, flax seeds, soy milk, spinach and iodised salt. All great ingredients to consume on a daily basis ???? they are super nourishing, packing up to 4g of fibre and 6.5g of protein per wrap.
They are also super cheap and come to approx. AUD$0.31 per wrap (price calculated with Woolworths ingredients).
Best of all, they are super strong and flexible and somehow even better the day after, so you can absolutely prep a batch or two and keep them in the fridge!
Tips:
✨ I used a crepes pan (which is quite common in France), but you can use any nonstick pan.
✨Make sure your wrap is well-cooked before flipping.
Easy, Healthy Green Wraps
These easy, healthy green wraps are a perfect quick lunch. Made with oats, flax seeds, soy milk, spinach, and iodised salt, they are nourishing and delicious.
Video
Ingredients
Wrap Ingredients
2

cups

spinach

2

cups

oats

2

tbsp

flaxseed

2.5

cups

soy milk

0.5

tsp

salt

(optional)
Instructions
Start by adding the oats and flaxseed to a blender. Process these ingredients until they reach a flour-like consistency.

Add the spinach, milk, and salt to the blender. Blend these ingredients until the mixture is smooth.

Let the mixture set for about 5 minutes to thicken slightly.

Heat up a non-stick pan to medium heat and add a dash of olive oil. Pour some of the mixture into the pan and spread it out to form a wrap.

Cook the wrap until it changes in color and consistency. This should take about 3 minutes on the first side and 2 minutes 30 on the second side.
Notes
These wraps are even better the day after, so feel free to prep a batch or two and keep them in the fridge!
Per Serving
Calories
137
kcal
Carbohydrates
19
g
Protein
6.5
g
Fat
4
g
Sodium
194
mg
Fiber
4
g
Vitamin A
35
IU
Vitamin C
2
mg
Calcium
44
mg
Iron
1.2
mg