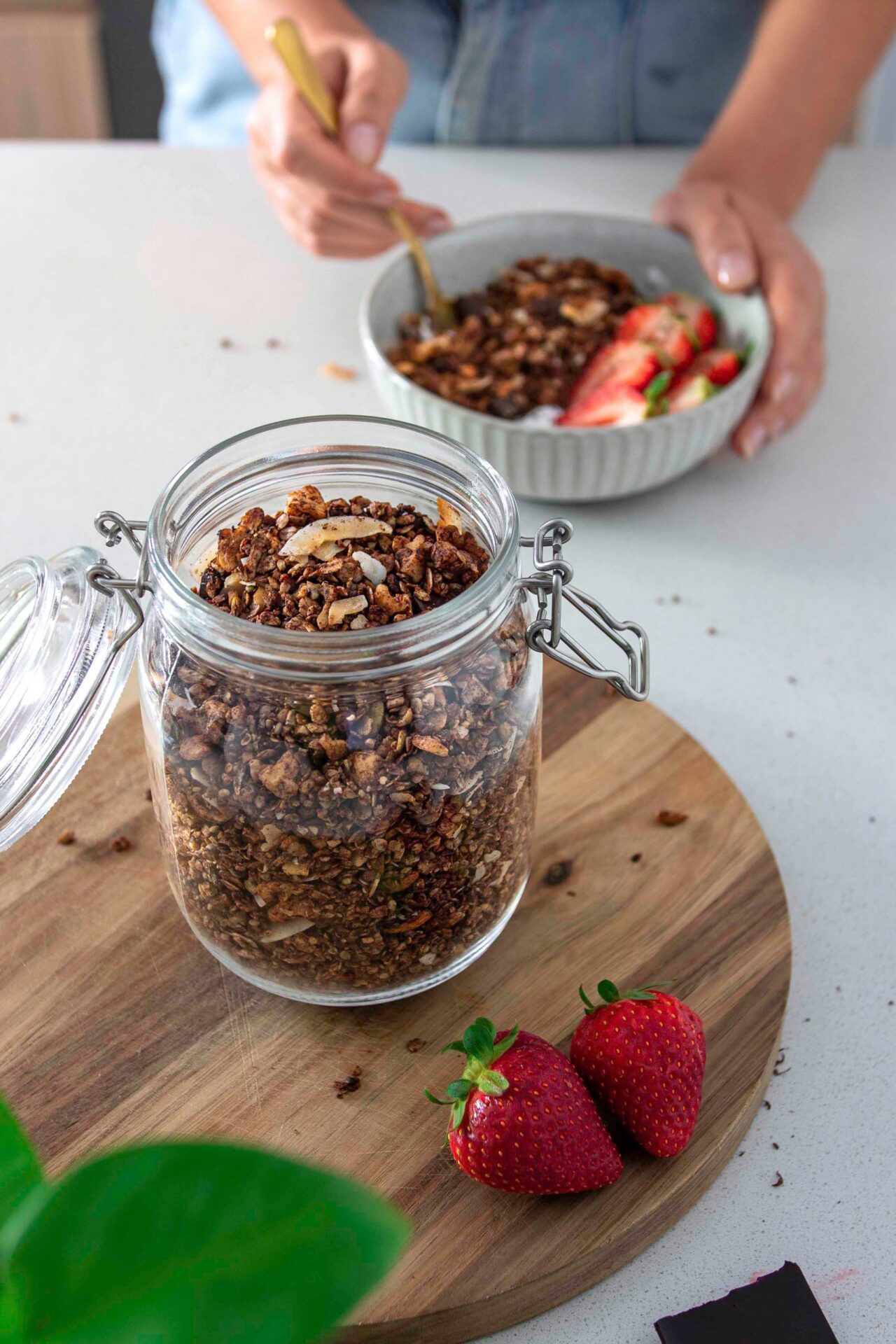 This chocolate granola is the perfect Valentine's or Galentine's gift. It's delicious and super easy to prepare,
This recipe is super versatile, and you can use any combo of nuts and seeds you have on hand. So make sure to save it and make a beautiful breakfast for your favorite person next week!
A versatile and easy-to-prepare chocolate granola, perfect as a Valentine's or Galentine's gift. Enjoy a beautiful breakfast with your favorite person!
Ingredients
2

cups

rolled oats

¼

cup

hemp seeds

¼

cup

pumpkin seeds

½

cup

walnuts

½

cup

cashews

¼

cup

hazelnuts

¼

cup

sunflower seeds

⅓

cup

cacao powder

⅓

cup

melted coconut oil

2

tbsp

maple syrup

⅛

tsp

salt

1

tbsp

vanilla extract

¼

cup

coconut flakes

½

cup

chopped dark chocolate
Instructions
Preheat the oven to 350 degrees F (170 C).

Roughly chop the nuts and seeds. Combine the oats, nuts, seeds, cacao powder, coconut oil, maple syrup, salt, and vanilla extract in a bowl. Mix well until thoroughly combined.

Spread the mixture onto a baking tray. Bake for 25 minutes, stirring halfway through to ensure even baking.

Allow the granola to cool down to room temperature. Stir in the chopped dark chocolate and coconut flakes.

Enjoy your homemade chocolate granola with yogurt and berries or as a snack on its own.
Per Serving
Calories
280
kcal
Carbohydrates
27
g
Protein
8
g
Fat
18
g
Sodium
26
mg
Fiber
4
g
Vitamin A
6
IU
Vitamin C
5
mg
Calcium
64
mg
Iron
2
mg