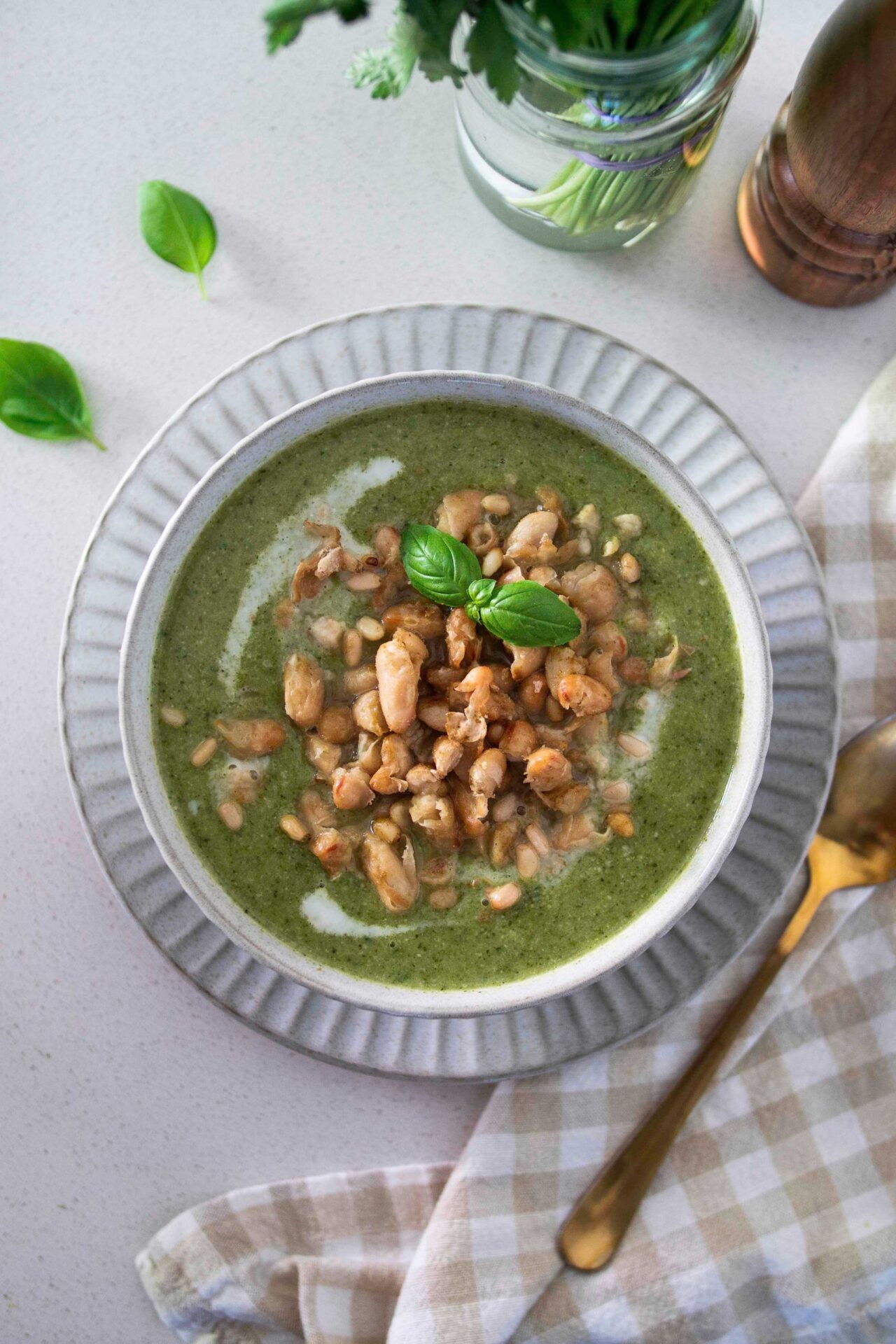 In the healthy recipe community, I feel like there is a certain urge to call anything green a "Green Goddess – insert dish name-" and I'm sorry (not really!), but I'm not immune to it, so here is my Green Goddess Soup, and because we left a bit of texture in it and it's crispy white beans and pine nuts topping, she's a rustic one, and I love it. It's super easy, comforting and delicious. It's perfect with a little sourdough sandwich or toastie, and I hope you love it as much as we do!
Why This Recipe Works
Nutrient-Dense: Packed with green vegetables, offering a wealth of vitamins and minerals.
Flavorful: The combination of herbs and lemon juice adds a fresh, zesty taste.
Protein-Packed Toppings: Cannellini beans and pine nuts add texture and protein.
Versatile: Easily adaptable with the option to add jalapeños or chili flakes for heat.
Comforting Yet Healthy: A comforting soup that doesn't compromise on nutrition.
Step-By-Step Instructions
Start by heating your pot and sautéing onions, setting the stage for a flavorful base. Continue with garlic, celery, and zucchini, seasoning as you go. Add broccoli, peas, soy milk, cashews, and stock, letting everything cook to perfection. Prepare the toppings by baking the cannellini beans with spices and pine nuts until crispy. Finish the soup by adding greens, herbs, and lemon juice, then blending it to a smooth consistency. Top with the crispy bean mixture and serve.
Ingredient Notes
Broccoli and Spinach: Powerhouses of nutrients, these greens are essential for a health boost. Kale can be a great substitute for spinach.
Cashews: Add creaminess to the soup; sunflower seeds can be used as a nut free alternatives.
Soy Milk: Provides a dairy-free creamy texture, and some extra protein.
Cannellini Beans: High in protein and fiber; other beans like chickpeas can also be used.
Lemon Juice and Herbs: Bring a fresh, zesty flavor.
FAQ
Is this soup gluten-free? Yes, it's naturally gluten-free.
Can I make this soup nut-free? Absolutely, just swap the cashews for sunflower seeds.
Can I freeze this soup? Yes, it freezes well for up to 3 months.
What are some serving suggestions? Serve with a slice of toasted sourdough for a hearty meal.
Variations and Tips
Spice Levels: Adjust the heat with more or less jalapeños and chili flakes.
Greens Galore: Try different combinations of greens like kale or swiss chard.
Protein Options: Experiment with different beans or even grilled tofu for the toppings.
Herb Experiments: Mix and match with different fresh herbs for varied flavors.
Roasting Vegetables: For an even deeper flavor, roast some of the veggies before adding to the soup.
Texture Play: Add cooked grains like cripsy quinoa for a heartier soup.
Why You'll Love This Green Goddess Soup
– Vibrant
– Nourishing
– Flavorful
– Easy
– Comforting
Rustic Green Goddess Soup
A rustic, comforting soup packed with green goodness, topped with crispy white beans and pine nuts. Perfect with a sourdough sandwich or toastie.
Video
Ingredients
1

tsp

EVOO

(Extra Virgin Olive Oil)

1

onion, diced

6

garlic cloves, diced

3

celery stalks, diced

1

zucchini, diced

2

broccoli heads

1

cup

frozen peas

¼

cup

cashews

1

cup

soy milk

5

cups

vegetable stock

3

cups

spinach

½

cup

basil

½

cup

parsley

3

tbsp

lemon juice

1.5

cups

cannellini beans

0.5

tbsp

EVOO

1

tsp

cumin

1

tsp

garlic powder

¼

cup

pine nuts
Instructions
Preheat the oven to 390 degrees F (200 C). In a large pot on medium heat, add the EVOO and onions. Cook for 5 minutes until the onions are translucent.

Add the diced garlic, celery, zucchini, and season with salt & pepper. Cook for another 5 minutes until the vegetables are slightly tender.

Add the broccoli, peas, soy milk, cashews, and vegetable stock to the pot. Cover and let it cook for 20 minutes.

While the soup is cooking, prepare the toppings. Combine the cannellini beans, EVOO, cumin, and garlic powder. Spread them out on a baking sheet and bake in the preheated oven for 10 minutes. Add the pine nuts and bake for an additional 5 minutes until they are golden brown.

Turn off the heat for the soup. Add the spinach, basil, parsley, lemon juice, and jalapenos if using. Cover the pot and let it sit for 5 minutes to allow the greens to wilt.

Blend the soup until it's perfectly smooth. Serve it hot, topped with the crispy beans and pine nuts.
Per Serving
Calories
340
kcal
Carbohydrates
40
g
Protein
16
g
Fat
15
g
Sodium
348
mg
Fiber
12
g
Vitamin A
282
IU
Vitamin C
89
mg
Calcium
171
mg
Iron
6
mg