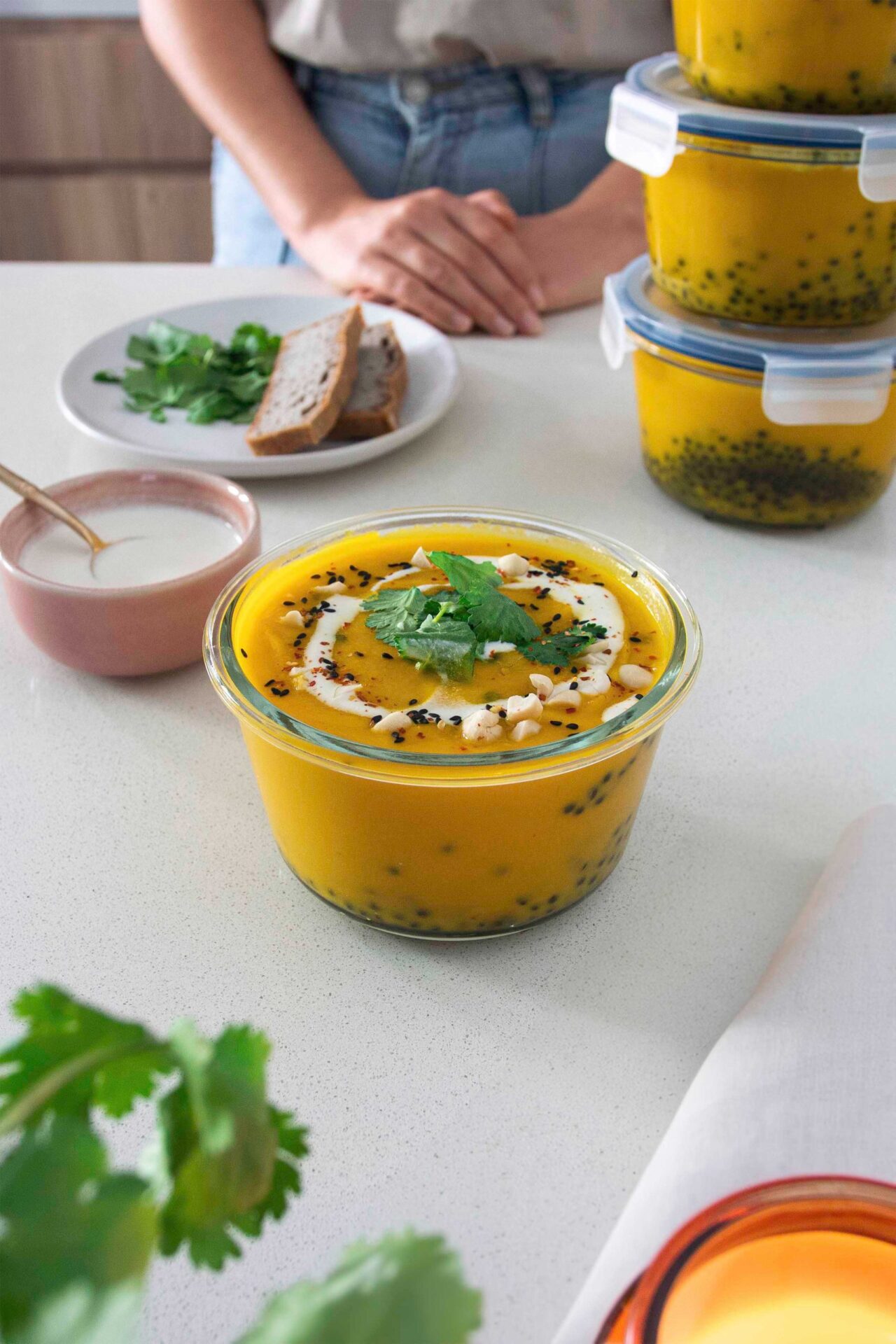 There's nothing better than a cozy soup on a cold, rainy day and this one is super easy, nourishing, and so delicious! Carrots are severely underrated. They're deliciously sweet, affordable, and packed with extra fiber and micronutrients such as beta-carotene (a precursor to vitamin A).

I prefer to keep the lentils whole for this recipe because, once combined with our delicious toppings, they add a bit of bite to the soup, which, in my opinion, makes it more satisfying.

Lentils are an excellent food to include in your diet. They're not only high in protein (9g per ½ cup cooked) but also a great source of non-heme iron (3.3mg per ½ cup cooked).

Iron absorption is enhanced when you combine lentils with onions and garlic—what a delicious and nourishing combination!
Why This Recipe Works
Simple Ingredients: Utilizes pantry staples that are easy to find and work with.
Flavorful and Nourishing: Packed with spices and nutrients that satisfy and nourish.
Customizable: Easy to adapt with different herbs or spices.
Perfect for Meal Prep: Ideal for preparing ahead for a busy week.
Family Friendly: A hit with all ages, making it a versatile meal option.
Step-By-Step Instructions
Begin by sautéing the onions in a bit of vegetable stock to bring out their sweetness. Simmer the lentils until they're tender and ready to be added to dishes. Reserve a portion of the coconut milk for a creamy garnish. Combine the garlic, ginger, and spices with the onions, then add the carrots and remaining stock for a rich base. Cook until the carrots are tender. Blend the mixture to create a smooth, velvety soup. Season to perfection, then serve with a swirl of coconut milk and your chosen toppings.
Ingredient Notes
Beluga Lentils: Known for their high protein content and ability to maintain shape, making them perfect for soups.
Carrots: A great source of beta-carotene, fiber, and sweetness. Substitute with butternut squash for a twist.
Coconut Milk: Adds creaminess.
Ginger: Provides a zesty kick; fresh ginger is best, but powdered can be used in a pinch.
Turmeric: Offers anti-inflammatory benefits and a warm, earthy flavor.
FAQ
Can I make this soup nut-free? Absolutely, just skip the peanuts or use seeds as a topping.
How long will this soup keep? It stays fresh for up to 5 days in the fridge.
Is this recipe allergy-friendly? Yes, it's free from most common allergens. It's gluten-free, nut-free (just leave out the peanuts as a garnish), dairy-free, soy-free, and wheat-free!
Can I freeze this soup? It freezes well for up to 3 months. Thaw and reheat on the stove.
Variations and Tips
Spice it Up: Add cayenne pepper for extra heat.
Make it Creamier: Blend in some cashews with the soup for added richness.
Protein Boost: Stir in some tofu or chickpeas for extra protein.
Herb Freshness: Garnish with basil or parsley instead of coriander for a flavor change.
Why You'll Love This Carrot Ginger & Lentil Soup
– Warm
– Comforting
– Nutrient-Dense
– Easy
– Flavorful
Carrot, Ginger & Lentil Soup (Meal-Prep)
A nourishing, easy-to-make soup with carrots, lentils, and ginger. Perfect for meal prep or a cozy day.
Video
Ingredients
Soup
2

large yellow onions, diced

1

cup

dried beluga lentils (3 cups cooked)

6

garlic cloves, diced

3

tbsp

diced ginger

1.5

kg

carrots, diced

1.5

tsp

turmeric

4.5

cups

vegetable stock (low sodium)

1

can

coconut milk (400 ml)

salt and pepper to taste
To serve
4

tsp

chilli oil (optional, can be sub for sesame oil and chilli flakes)

4

tbsp

chopped peanuts

(optional topping)

1

lemon zest

1

cup

chopped coriander
Instructions
Start by dicing the onions and adding them to a large pot on medium to low heat with 2 tablespoons of vegetable stock. Cook for about 5 minutes, stirring occasionally.

While the onions are cooking, prepare the lentils according to the packet instructions.

Add the diced garlic and ginger to the pot with the onions and cook for an additional 2 minutes.

Add the turmeric, a pinch of salt & pepper, diced carrots, vegetable stock, and approx. 1.5 cups of coconut milk to the pot. Cover and let it cook for 30 minutes. Reserve the rest of the coconut milk for serving.

Once the soup has cooked, blend it until it's perfectly smooth. Adjust the salt & pepper to taste.

Divide the cooked lentils and soup between 4 containers. Top each serving with the reserved coconut milk, chilli oil, chopped peanuts, lemon zest, and fresh coriander. Enjoy!
Per Serving
Calories
493
kcal
Carbohydrates
74
g
Protein
20
g
Fat
15.5
g
Sodium
367
mg
Fiber
23
g
Vitamin A
3207
IU
Vitamin C
24
mg
Calcium
173
mg
Iron
6
mg