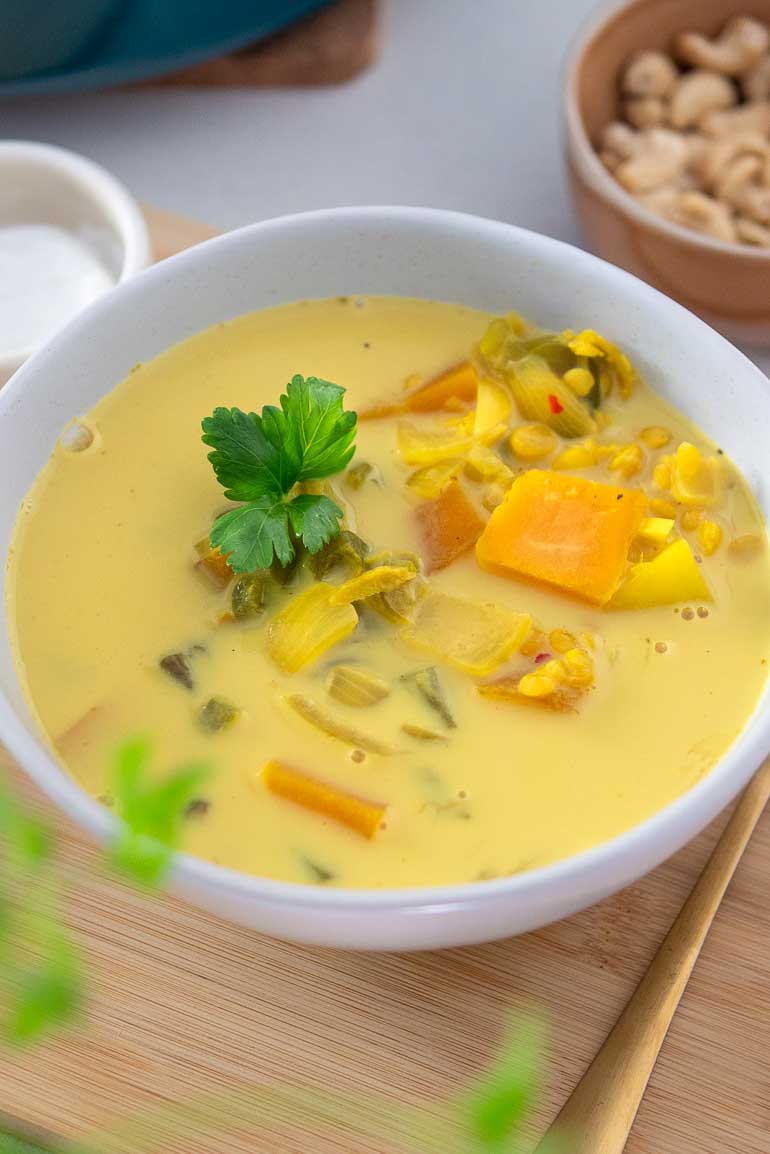 I've been feeling a little bit off these past few days, and this turmeric lentil soup has been such an enjoyable treat that provides so many nourishing nutrients.
It's high in protein, potassium, zinc and magnesium while providing much-needed hydration.
I can't recommend it enough for when you're feeling a little under the weather and feel like something soothing and satisfying that's also going to help you recover.
It makes 4 plates as a main but would also be great as a starter or snack throughout the day.
✨Nutrition tip: Legumes are an excellent source of zinc, and if you're currently working towards increasing your zinc intake, soaking the lentils and peas can be helpful. Although it's not necessary, soaking does reduce phytates, which can inhibit zinc absorption.
Why This Recipe Works
Nutrient-Rich: Loaded with protein, potassium, zinc, and magnesium for a health boost.
Hydrating: Offers much-needed hydration, perfect for when you're feeling under the weather.
Soothing and Satisfying: Combines comfort with nourishment, aiding in recovery.
Versatile: Great as a main dish, starter, or a healthy snack throughout the day.
Zinc Boost: Includes legumes, an excellent source of zinc, especially beneficial when soaked.
Step-By-Step Instructions
Start by rinsing the lentils and peas, preparing them for cooking. Sauté onions in the pot, adding water as needed to prevent sticking. Add in garlic, ginger, and spices, cooking briefly to release their flavors. Combine with pumpkin, capsicums, mushrooms, carrots, potatoes, and stock, letting everything simmer together. Finish by stirring in soy milk and black pepper, adjusting the seasoning to your taste. Serve with a garnish of lemon, soy yogurt, parsley, and cashews for a complete meal.
Ingredient Notes
Red Lentils & Split Peas: High in fiber and protein; soaking can enhance zinc absorption.
Turmeric: Known for its anti-inflammatory properties, adds a vibrant color and flavor.
Pumpkin and Capsicums: Provide vitamins and add sweetness to the soup.
Soy Milk: Adds creaminess (and extra protein!) without dairy; can be substituted with almond or oat milk.
Cashews: Offer a crunchy texture; almonds or seeds are good alternatives.
FAQ
Can I use canned lentils and peas? Yes, canned varieties work well and save time.
Is this soup gluten-free? Yes, it's naturally gluten-free.
How can I make this soup nut-free? Simply omit the cashews or use seeds for the topping.
Can I freeze this soup? Absolutely, it freezes well for up to 3 months.
What are some serving suggestions? Enjoy with crusty bread such as our 1 ingredients GF buckwheat bread or a side salad for a complete meal.
Variations and Tips
Spice Adjustment: Vary the amount of chilli and turmeric to suit your taste.
Vegetable Variations: Feel free to include other veggies like spinach or sweet potatoes.
Protein Boost: Add tofu or chickpeas for an extra protein punch.
Creamier Texture: Blend part of the soup for a creamier consistency.
Herb Toppings: Garnish with different herbs like cilantro or dill for varied flavors.
Meal Prep: Make a large batch and store portions for quick and easy meals during the week.
Why You'll Love This Turmeric Lentil Soup
– Nutritious
– Comforting
– Flavorful
– Hydrating
– Easy to Prepare
A nourishing and hydrating soup, packed with protein, potassium, zinc, and magnesium. Perfect for recovery and overall wellness.
Video
Ingredients
Main Ingredients
1

cup

dried red lentils

1

cup

dried split peas

3

onions, diced

4

garlic cloves, diced

1

tbsp

grated ginger

1

tsp

chili flakes

1

tsp

salt

1

tsp

ground cumin

2

tbsp

ground turmeric

2

cups

diced pumpkin

2

red capsicums

1

cup

diced mushrooms

2

diced carrots

2

diced potatoes

6

cups

water or vegetable stock

3

cups

soy milk

1

tsp

cracked black pepper
Instructions
Rinse the lentils and peas well. In a large pot, sauté the diced onions on medium heat for about 5 minutes, adding water as necessary to prevent sticking.

Add the diced garlic, grated ginger, chili flakes, cumin, salt, and turmeric to the pot. Stir well and cook for another minute.

Add the diced pumpkin, capsicums, mushrooms, carrots, potatoes, lentils, split peas, and vegetable stock to the pot. Cover and let it cook for about 30 minutes, stirring occasionally.

Turn off the heat, then add the soy milk and black pepper. Stir well to combine. Taste and adjust the salt as needed.

Portion the soup into individual bowls. Serve each bowl with a squeeze of lemon, a dollop of soy yogurt, a sprinkle of fresh parsley, and a handful of cashews. Enjoy while hot.
Per Serving
Calories
408
kcal
Carbohydrates
73
g
Protein
23
g
Fat
4
g
Sodium
582
mg
Fiber
18
g
Vitamin A
542
IU
Vitamin C
10
mg
Calcium
206
mg
Iron
9
mg