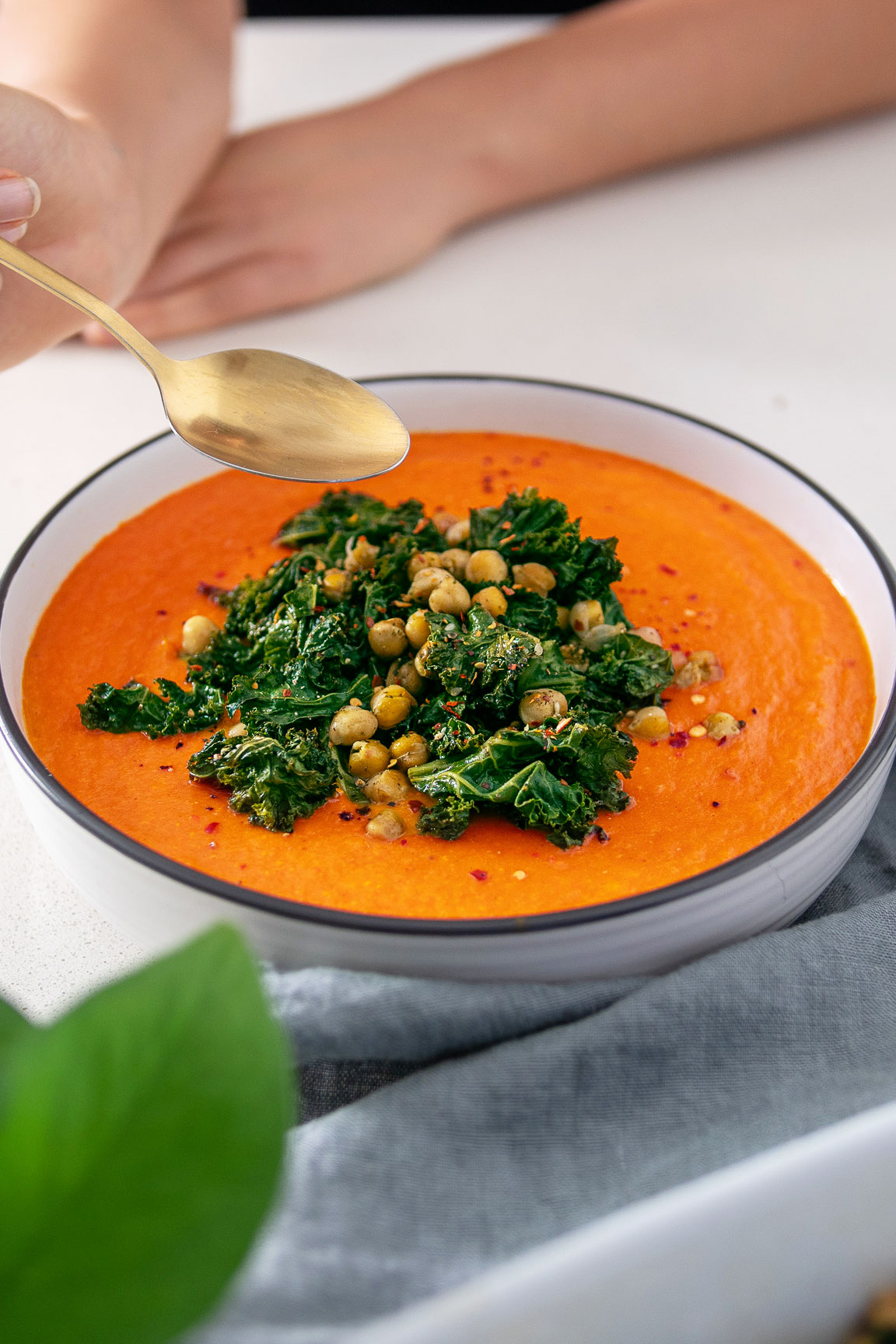 Our Roasted Cauliflower and Red Bell Pepper Soup is the epitome of comfort and nourishment. It's a bowl of creamy goodness that's really easy to make and perfect for those cozy nights in. It's so simple and comforting, yet has a beautiful depth of flavor from the spices. The roasting process brings out the natural sweetness of the veggies, while the blend of spices adds a subtle kick. When the produce is in season, you really don't need much to elevate the flavors. That is precisely what so many of you need right now, with the weather cooling down during the fall. Trust me, this is a roasted vegetable soup recipe you'll want to make again and again!
Why This Recipe Works
Rich in Nutrients: Packed with vitamins and minerals from cauliflower and red bell pepper.
Easy to Make: Just roast, blend, and heat!
Flavorful and Unique: This soup combines the nutty taste of roasted cauliflower with the sweet, charred flavor of roasted red bell pepper. Even if you're skeptical, the flavors will win you over!
Convenient and Easy: With the oven doing most of the work, this recipe is a breeze to make.
Nutrient-Rich: Packed with vitamins A, C, and K, this soup is as healthy as it is delicious.
Seasonal Favorite: Perfect for warming up on a chilly fall or winter day.
Ingredient Notes
Cauliflower: A great source of fiber and vitamins.
Roasted Red Bell Pepper (Capsicum): Adds a pop of color and is rich in Vitamin C.
Soy Milk: Makes the soup creamy while adding protein. For a soy-free alternative, use another neutral dairy-free milk, such as oat milk. Or add a handful of cashews and 1 cup of water before blending.
Ras el Hanout: A Moroccan spice blend that elevates the flavor. It's one of my favorite spice mixes and so delicious with roasted veggies.
Kale: A highly nutritious leafy green vegetable that is packed with vitamins A, C, and K, as well as a good source of minerals like calcium and potassium.
Chickpeas: Also known as garbanzo beans, they are a delicious source of plant-based protein and fiber.
Step-By-Step Instructions
Start off by getting your oven nice and hot. Preheat your oven to 350F (180C). While it's warming up, go ahead and chop up your cauliflower into smaller florets, chop the onions into quarters, and red bell pepper (capsicum) into strips. Lay them out on a baking sheet/baking tray along with the garlic cloves (still in their skin), and give them a good drizzle of olive oil. Sprinkle some ras el hanout over the cauliflower and toss to coat. Add some salt and pepper over the top of all the veggies. Pop the tray in the oven and let it roast for about 30 minutes until roasted and tender.
Once the timer dings, take the tray out and let the veggies cool for a bit. When they're cool enough to handle, peel the skin off the red bell pepper (this can be done under running water to cool it faster) and the garlic cloves. Transfer all the roasted goodness into your blender, pour in the veggie stock (vegetable broth) and soy milk, and blend. Keep going until you get a smooth, creamy texture.
Next up, pour the blended soup mix into a pot over medium to low heat on the stovetop. Stir to warm it evenly throughout and let it simmer. This is your chance to tweak the seasonings. Taste the soup and adjust the salt and pepper as you like.
Don't forget the toppings! Combine chickpeas and kale on another baking tray. Coat them with a bit of olive oil and a sprinkle of Zaatar. Roast these for 20 minutes. You can either add them as toppings to your soup or serve them on the side.
FAQ
Is this soup gluten-free? It sure is! Just make sure your vegetable stock is gluten-free if using store-bought.
Is this soup vegan? Absolutely, it is 100% plant-based!
Can I make it ahead of time? It keeps well in the fridge for up to 5 days.
Can I freeze this soup if there are leftovers? Yes, it freezes well for up to 2 months.
Variations and Tips
Serving Suggestions: Now, I am an "all the toppings but the kitchen sink" kinda girl, so I love to add some veggies and chickpeas for extra texture and nutrients. I used kale, but broccoli or broccolini could also be amazing! This soup also pairs wonderfully with crusty bread, grilled cheese sandwiches, or a side salad to make it even more hearty. You can also add some nutritional yeast for a cheesy flavor without the dairy.
Blending Options: A hand blender/immersion blender works in a pinch, but for the creamiest texture, use a high-powered blender. If you have a smaller blender, just fill the blender jug with a mix of the roasted vegetables and blend in batches. I happened to use a small blender for the video and just did a few blends, adding each batch to the pot as I went. Just make sure the soup has cooled down before blending.
Vegetable Stock: Vegetable stock can be pretty salty, so it's best to hold off adding salt to the soup after tasting it if that's what you are using. If you are being mindful of your sodium intake, it is best to look for low-sodium or homemade options.
Why You'll Love This Roasted Cauliflower and Red Bell Pepper Soup
Incredibly Flavorful
Nutrient-Packed
Convenient and Easy to Make
Perfect for Fall Weather
& SO Delicious!
Roasted Cauliflower and Red Bell Pepper Soup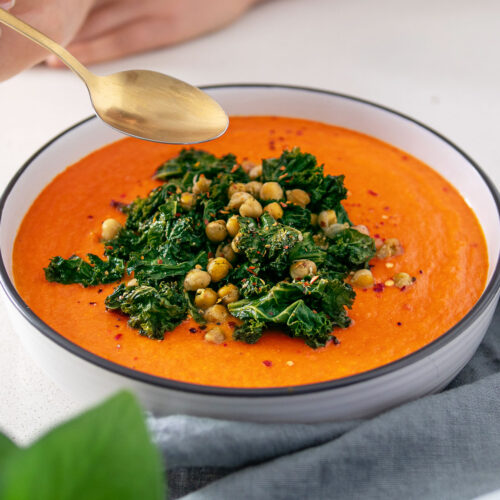 A comforting, richly flavored soup made with roasted cauliflower and red bell pepper, enhanced with Moroccan spices. Perfect for cool weather and easy to prepare.
Ingredients
Soup Ingredients
2

onions, chopped in quarters

2

garlic cloves

1

small

cauliflower head, diced (approx 3 cups)

3

red bell pepper (capsicum), chopped in halves (seeds and stem removed)

2

tsp

olive oil

1

tbsp

ras el Hanout (Moroccan spice mix)

3.5

cup

veggie stock

1

cup

soy milk
Toppings
2

cups

chopped kale

1.5

cup

cooked chickpeas (rinsed and drained)

1

tsp

olive oil

1

tbsp

Zaatar spice mix
Instructions
Preheat your oven to 350F (180C). Prepare the cauliflower, onions, garlic, and red bell pepper and place them on a baking tray. Drizzle with olive oil, ras el hanout, salt, and pepper. Roast in the oven for 30 minutes.

Once the vegetables are cooked and have cooled slightly, remove the skin from the red pepper and the garlic. Add the vegetables to your blender along with the veggie stock and soy milk. Blend on high speed until the mixture is smooth.

Heat the blended soup on medium to low heat before serving. Adjust the salt and pepper to taste.

For the toppings, combine the chickpeas and kale on a baking tray. Mix with olive oil and Zaatar. Cook for 20 minutes. You can add these toppings to your soup or enjoy them as a side.
Per Serving
Calories
336
kcal
Carbohydrates
51
g
Protein
16
g
Fat
10
g
Sodium
197
mg
Fiber
14
g
Vitamin A
212
IU
Vitamin C
280
mg
Calcium
153
mg
Iron
5.5
mg