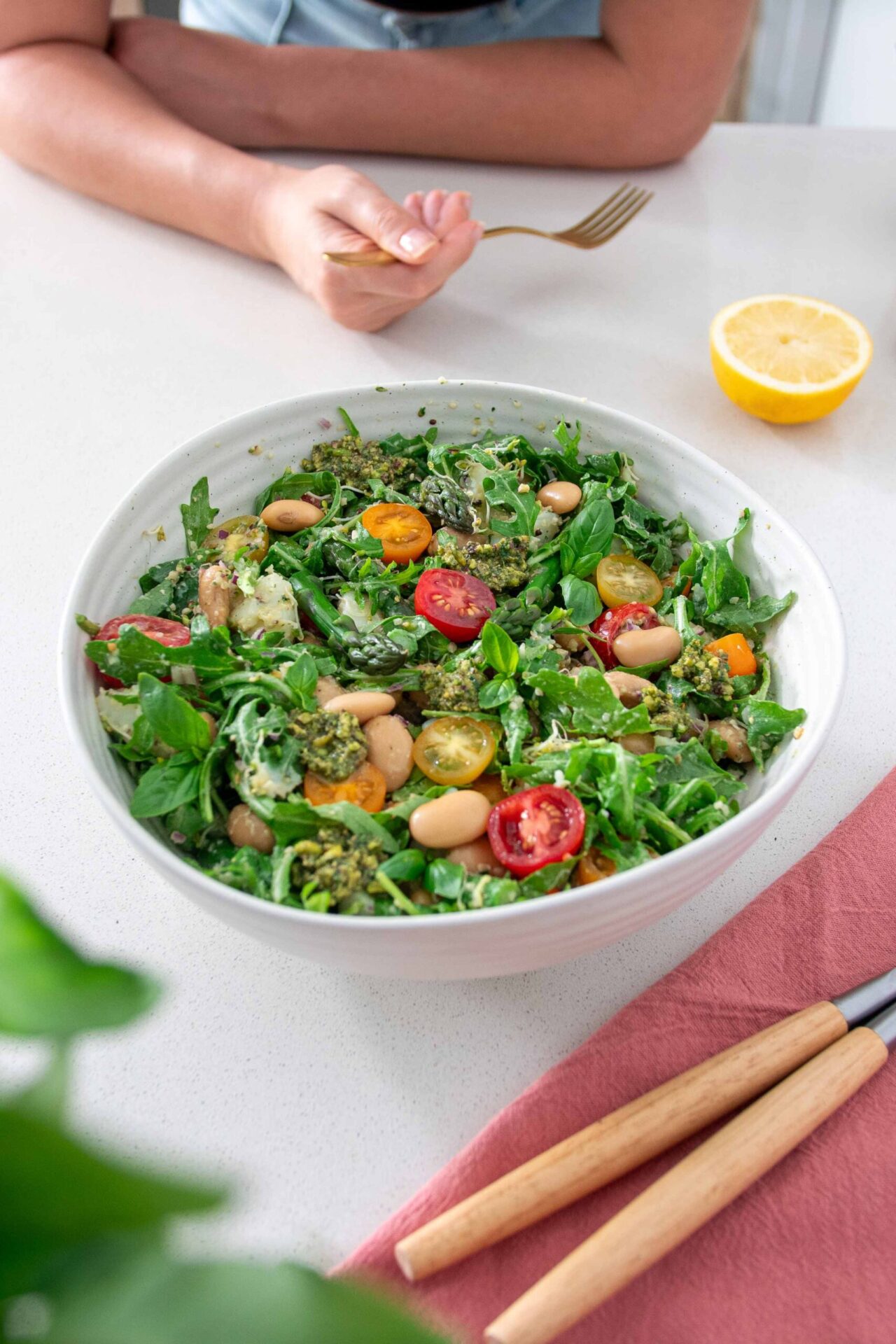 You've got to check out this Butter Bean Pesto Salad. It's a real winner when it comes to nutrition and ease of preparation. It's packed with 19g of fiber, 22g of protein, and a good dose of essential minerals like iron (9mg) and magnesium. Plus, it's rich in Vitamin C and folate, making it a well-rounded meal for anyone looking to boost their nutrient intake.
The recipe is straightforward and takes less than 30 minutes from start to finish. You'll be working with everyday ingredients like asparagus, potatoes, and cherry tomatoes, but the real stars here are the butterbeans and hemp seeds. These add not just flavor but also a ton of nutritional value. The pesto and lemon juice dressing is the cherry on top, adding zest without overwhelming the natural flavors of the veggies.
So, if you're in the mood for something that's both easy to make and good for you, this Butter Bean Pesto Salad is a must-try. Trust me, you won't be disappointed!
Why This Recipe Works
Protein-Rich: Thanks to butter beans and hemp seeds.
Nutrient-Rich: Loaded with fiber, vitamins, and minerals.
Easy to Make: Ready in under 30 minutes.
Plant-Based: 100% vegan and super satisfying.
Ingredient Notes
Butter Beans: A fantastic source of protein and fiber.
Pesto: Opt for a vegan variety to keep it plant-based.
Asparagus: Adds a crunch and is rich in nutrients.
Hemp Seeds: A great source of Omega-3 and plant protein.
Lemon Juice: Adds a zesty kick to the dressing.
Step-By-Step Instructions
Start by boiling the asparagus for a quick 3 minutes. Move them to a bowl of ice water to stop the cooking process. Boil the diced potatoes until they're fork-tender. Mix the pesto and lemon juice for the dressing. Combine all the ingredients in a large bowl, give it a good toss, and you're done!
FAQ
Is this Butter Bean Pesto Salad gluten-free? Absolutely, just make sure your pesto is gluten-free.
What are butter beans? They're large, creamy beans that are super versatile, also called Lima beans.
Variations and Tips
Swap the Greens: Spinach or kale would work great.
Make It Nut-Free: Skip the hemp seeds, use sunflower seeds instead, and choose nut-free pesto.
Why You'll Love This Butter Bean Pesto Salad
Protein-Packed
Quick & Easy
Nutrient-Rich
SUPER Flavorful
A nutritious and delicious salad packed with fiber, iron, and protein. Perfect for a quick lunch or a light dinner.
Ingredients
Main Ingredients
1

bunch

asparagus

(ends removed)

2

medium

potatoes

(diced)

1.5

tbsp

pesto

(Try our pesto recipe!)

1.5

tbsp

lemon juice

1

pinch

salt

2

cups

rocket

200

g

cherry tomatoes

(chopped in half)

1.5

cups

cooked butterbeans

½

cup

broccoli sprouts

2

tbsp

finely diced red onions

2

tbsp

hemp seeds
Instructions
Bring a pot of salted water to a rolling boil. Add the asparagus and cook for 3 minutes.

Using tongs, remove the asparagus from the boiling water and immediately plunge them into a large bowl of iced water. Don't discard the boiling water. Let the asparagus cool down before draining.

Add the diced potatoes to the same boiling water. Cook for 15 minutes or until they are fork-tender. Drain the potatoes and allow them to cool down or rinse them under cold water to expedite the cooling process.

In a small bowl, mix together the pesto, lemon juice, and a pinch of salt to create the dressing.

In a large salad bowl, combine the rocket, cherry tomatoes, cooked butterbeans, blanched asparagus, cooled potatoes, broccoli sprouts, finely diced red onions, and hemp seeds.

Add the prepared pesto dressing to the salad. Toss everything together to combine. Adjust salt and pepper to taste. Enjoy your nutritious and delicious Butter Bean Pesto Salad!
Per Serving
Calories
486
kcal
Carbohydrates
76
g
Protein
22
g
Fat
13
g
Sodium
237
mg
Fiber
19
g
Vitamin A
277
IU
Vitamin C
69
mg
Calcium
183
mg
Iron
9
mg