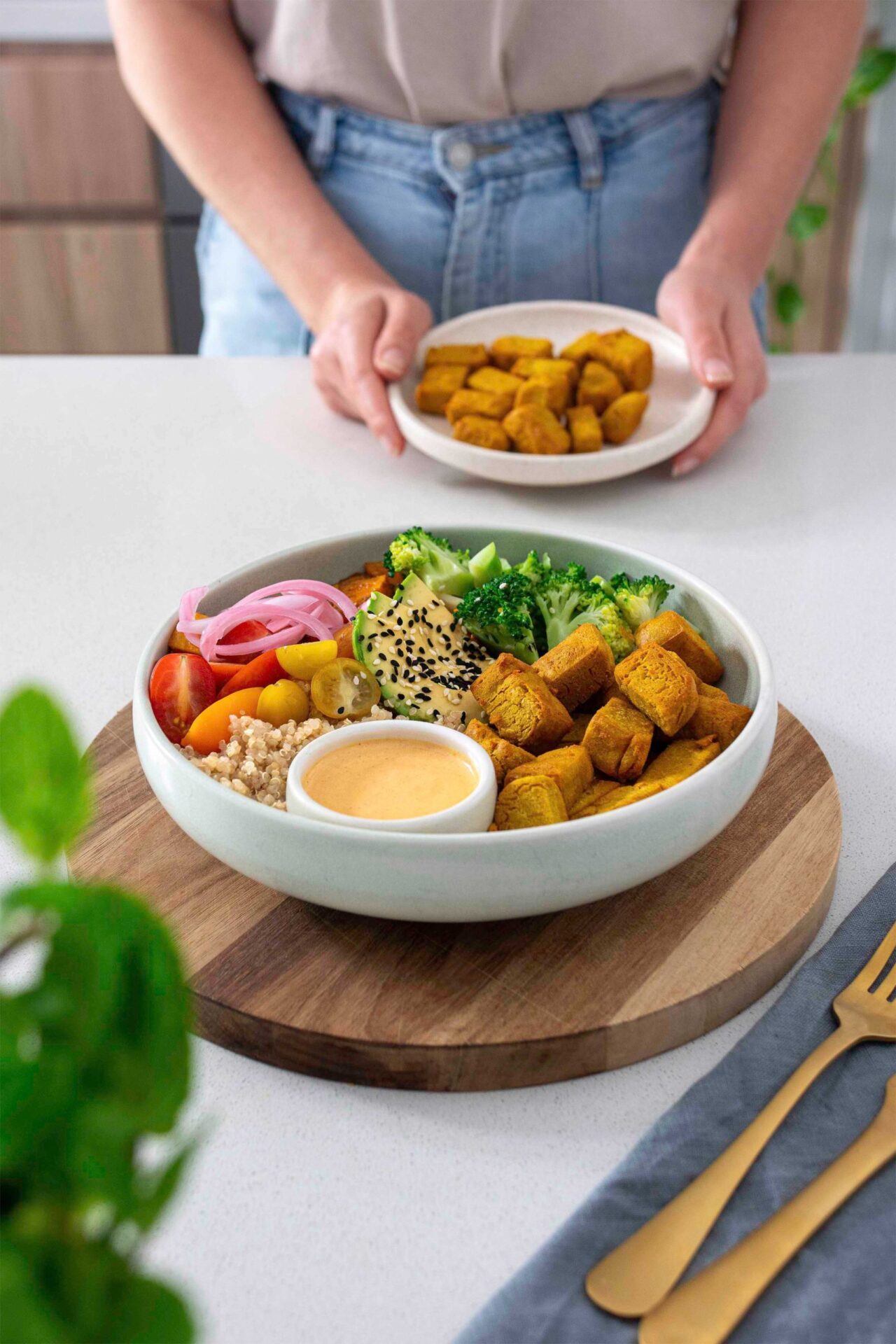 After sharing the lentil tofu, many of you asked to try it with other beans, so here is chickpea tofu, also known as Burmese Tofu.
It bares repeating we love soy tofu ???? and use it often in our recipes; this is just a fun alternative for our friends with soy allergies and a cool way to incorporate chickpeas; I loved the texture and will definitely make it again. I can also see it being a great GF alternative to croutons in a salad!
I've tried straining it with a cheesecloth, and the final texture was a little too soft to my liking. It was closer to silken tofu, which I don't often use unless I blend it in a sauce. So I recommend using a sieve, which will allow more of the chickpeas to go through. For this reason, I do not recommend consuming straight from the fridge but to cook it. Legumes are very healthy and nutrient-dense but need to be cooked properly. So please stick to the 16 hours of soaking, and make sure to cook them once they are out of the fridge.
We tried baking, pan frying, and air frying, and they all work fine. Airfrying was my favorite, and they came out like little golden chickpea nuggets. So good! I did 14 minutes at 200C.
Today I enjoyed it as part of a nourishing bowl with cooked quinoa, roasted pumpkin, blanched broccoli, avocado, tomatoes, pickled onions, and a quick harissa sundried tomato dressing.
1-Ingredient Chickpea Tofu (Soy-Free)
A soy-free, easy-to-make chickpea tofu, also known as Burmese Tofu. A fun alternative for those with soy allergies and a great way to incorporate chickpeas.
Video
Ingredients
Main Ingredients
200

g

dry chickpeas

400

ml

water
Spices (optional)
1

tsp

cumin

1

tsp

turmeric

1

tsp

garlic powder

¼

tsp

salt

¼

tsp

black pepper
Instructions
Soak the chickpeas in a large volume of water for 16 hours. Drain and rinse thoroughly.

Transfer the chickpeas to a blender, along with 400ml water, and the spices if using. Blend until smooth.

Strain the blended mixture using a sieve.

Transfer the strained mixture to a nonstick pot on medium heat, bring to a soft boil and cook until a thick paste is formed (a bit over 5 minutes), stirring constantly.

Immediately transfer the thick paste to a glass container.

Let it set in the fridge for 8 hours, and then cook your favorite way!
Notes
The leftover pulp can be used to create chickpea patties.
Per Serving
Calories
201
kcal
Carbohydrates
34
g
Protein
11
g
Fat
3
g
Sodium
9
mg
Fiber
9
g
Vitamin A
2
IU
Vitamin C
2
mg
Calcium
60
mg
Iron
4
mg