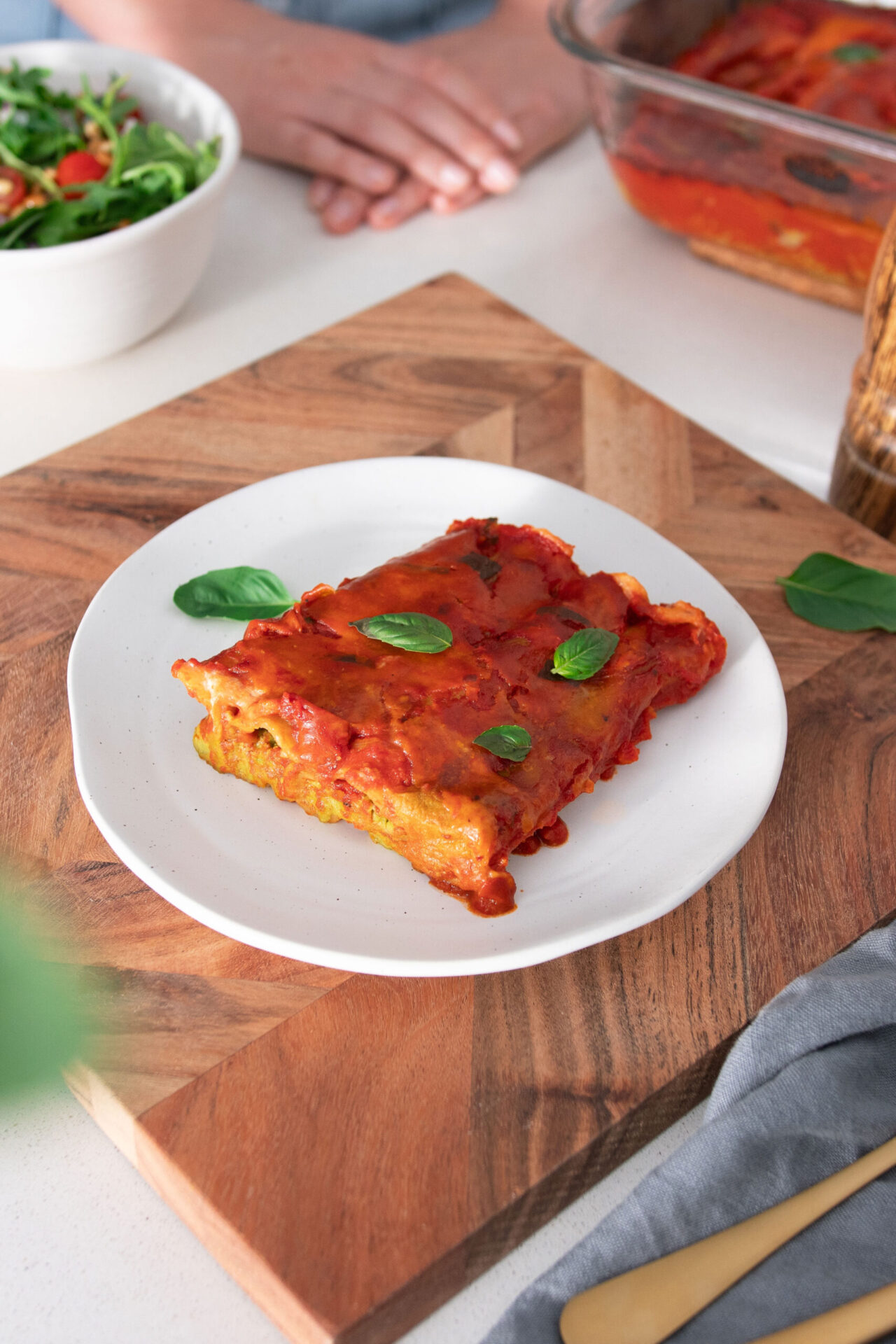 This Creamy Green Cannelloni is what plant-based dreams are made of. You know I love to make comfort food super nourishing, and this is a real game-changer for pasta nights. The flavors literally explode in your mouth… I think we really took it to the next level this time!
Each serving packs about 37g of protein and 14g of fiber, making it a nutritious choice that doesn't skimp on flavor. Plus, with ingredients like baby spinach, basil, and butterbeans, you're getting a nice variety of greens and legumes onto your plate.
The recipe is straightforward and fun to make. You'll enjoy creating the spicy tomato sauce – it adds just the right kick to the dish. The creamy green sauce, blended with cashews and soy milk, is both rich and smooth, adding a lovely texture to the cannelloni. And if you're up for it, the optional liquid mozzarella is a delightful addition.
What's great is that it's not overly complicated. You'll have a beautiful, hearty meal without spending all day in the kitchen. It's a great one when hosting, as you can get it all ready to go earlier in the day in your baking dish and just pop into the oven when you're ready to enjoy it. Just toss a simple salad to go with it, and I promise it will wow any of your guests. Maybe even a little garlic bread like the one we made for our puttanesca butter beans and garlic bread.
My go-to side salad for pasta dishes is very simple. I like to combine arugula (also known as rocket), chopped cherry tomatoes, finely diced shallots or red onions, toasted pinenuts, and a vinaigrette made of equal amounts of olive oil, balsamic vinegar, and dijon mustard. Sprinkle with a little sea salt flakes, and it's a hit every single time.
Perfect for a cozy dinner, this Creamy Green Cannelloni is sure to be a hit. Give it a try; I think you'll love it!
Why This Recipe Works
Nutritionally Balanced: High in protein, fiber, and micronutrients such as folate, B vitamins, vitamin K, and iron.
Rich Flavors: Spicy tomato and creamy green basil sauces nestled between pasta is a match made in heaven!
Easy to Prepare: Straightforward steps can be made in advance and cooked when you're ready to enjoy!
Plant-Based Ingredients: A fun twist on the usual ricotta cheese and spinach cannelloni, this recipe utilizes wholesome, nourishing vegan elements. Just make sure you're not using egg pasta; more often than not, dry pasta does not contain eggs, but it's worth checking the ingredient list.
Step-By-Step Instructions
Begin by soaking cashews in boiling water. Preheat your oven for the baking stage. Cook garlic in olive oil, then add passata, chili flakes, coconut sugar, basil leaves, and seasoning for the spicy tomato sauce. Blend butterbeans, nutritional yeast, soy milk, cashews, spinach, basil, salt, and pepper for the creamy green sauce. Layer an oven-safe baking dish with some of tomato sauce. Stand the cannelloni tubes upright and pipe in the creamy green sauce. Top with more tomato sauce and optional liquid mozzarella. Bake as per pasta instructions and serve hot.
Ingredient Notes
Cashews: Adds creaminess; substitute with almonds for a different nutty flavor.
Butterbeans: A great source of plant-based protein and minerals, can be replaced with cannellini beans.
Nutritional Yeast: Provides a cheesy flavor, protein, and B vitamins.
Spicy Tomato sauce: Our 10-minute spicy sauce definitely brings a kick, and feel free to add more chili to your liking. It comes together very easily with a touch of olive oil, some finely minced fresh garlic, passata, salt, pepper, basil, and a little bit of sugar to cut down on the acidity of the tomatoes. If you have a little more time, the sugar can be replaced by a finely minced carrot, added to the garlic, and let the sauce simmer for an extra 10 minutes.
Basil: Fresh basil is a must. It brings a fresh and fragrant flavor that reminds me of my Mediterranean upbringing.
Liquid 'Mozzarella': Our 3-ingredient liquid mozzarella consists of olive oil, tapioca starch, and soy milk, and you just have to whisk it all together. Now, I won't tell you it tastes like mozzarella cheese because it does not, but once baked, the tapioca thickens and gives a starchy texture that's very reminiscent of the melted mozzarella used in pasta bake.
FAQ
Can I make this recipe gluten-free? Yes, by using gluten-free cannelloni tubes.
Is this recipe suitable for a nut allergy? Yes, omit the cashews or use a nut-free alternative like sunflower seeds.
Can I freeze this dish? I don't usually recommend freezing pasta as it really alters the texture. But you could freeze the tomato sauce and the creamy green sauce individually. The tomato sauce will reheat well in a saucepan on medium heat. Leave the creamy green sauce to thaw on the counter, then give it a blend to get its texture back.
Are there any other beans I can use? Yes, cannellini beans or any white beans are a great substitute.
Can I add more vegetables? Definitely, feel free to include your favorite veggies in the sauce; mushrooms, carrots, celery, or shredded zucchini are great additions. I also highly recommend serving it with a side salad. It brings a delightful freshness to the plate.
Variations and Tips
Spice it Up: Increase chili flakes or add some freshly chopped red chili for a spicier sauce.
Gluten-Free Option: Use gluten-free pasta for a gluten-free version.
Storage Tip: Keep in the refrigerator in an airtight container for up to 5 days.
Reheating Tip: Gently reheat in the oven or microwave.
Preparation Tip: Prepare sauces ahead of time for quicker assembly.
Marinara sauce: Save some time and dishes by using a store-bought marinara sauce.
Lasagna version: I had some leftover sauces and some fresh lasagna sheets in the fridge when I tested this recipe, so I layered the sauces in between the lasagna noodles and baked it – it was just as delicious!
Why You'll Love This Creamy Green Cannelloni Recipe
Delicious
Nourishing
Comforting
Wholesome
This Creamy Green Cannelloni is a perfect blend of spicy tomato sauce and a rich, green, creamy filling topped with a delicious liquid mozzarella. Perfect for vegan pasta lovers and gatherings!
Video
Ingredients
12

Cannelloni Pasta Tubes
Spicy Tomato Sauce
1

tsp

Olive Oil

6

Garlic Cloves, Minced

700

g

Passata

(tomato purée)

1

tsp

Red Chili Flakes

½

tsp

Coconut Sugar

10

Basil Leaves

Salt & Pepper
Creamy Green Sauce
⅓

cup

Cashews

1.5

cups

Cooked Butterbeans

1

cup

Soy Milk

⅔

cup

Nutritional Yeast

1

cup

Baby Spinach

½

cup

Basil, Packed

¼

tsp

Salt

3

cracks

Black Pepper
Liquid Mozzarella (optional)
1

tbsp

Tapioca Flour

40

ml

Soy Milk

2

tsp

Olive Oil
Instructions
Start by soaking cashews in boiling water for 20 minutes. Meanwhile, preheat your oven to

400

°F

.

For the spicy tomato sauce, heat olive oil in a saucepan over medium heat. Add minced garlic, cooking until fragrant, about 2-3 minutes. Stir in passata, chili flakes, coconut sugar, basil leaves, and salt & pepper. Cover and let it simmer for 10 minutes, stirring occasionally.

Add butter beans, nutritional yeast, soy milk, cashews, spinach, basil, salt, and pepper to a blender. Blend on high speed until smooth.

Transfer the filling to a piping bag. Spread a bit of the spicy tomato sauce across the bottom of an oven-safe dish.

Arrange the cannelloni tubes in the dish, standing up, and fill them with the green sauce. Gently press down to secure. Cover generously with more spicy tomato sauce.

Blend the Liquid Mozzarella ingredients. Drizzle over the top of the dish and spread evenly with a spatula.

Bake in the oven according to pasta packet instructions, about 30 minutes. Serve with a side salad.
Per Serving
Calories
665
kcal
Carbohydrates
90
g
Protein
37
g
Fat
17
g
Sodium
741
mg
Fiber
14
g
Vitamin A
144
IU
Vitamin C
6
mg
Calcium
178
mg
Iron
8
mg