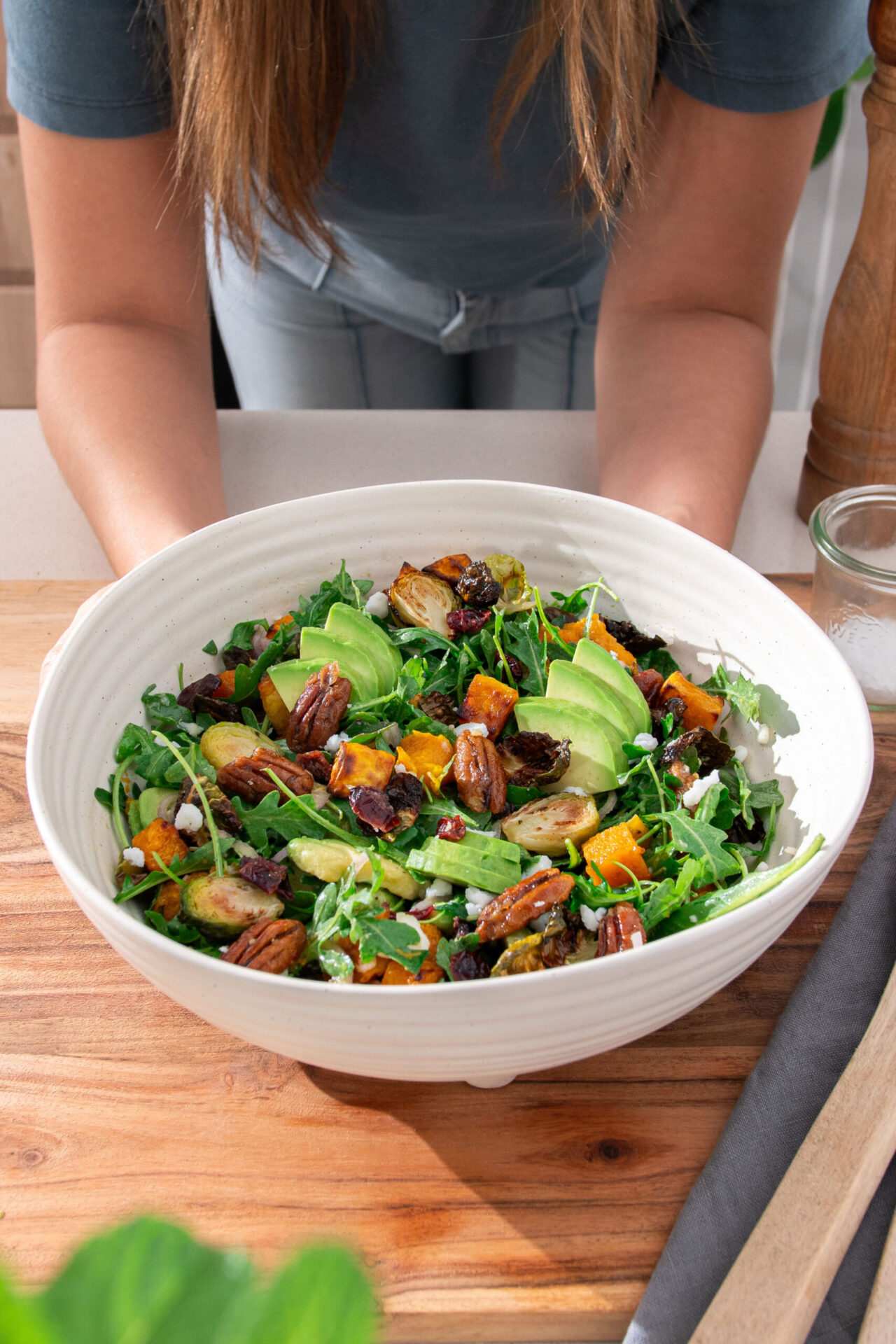 This roasted pumpkin and Brussels sprouts Holiday Salad is a gorgeous and delicious side salad to add to your next holiday menu. It's bursting with flavor and super nutritious. This salad might be my biggest hit at our family gatherings. I made a similar one last Christmas for our family lunch (and know many of you did too!), and it even had the non-vegan, non-salad eaters loving it, and they've requested it again this year! I've even made some slight adjustments, including baking the pecans into a mix of maple syrup, olive oil, and cayenne, which, once cooled down, gives you candied pecans with a kick, and they're next level! So please give it a go; I guarantee your friends and family will be blown away.
Why This Holiday Salad Recipe Works
Perfectly Balanced Flavors: The sweet pumpkin and cranberries perfectly complement the savory Brussels sprouts and arugula.
Texture Variety: Creamy avocado and crunchy candied pecans add a delightful contrast.
Nutrient-dense: Packed with delicious veggies and nuts.
High in Potassium: This salad is packed with potassium (1803 mg per serving). This is great as potassium helps to excrete excess sodium, which can often be consumed at a higher intake during the holidays and contribute to feeling bloated.
Easy to Prepare: Simple instructions make this salad a breeze to create.
Visually Appealing: The vibrant colors make it a feast for the eyes, and it will look stunning on the table at your next holiday get-together.
Step-By-Step Instructions
Begin by preheating your oven to roast the pumpkin. Season the diced pumpkin with olive oil and sea salt flakes, then roast until tender. Halve the Brussels sprouts and roast with olive oil until crispy. Combine arugula, roasted pumpkin, and Brussels sprouts in a large bowl. Add diced avocado, dried cranberries, pecans, and plant-based feta. Whisk together the dressing ingredients and drizzle over the salad. Toss gently to combine all the flavors.
Ingredient Notes
Pumpkin: Rich in vitamins (especially vitamin A), fiber, and antioxidants. Substitute with butternut squash for a similar texture.
Brussels Sprouts: Packed with vitamins C and K, offering a slight bitterness that contrasts nicely with sweet ingredients. If you think you don't love Brussels sprouts, I highly recommend giving them a go once they are deliciously roasted in the oven, and the outer leaves get crispy. They are so tasty!
Arugula: A peppery leafy green, excellent for digestion.
Pecans: A great source of healthy fats and proteins. Walnuts can be used as an alternative.
Plant-Based Feta Cheese: Adds a creamy texture; optional
FAQ
Can I make this salad ahead of time? Yes, you can prepare components in advance and toss them together just before serving.
Is this recipe nut-free? To make it nut-free, omit pecans or replace them with seeds like pumpkin or sunflower.
Can I use another type of leafy green? Absolutely! Spinach or mixed greens can also work well.
How long does this salad keep? It's best enjoyed fresh, but leftovers can be stored in the fridge for up to 2 days.
Can this salad be a main? If you want to enjoy this salad as a main dish, the measurements will serve 2. I would recommend pairing it with a source of protein. Butter beans or seitan would be particularly delicious here.
Is this recipe suitable for a gluten-free diet? Yes, it's naturally gluten-free.
What can I serve this with? It pairs beautifully with our Vegan Wellington and a side or roasted potatoes. We also have a delicious vegan mashed potatoes with mushroom gravy.
Variations and Tips
Spice it Up: Add a pinch of chili flakes and black pepper for extra heat.
Protein Boost: Include chickpeas or lentils for additional protein.
Dressing Variation: Try swapping the lemon juice with a teaspoon or two of balsamic vinegar or apple cider vinegar for a tangier flavor.
Storage Tip: Keep the dressing separate if you plan to have leftovers.
Serving Suggestion: Serve as a side dish or bulk up as a light main course.
Ingredient Swap: Use dried apricots instead of cranberries for a different sweetness.
Why You'll Love This Holiday Salad
Colorful
Nourishing
Flavorful
Perfect for festive gatherings
A vibrant Holiday Salad, perfect for festive occasions such as Thanksgiving or Christmas.
Video
Ingredients
2

cups

diced pumpkin

4

tsp

olive oil

(divided)

12

Brussels sprouts

2

cups

arugula

¼

cup

pecans

⅛

tsp

cayenne powder

1

tbsp

maple syrup

50

g

plant-based feta

½

shallot

(finely diced)

1

avocado

(diced)

¼

cup

dried cranberries

¼

tsp

sea salt flakes
Dressing
1

tsp

maple syrup

1

tsp

Dijon mustard

1

tbsp

extra virgin olive oil

(EVOO)
Instructions
Preheat the oven to

375

°F

. Dice the pumpkin and toss with 1 tsp olive oil. Cook in the oven for 10 minutes.

Trim the Brussels sprouts, cut them in half, toss with 2 tsp olive oil, and add to the oven with the pumpkin. Cook for a further 20 minutes. Allow to cool for 15 minutes.

Combine the pecans, 1 tsp olive oil, cayenne and the maple syrup. Transfer to a small oven-safe dish and bake for 12 minutes. Make sure to use a small dish, otherwise it won't caramelise as well. Allow to cool for 20 minutes.

In a mixing bowl, combine the arugula, roasted pumpkin cubes, Brussels sprouts, candied pecans, crumbled feta, shallot, avocado, and dried cranberries.

For the dressing, combine all the ingredients in a jar and shake until thoroughly combined. Drizzle the dressing onto the salad, toss to combine, and enjoy.
Per Serving
Calories
296
kcal
Carbohydrates
26
g
Protein
4
g
Fat
22
g
Sodium
283
mg
Fiber
6
g
Vitamin A
163
IU
Vitamin C
47
mg
Calcium
64
mg
Iron
2
mg