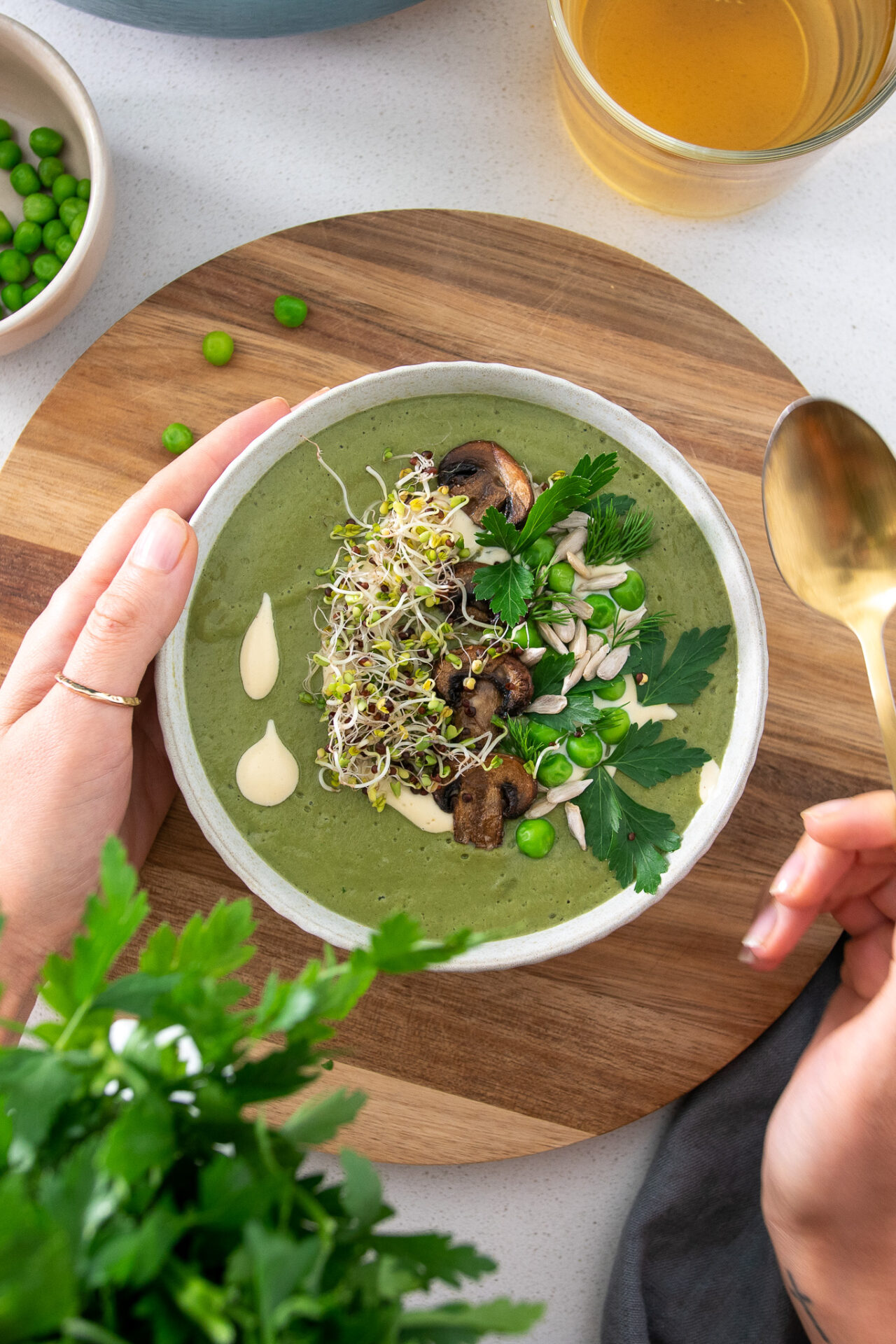 If you're feeling a little meh, or bloated after the holidays, this might be the perfect food to help. First, let's remember that being bloated after a big meal is totally normal and is a temporary situation.
This soup is made with easy-to-digest vegetables, is hydrating and high in potassium.
One reason you might feel extra bloated or have extra water retention is that you had a high intake of sodium the day before. This will resolve itself in a short time. To accelerate the process of sodium excretion, you can help by reducing your sodium intake for the day and consuming food high in potassium, which this soup is absolutely packed of; bananas, avocados, and coconut water are also great.
Make sure to hydrate; for this, we love water, of course, but also soup, smoothies and herbal teas. If you're experiencing digestive symptoms, ginger tea might help.
My secret ingredient to give this soup a yummy umami taste without adding salt or using vegetable stock is to use mushroom powder. It's super easy to make. Simply blend some dried mushrooms, and use them as needed. Feel free to add a pinch of salt or chilli to your bowl at the end.
Little disclaimer, if you are sensitive to fructan, onions can make you feel bloated. However, cooked onions are easier to digest than raw, which is why I still included them in this recipe.
A soothing, easy-to-digest soup packed with vegetables and high in potassium. Perfect for feeling lighter after holiday indulgence.
Video
Ingredients
4

onions, diced

2

potatoes, diced

1

large

zucchini, diced

4

cups

mushrooms, diced

4

cups

spinach

½

cup

fresh parsley

4

tbsp

dried mushroom powder

2

tbsp

olive oil

4

cups

soy milk

1

cup

water

1

tsp

dried thyme

1

cup

frozen peas

1

pinch

salt (optional)
Instructions
In a large pot, add the oil and diced onions. Cover and cook on medium heat for 15 minutes, stirring occasionally to prevent burning.

Add the diced mushrooms and dried thyme to the pot. Continue to cook for an additional 10 minutes, stirring occasionally.

Next, add the diced potatoes, zucchini, and frozen peas to the pot. Cook for 20 minutes, stirring occasionally to ensure even cooking.

Add the soy milk, mushroom powder, spinach, parsley, and water to the pot. Blend the mixture until smooth using a hand blender or in batches in a countertop blender.

Allow the soup to cook uncovered on low heat for 10 more minutes. This will help the flavors meld together.

Serve the soup hot, garnished with your favorite toppings such as cashew cream, sunflower seeds, broccoli sprouts, or fresh herbs.
Per Serving
Calories
424
kcal
Carbohydrates
58
g
Protein
22
g
Fat
13
g
Sodium
193
mg
Fiber
13
g
Vitamin A
253
IU
Vitamin C
50
mg
Calcium
176
mg
Iron
6
mg